WATKINS / WEM AMPLIFIERS
THE WATKINS WESTMINSTER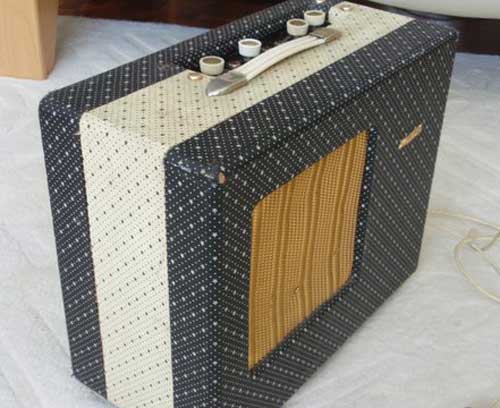 c1959 Watkins Westminster 10 watt Amplifier, courtesy of Michael Kerr.
The Westminster was the first Watkins amplifier model to be produced in any quantity, being introduced mid-1957 following earlier very limited runs of AC/DC experimental models. The first "safe" AC examples were advertised as being 8 to 10 watts output, and were housed in a grey-covered square cornered box with side mounted controls/input sockets. By early-1958, the more familiar format of top-mounted controls with rounded-off cabinet edges had been adopted together with the then fashionable two-tone coloured fabric covering, but initially without tremolo. This feature was soon offered though as an option from August 1958.
Studying the frustratingly vague Watkins advertising published frequently during the late 1950s and early 1960s in the UK trade newspaper "Melody Maker", it becomes evident that the Westminster model name was used in the development of a less-powerful 6w and a larger twin-speaker 17 watt amplifier which then morphed into the Clubman and Dominator amplifier models, sometime in late 1959 or perhaps early 1960. A 6 watt Westminster without tremolo seems to have been advertised for a few months from May 1959 and a 15-20 watt (eventually settled as 17watt) Westminster with tremolo and non-tremolo options from September 1958.
In or around early 1961, an up-rated 14watt Westminster but again with a single 10" speaker joined the 10watt version. This amp had tremolo with both speed and depth controls fitted as standard, together with four inputs split between two channels. The 14 watt version replaced by the WEM Scout model in 1964.
There has been much confusion in the past, certainly in my own mind, about the production dates of these early model Watkins amplifiers. I am reasonably confident about the dates given above, but I appreciate that they do not tie in very closely with previously accepted dates, some of which have arisen from interviews with Charlie Watkins himself. I therefore feel that it is necessary that my evidence for adopting the dates on this site should be laid before the visitors to my website as follows:
The very first versions were apparently in plain grey coverings. However, white and black with stars pattern, maroon & cream and then turquoise & cream coverings soon followed. Early control panels were black, later ones silver. Through most of its manufacture period, the Westminster was a 10 watt output amp, almost always equipped with tremolo, although as stated above, Watkins advertising did actually offer a non-tremolo version. It would appear that the vast majority of purchasers did want the tremolo facillity.
EXAMPLES OF THE 1958 to 1965 WESTMINSTER 10 Watt TREMOLO AMPLIFIER:
EXAMPLES OF THE 1958 to 1959 WESTMINSTER 15 to 20 Watt TREMOLO AMPLIFIER:
(Forerunner to the Dominator 17 Watt Amplifier)

c1958-59 WATKINS WESTMINSTER 15-20 WATT TREMOLO AMPLIFIER V-FRONT
This very rare amp uses the same control panel as the earlier 10watt combos above, with individual volume controls for each of the inputs, a single overall tone control, and a tremolo speed control. It has a power stage using two EL84 valves and also employs 2 x ECC83 + 2 x EF86 valves in the preamp section, an unusual combination for a Watkins amplifier. And then of course there are the twin 10" Elac speakers! Charlie Watkins is reported as saying that this twin-channel 15-20 Watt Westminster was made only briefly for 6 months or so.


c1959-60 WATKINS WESTMINSTER 15-20 WATT TREMOLO AMPLIFIER V-FRONT
This amp has a closer specification to the Dominator 17 watt amp with four inputs in two channels with volume and tone controls for each channel. It also has gained a tremolo depth control to supplement the speed control, but lost the two ventilation grills on the top of the case.


EXAMPLES OF THE 1959/60 WESTMINSTER 6 Watt NON-TREMOLO AMPLIFIER:
((Forerunner to the Clubman 6 Watt Amplifier)
1959 WATKINS WESTMINSTER 6 Watt AMPLIFIER
White and black covering, with star pattern. All very 1950's ish! The carrying handle is located on the side of the case. Two inputs served by a single volume and combined tone/on-off control.
EXAMPLES OF THE 1960/61 to 1964 WESTMINSTER 14 Watt TREMOLO AMPLIFIER:
THE Mid-1960s WESTMINSTER Mk II 10 Watt TREMOLO AMPLIFIER:

In 1963/64 when Watkins morphed into Wem, the Westminster Mk II acquired a new livery : black cabinet, silver control panel and a decorative aluminium plate covering the front of the amp. It was seemingly a smaller version of the Custom 15, itself a descendant of the Scout. Examples are rarely found today.
Mid-1960's WEM WESTMINSTER Mk II 10 WATT AMPLIFIER
Control panel was the same silver/black style as the later Mk I Westminster. The circuitry remained similar or identical to earlier models. This model is very rare and may have only been produced for a couple of years.
THE LATER WEM WESTMINSTER AMPLIFIERS
In the late 60s it reverted to being the Clubman model's big brother again, first as a larger version of the plain-looking solid-state model with tremolo, then circa 1972 both re-gained their valves and acquired identical black cabs with red/gold diamond pattern on black grillcloth and 12" speaker, very attractive and value-for-money little practice amps. The tremolo was omitted, either to reduce cost or because it was considered old-fashioned by that time It remained in production with some cosmetic changes until the late 70s. There was a bass version with a heavy-duty speaker.


1968 to 1972

WEM WESTMINSTER 10 WATT SOLID STATE AMPLIFIER
Towards the end of the 60s the Westminster relinquished it's identity as a smaller version of the valve-driven Custom 15 in favour of being the solid-state Clubman's big brother. It stayed this way until c1972 by which time the fashion for solid state guitar amps had faded perhaps . Equipped with two input sockets and a volume, tone, and tremolo speed control.

1973 to 1976

WEM WESTMINSTER 10 WATT AMPLIFIER (Mk IX)
Around 1972 the Westminster got it's valves back and a smart new livery, which it retained until the late 70s. The tremolo feature was dropped at this point, either because it was considered old-fashioned by that time or as a cost-saving measure, possibly both. The cabinet, speaker and control panel are identical to that of the contemporary Clubman model, with 2 inputs, a single volume, treble and bass controls. 12" Speaker Valves: 2 x ECL82; 1 x ECC83.



1974 to 1976

WEM WESTMINSTER BASS 10 WATT AMPLIFIE (Mk IX)
The Westminster Bass was simply a 1970s Westminster combo with a heavy-duty 12" speaker.

1977 to 1978

WEM WESTMINSTER AMPLIFIER
A strange looking amplifier with a recessed top-mounted control panel. This amp appeared for a very short time in late-1977/early 1978, spanning the period between the demise of the MkIX Westminster and the "AP" All-Purpose version. It had a rated output of 10 watts through a 12" speaker and was equipped with two inputs, volume, bass, and treble controls.

---