WATKINS / WEM AMPLIFIERS
THE WATKINS WESTMINSTER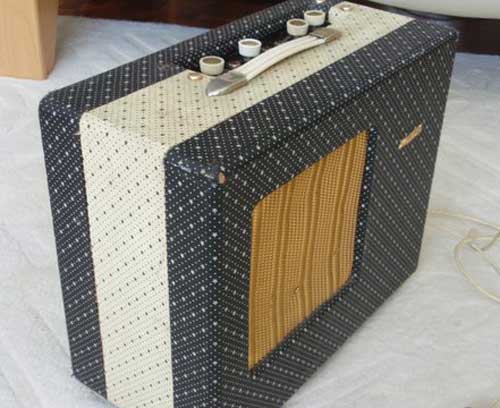 c1956 Watkins Westminster 10 watt Amplifier, courtesy of Michael Kerr.
The Westminster was the first Watkins amp to be produced in any quantity in 1954, following earlier limited runs of experimental models. The earliest versions were apparently in plain grey coverings, probably like this Clubman. White and black with stars pattern, maroon & cream and then turquoise & cream versions followed. Early control panels were black, later ones silver. Through most of its manufacture period, the Westminster was a 10watt output amp, usually equipped with tremolo. There was a period from around 1959 to 1961/62 however when two versions existed : the usual 10watt single-channel 2-input version, and a 14 watt 2-channel 4-input version with a control panel and chassis very similar to the Dominator. (A version in a V-front cabinet apparently also existed briefly.) In this early period, it would seem that a non-tremolo 10watt version was also produced, but we have yet to find one.

In 1963/64 when Watkins morphed into Wem, the Westminster Mk II acquired a new livery : black cabinet, silver control panel and a decorative aluminium plate covering the front of the amp. It was seemingly a smaller version of the Custom 15, itself a descendant of the Scout. Examples are rarely found today.

In the late 60s it reverted to being the Clubman's big brother again, first as a larger version of the plain-looking solid-state model with tremolo, then circa 1972 both re-gained their valves and acquired identical black cabs with red/gold diamond pattern on black grillcloth and 12" speaker, very attractive and value-for-money little practice amps. The tremolo was omitted, either to reduce cost or because it was considered old-fashioned by that time It remained in production with some cosmetic changes until the late 70s. There was a bass version with a heavy-duty speaker.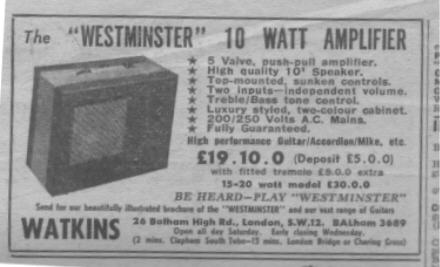 Advertisement from the "Melody Maker", 14 June 1958. Many thanks to Jim Elyea !
---