WATKINS / WEM AMPLIFIERS
THE WEM CUSTOM 15 AMPLIFIER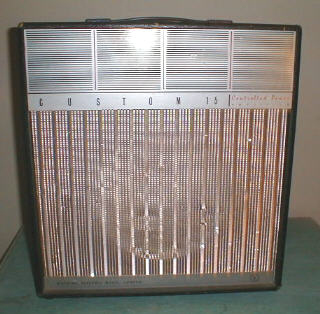 Picture courtesy of Tim Fletcher.
The Custom 15 seems to have evolved from the Scout, given a cosmetic make-over when Wem completed the transition from Watkins in 1964. It retained the Dominator-like control panel and chassis with 2 x EL84, but gained a black cabinet decorated with aluminium front facing and an extra watt ! The Westminster and Clubman became smaller versions in the same livery.

Catalogues suggest that this model was made until circa 1970, but it is rare to find one today, suggesting that they didn't sell in large quantities.

A Custom 15 Musette Reverb was made in the mid-60s, a version of the Custom 15 with reverb and a "middle range curved cone" speaker.

An even rarer version is the Mersey Super 15, a specially commissioned model made in very small quantities for Hessy's music shop in Liverpool. Charlie Watkins is quoted as saying about this rare amp - " When the beat-boom was soaring on Merseyside, we were commissioned to build these for Hessy's in Liverpool, so that they could have their own brand as it were. At first they wanted 50, but in the end we only did 7 or 8."

---