c1956 WATKINS WESTMINSTER c15 Watt AMPLIFIER
(BEAUTIFULLY RESTORED WITH NON-ORIGINAL BLUE REXINE)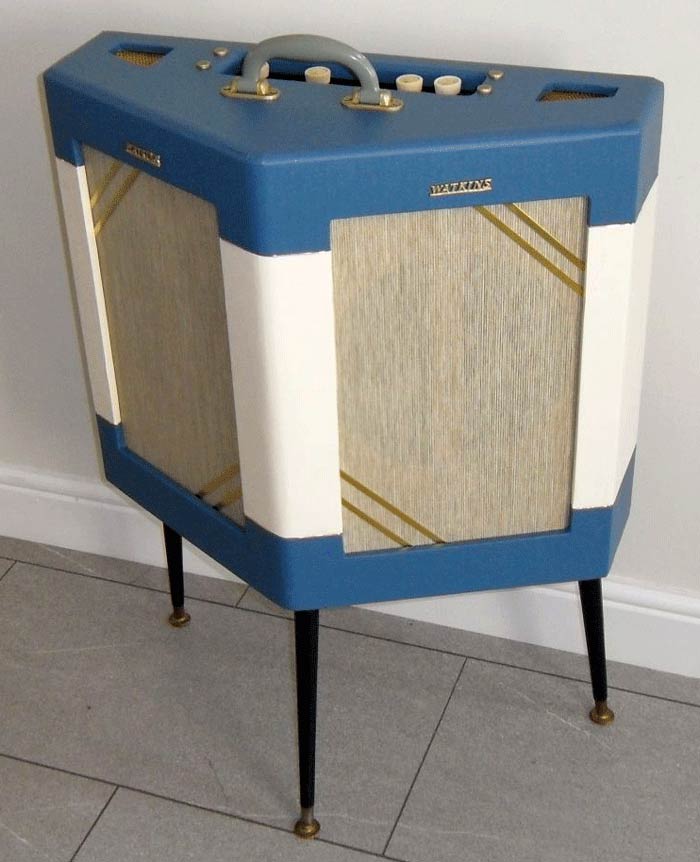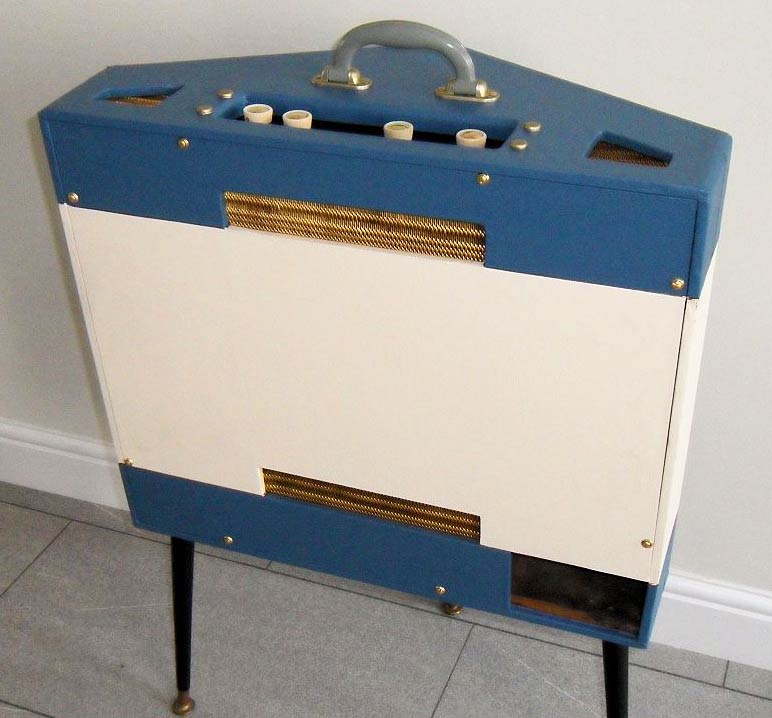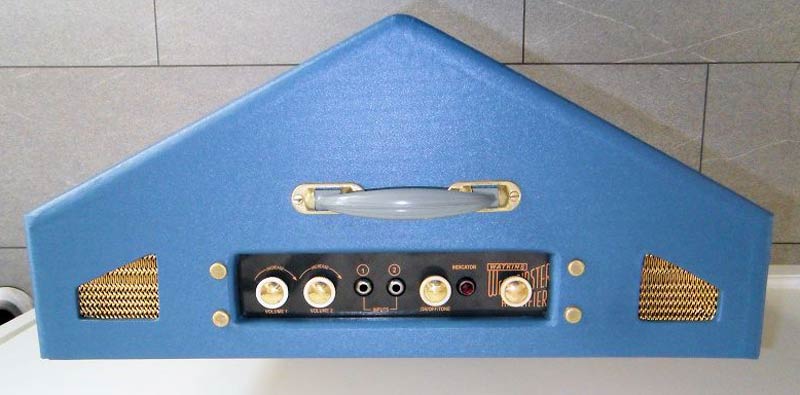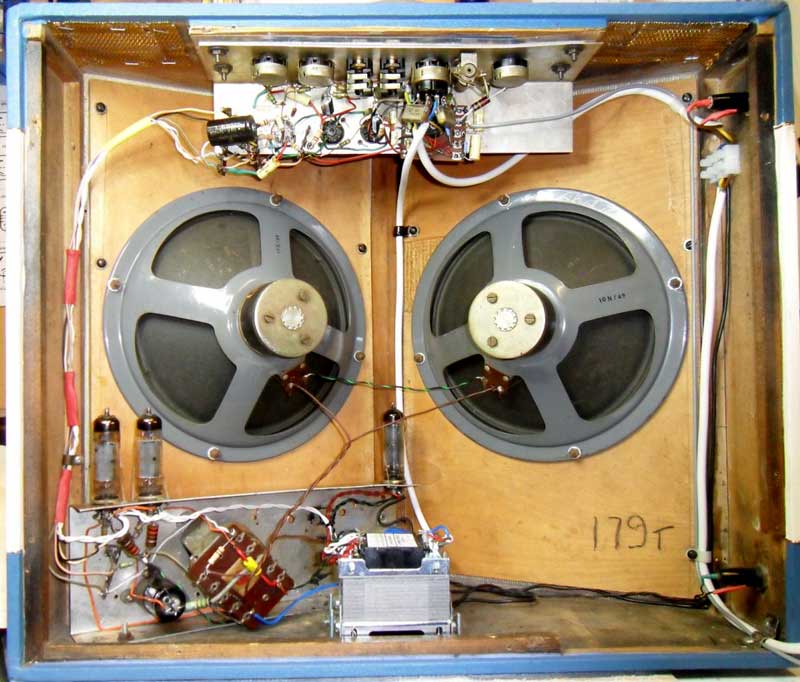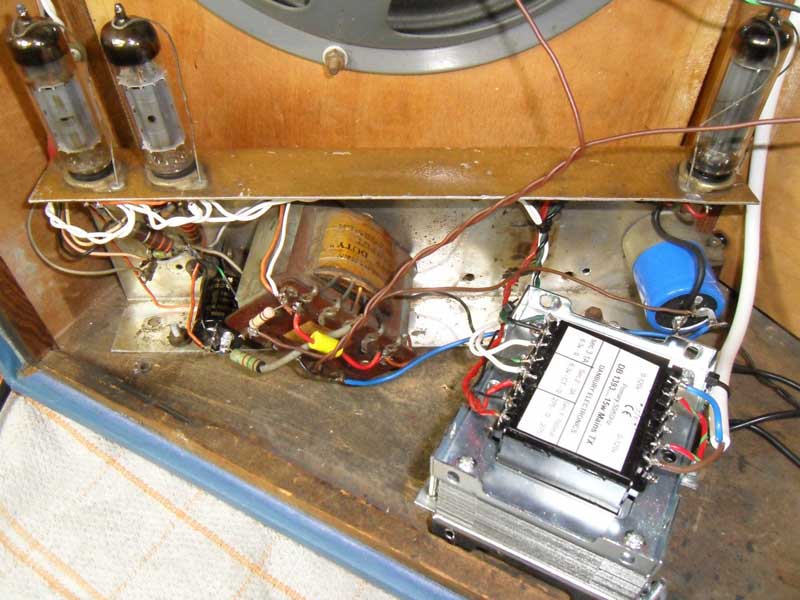 Power Stage - 2 x EL84 + 1 x EZ81 Rectifier.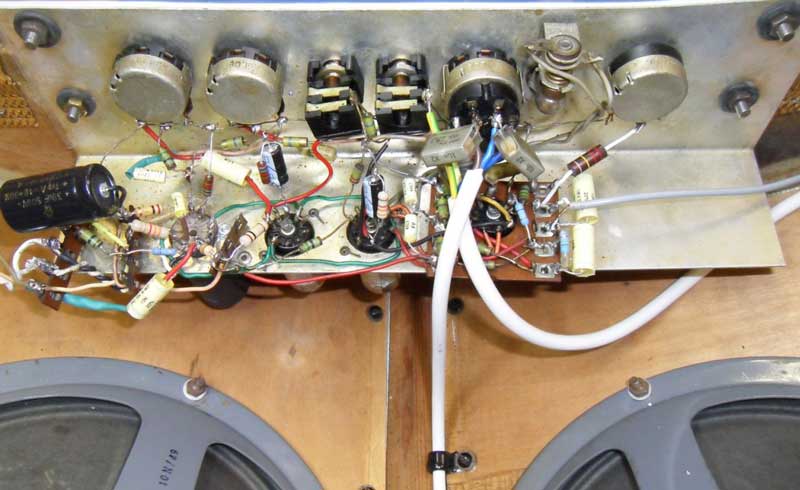 Pre-Amp: 2 x ECC83 plus 2 x EF86
PAUL'S COMMENTS ABOUT THIS VERY RARE AMP:
This "thing" has original vent holes in the top. I have an image of the original covering that confirms that they were done at the first build stage.
The amp's internals are weird in that it has the early Westminster 10W look to the control panel but the preamp is made up of 2xECC83s and 2xEF86 valves. The separate power side located at the bottom of the amp has 2xEL84s with an EZ81 rectifier.
I have now fitted a re-issue Dominator power transformer whilst the output transformer remains a Radio Spares one. The H.T. fuse was on the side and I have added a mains fuse in a similar position, but at the top to even things up. :-)
An interesting point is that the speakers are mounted midway up compared to the normal V-Front Dominator location which sees them down toward the bottom more. I've mentioned about the top vents (included an image of one before recovering showing the original material). EF86s are being used.
The valve compliment on the preamp is 2xECC83s + 2xEF86s - I do not know of another Watkins that used EF86 valves - Selmer did though! The power chassis has the 2xEL84s + 1xEZ81. Channel 1 uses an ECC83 and Channel 2 an EF86 as preamps . The P.I. is an ECC83 and the last EF86 is for the Tremolo circuit.
The old girl sounds luvverly! :-)
---