WATKINS / WEM AMPLIFIERS
THE WEM SCOUT (1963 to 1964) & HESSYS MERSEY 15 COMBO AMPLIFIERS (1964)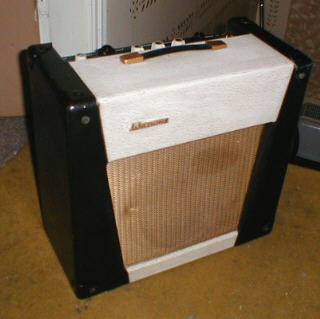 The Scout seems to have replaced the 14W twin-channel version of the Westminster in 1963. The changes between the two models were a cosmetic make-over in a larger black and cream cabinet, together with a different chassis layout (seemingly identical to later versions of the V-front Dominator, though rated 3W less). The Westminster 10W single-channel model remained in the catalogue alongside the Scout, but the Scout was a relatively short-lived model which became the Custom 15 circa 1964/5, hence they are rare today.

The Scout falls into the period when Watkins were changing into Wem. Some have brass Watkins logos, some have the later "day-glo" orange Wem logo, and there are unconfirmed sightings of early versions in turquoise & cream.
An even rarer version is the Mersey Super 15, a specially commissioned model made in very small quantities for Hessys music shop in Liverpool. Charlie Watkins is quoted as saying about this rare amp - " When the beat-boom was soaring on Merseyside, we were commissioned to build these for Hessys in Liverpool, so that they could have their own brand as it were. At first they wanted fifty, but in the end we only supplied them with seven or eight." The Mersey Super 15 appeared in the Bell Catalogue in September 1964, and so it would appear that possibly the surplus left over from Hessys were taken over by Bell

1963 WATKINS SCOUT COMBO AMPLIFIER
The 14 watt Westminster's 10" single speaker was retained, as were the two channels with two inputs per channel and individual volume and tone controls. The tremolo, with speed and depth controls, worked on one channel only. The amp was finished in black and white covering fabric, with gilt trim and a a gilt metal speaker grill.


1964 WEM SCOUT COMBO AMPLIFIER - CATALOGUE SCAN
As the one above, but now with the WEM logo.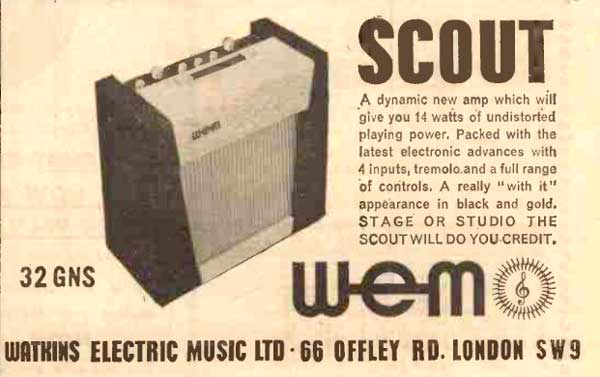 August 1963 advertisement for the WEM Scout.
---