NOT-SO-FAMOUS USERS
BANDS & INDIVIDUAL PERFORMERS WHO USED HOFNER, FUTURAMA, AND SELMER GEAR DURING THE 1950's & 60's.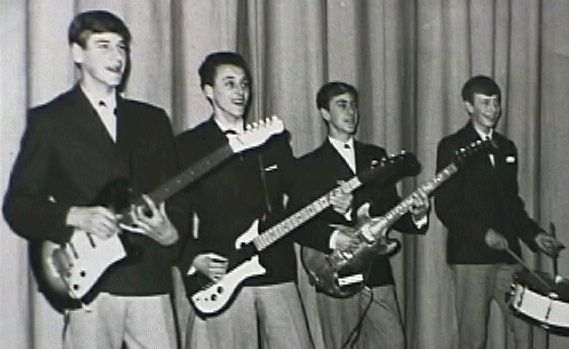 Picture (Dated 1962), courtesy of Richard Laws
You may by now have realised that this website is very much concerned with the formative days of British Rock and Roll, i.e. the late 1950's and early 1960's. That is the time when the UK's youth discovered music and the means to make it with - particularly the products supplied by Selmer of London. Bands sprang up all over the country: in garages, youth clubs, village halls, schools, and working men's clubs, and until the American gear became readily available and affordable, well into the 1960's, the majority of these bands were equipped with European and British instruments and amplification. Burns, Watkins (WEM), and Vox (JMI) played an important part in all this, but it was really Hofner and Futurama guitars that set most guitarists off on their various musical careers.
As a result of the many Email contacts that I have made due to this website, I have acquired quite a few old photographs of amateur and semi-professional bands and individual performers from those days. These images radiate a high degree of charm, and maybe naivety, which I personally find irresistible. They also constitute a historical record of the UK music scene in the 50's and 60's which should, I believe, be shared. Hence the reason for this page!!
---
BANDS (In approximate date order):
INDIVIDUAL ARTISTS
GUITARISTS & THEIR GUITARS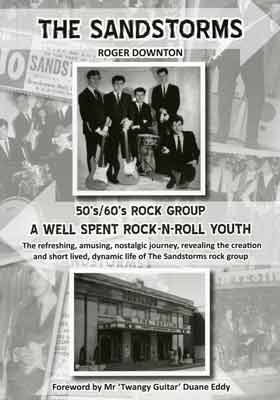 A book written by Roger Downton based on his experiences as a member of "The Sandstorms" in late 1950's/early 1960's Bournemouth.
Price £5-95 plus Delivery.
Order your copy by clicking HERE
---
Return to HOFNER GUITARS - MAIN INDEX PAGE
Return to THE FUTURAMA GUITAR PAGE
Return to SELMER AMPLIFIERS - MAIN INDEX PAGE