Amps
BLOOD AND CUSTARD - SELMER AMPLIFIERS 1958 TO 1961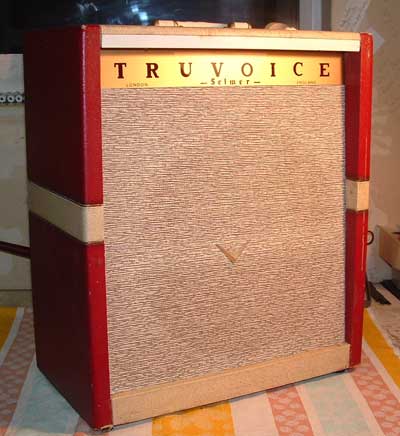 c1961 Selmer Professional (TV12/T) Amp owned by Alan Myers.
---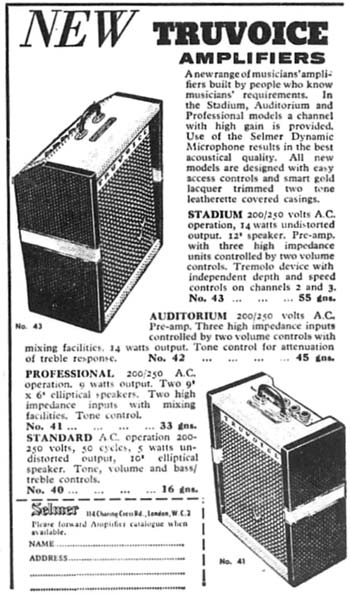 The above Selmer advert is from September 1958 and advertises a new series of models, finished in a beautiful two-tone red and cream vinyl. (Unfortunately, changes in fashion later resulted in many being found nowadays painted black by previous fashion-conscious owners.) At this stage the prominent logo was still the Truvoice one; the Selmer logo not really becoming established until the next "Blue-Grey" period.
By the beginning of 1960, Selmer appear to have come to the conclusion that all their amplifier models apart from the smallest budget amps should have a tremolo facility, and hence the introduction of the New Standard TV8/T and the revised Professional TV12/T models.
The new range was further extended in mid-1960 with the introduction of the more professional-level 15w Selector-tone Rotary and 25w Selector-tone Automatic models.
THE MAIN RED/CREAM PERIOD (CIRCA 1958 - 1961):

---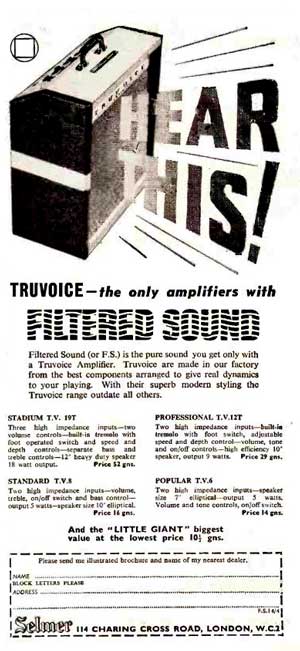 April 1960 Selmer Advertisement. At that time the Auditorium had just been deleted from the range, and the Selectortone models had still to be added.
---
Proceed to THE BLUE-GREY PERIOD (c1962 - 63)

Return to MAIN SELMER AMPLIFIER PAGE

Return to MAIN HOFNER GUITAR INDEX PAGE