Amps

"BLUEYS" - SELMER AMPLIFIERS 1961 TO 1963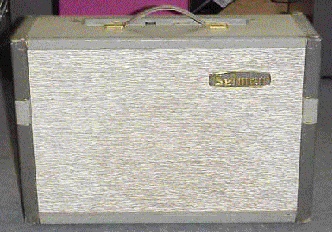 During this period Selmer amplifiers were covered in a blue and grey two-tone material of a type similar to that used by Vox and Watkins at that time. The "Truvoice" brand designation still existed generally, but was being displaced by more prominent use of the "Selmer" logo. Many of the following amplifiers are otherwise identical to the Red/Cream models, and therefore descriptions are abbreviated and cross-referenced to the previous section accordingly (and it also saves typing it all twice !)


THE BLUE/GREY PERIOD (September 1961 to September 1963)


COMBOS:
AMPLIFIER HEADS:
THE BASSMASTER (Early 1963 to September 1963)

Selmer's first separate head and cabinet outfit, introduced during the blue-grey period in 1962. The head was a 30 watt twin channel (one normal, one bass) amp, fitted with 1 - GZ34, 2 - EL34, 4 - ECC83 valves. No reverb or tremolo; just simple volume, bass and treble controls for each channel. The cabinet contained two 12" Celestion speakers, and as well as being equipped with castors, also was fitted with brass struts to allow the cabinet to be angled back for improved sound distribution, just as fitted to some Fender amps. Heavy clamping devices were also fitted onto the top of the cabinet for securing the amp head.
Price for the outfit was 115gns, but the head and cabinet could be purchased separately.
SPEAKER CABINETS: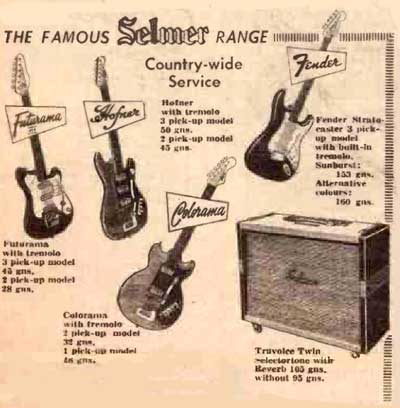 May 1962 Advertisement for Selmer-distributed guitars and amplifiers, with the Truvoice Twin Selectortone featured.
---
Proceed to THE CROCODILE - SKIN PERIOD (c1964 - 65)

Return to MAIN SELMER AMPLIFIER PAGE

Return to MAIN HOFNER GUITAR PAGE