WATKINS / WEM AMPLIFIERS
1963/64 WEM WARRIOR BASS AMPLIFIER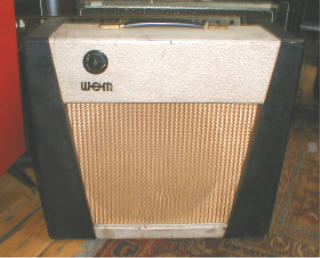 c1963 Watkins Warrior, courtesy of Music Ground, Leeds, England.
A dedicate amplifier for bass guitar, using Watkins usual formula for their mid-power 14 to 17 watt combo amplifiers - a two channel amplifier powered by 2 x EL84 valves. However, this particular amp was fitted with a 15" speaker which should have been more than adequate to handle its rated 17 watts. Tremolo with speed and depth controls was rather strangely fitted, together with a tuning device set to the key of E.
Another short-lived and hence rare model, the Warrior Bass shares the cosmetics of the contemporary Scout model, and seems to have been introduced circa 1963 in a black/cream two-tone covering. It therefore falls into the period when Watkins were changing into Wem. Some have brass Watkins logos, some have the Wem logo. Extinct by 1964, with no known successor.

---