WATKINS / WEM AMPLIFIERS
c1961/62 WATKINS MONITOR 30watt GUITAR AMPLIFIER
A very rare amp indeed, with only a handful of fully complete examples known of today. It appears to be a twin-speaker combo using four EL84 valves to generate an output of around 30 watts through twin 12" speakers. It was equipped with tremolo and a rather strange presence push button. This was probably Watkins attempt to keep up with Vox and Selmer in the battle for supremacy in the UK with professional-level 30watt twin speaker amps such as the Vox AC30 and Selmer Twin Selectortone.
We suspect that this was perhaps a limited run of prototypes made in the early 60s. Information regarding the history of the Watkins Monitor does not seem to be available as it does not appear in contemporary catalogues or other advertising available to us now. Arriving at a production date for the Monitor is therefore rather a challenge. However, we are offered a clue in the form of video and photographs taken on the occasion when Cliff Richard and The Shadows appeared in front of Princess Margaret at a charity event at "The 59 Club", a youth club located in London's East End, during 1962. The photo below clearly shows Hank Marvin of The Shadows standing in front of a Watkins Monitor combo amplifier.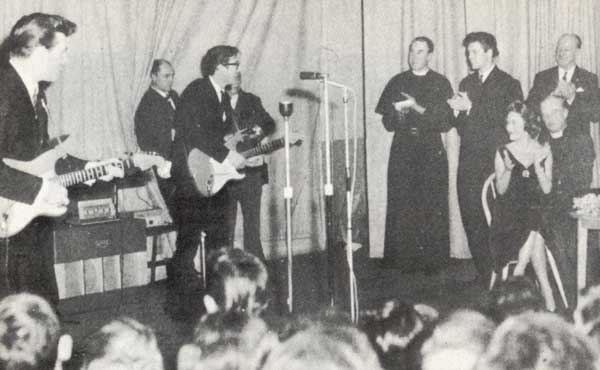 Hank is however not playing through the Watkins amp nor the Baby Binson tape-echo sitting on top of it. He is in fact using his usual Vox AC30 and Meazzi/Vox tape-echo located behind the Watkins Monitor - see the photo below. The Monitor and Baby-Binson were almost certainly owned by another band also playing at the event - Cliff Bennett & The Rebel Rousers.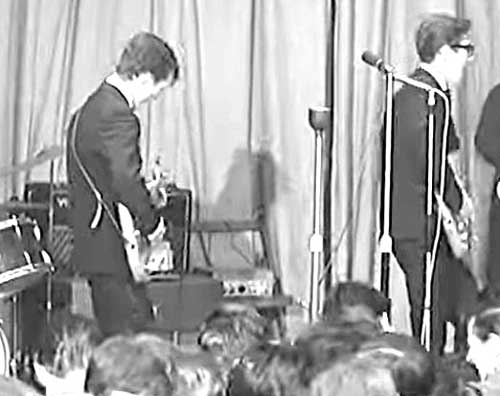 The Watkins Monitor was only available for a year or so, before being superseded by the Watkins Joker in 1963.The "Monitor" name surfaced again however in 1971 as the WEM Monitor Reverb 50 combo and amplifier head.


---