WATKINS / WEM AMPLIFIERS
THE WEM E.R. 15 AMPLIFIER HEAD (1964 to 1967)
THE DUAL TEN 2 x 10" SPEAKER CABINET
THE POWER BASS 1 x 12" SPEAKER CABINET
THE SUPER TWELVE 1 x 12 " SPEAKER CABINET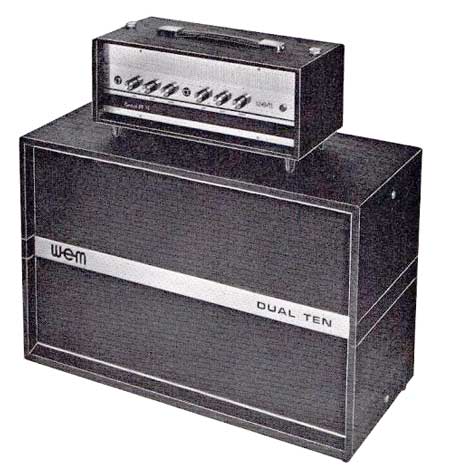 The ER15 valve head seems to have been introduced during 1964 after Watkins' transformation into Wem was complete, presumably as a cosmetic up-grade of the earlier "Pick-a-Back/Bass amps that it superseded. It was basically the same 2 x EL84 powered head as those earlier models, although it was styled differently and marketed separately to the appropriate speaker cabinets. It also gained an extra watt, probably more due to the marketing department than to any technical changes.

Two channels, each with 1 input and bass, treble & volume controls. Usually labeled "Control ER15 : Controlled Power Amplifier". It stayed in the catalogue for several years up to 1967, but was eventually superseded by more powerful heads.
In 1964, the name of the Pick-a-Back cabinet was changed to the "Dual Ten" (2 x 10") cabinet and the Pick-a-Bass was changed to the "Power Bass" (1 x 12") cabinet. within a very short time, a further similar cabinet was offered, the "Super Twelve" (1 x 12"), fitted with a single heavy duty Goodmans Audiom 61 speaker. Rather strangely, the Dual Ten could only be purchased with an ER15 amp, whereas the other two could be purchased separately. The WEM catalogue of 1965 demonstrated how various combinations of these speakers could be driven by the ER15 amplifier, and also showed how with the use of an optional stand, the cabinets and even the individual amplifier head could be rotated on their axis for better sound distribution and ease of access in the case of the amplifier head. (See link below)
It would appear that at some stage, a further speaker cabinet was offered for use with the ER15, called the "Super 15 Bass" and using a single 15" speaker.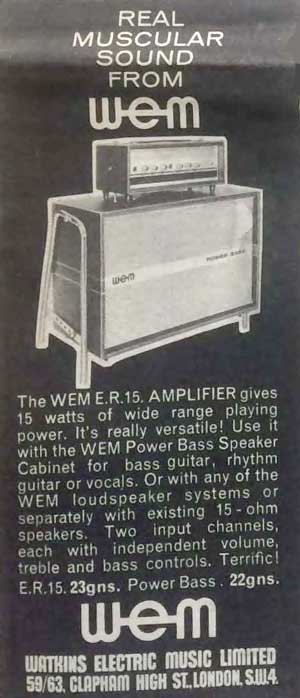 WEM Advert for the ER15 Amplifier with Power Bass Speaker Cabinet in the Melody Maker, September 1964.
---