WATKINS / WEM AMPLIFIERS
THE WEM CLUBMAN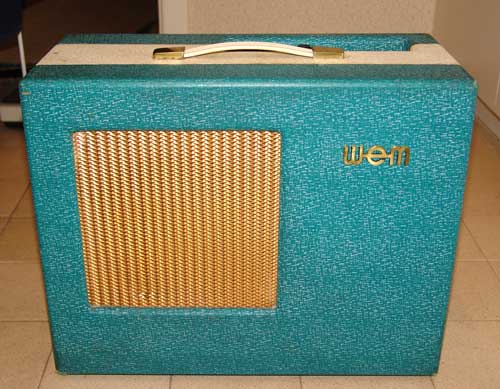 c1964 WEM Clubman.
Production of the Watkins Clubman commenced in around late1959/early 1960. It replaced the lowest powered 6 watt option of the Westminster range, an example of which is shown below. Initially it was provided with a rather attractive art-deco cabinet with a cream/grey covering. No tremolo was offered and a single EL84 gave it its 6 watt power rating. Its cabinet was soon changed to a smaller version of the Westminster 10watt with various twin-tone coverings including maroon & cream. Eventually, turquoise & cream became dominant, until black cabinets became the fashion around about 1964. Early control panels were black, later ones silver. Elac speakers were usually fitted.

In 1963/64, when Watkins morphed into WEM, the Clubman Mk II acquired a new livery - black cabinet, silver control panel and a decorative aluminium plate covering the front of the amp. It was seemingly a smaller version of the Custom 15, itself a descendant of the Scout. Examples are rarely found today.
From c1966 it reverted to being a plain-looking solid-state model with tremolo.
During the early 1970's, it got it's valves back again and red/gold diamond pattern on black grill cloth, a very attractive and value-for-money little practice amp. It remained in production with some cosmetic changes until the late 70s, when the Clubman name was finally used for a very basic and short-lived 15 watt solid state amp.
THE VERY FIRST WATKINS CLUBMEN (1960 to 1961):
WATKINS CLUBMAN Mk I (1962 to 1965):
c1962/63 WATKINS CLUBMAN
Valve powered to produce 6 watts through a 10" speaker. Two tone turquoise and cream covering.


c1962/63 WATKINS CLUBMAN
Still turquoise and cream, but fitted with small black control knobs.


c1964 WEM CLUBMAN
Still the familiar two-tone styling which Watkins used from c1962 to c1964. The Wem badge and darker turquoise covering point to this one as a late model, just before the transformation into Wem.


:WEM CLUBMAN Mk II (1965 to 1966):
Mid 1960's WEM CLUBMAN Mk II
Around 1964, when the transformation into Wem styling became complete, the Clubman acquired a new identity as a smaller version of the Custom 15 in a plain black cabinet with decorative aluminium facing and grill covering the entire front. The control panel and presumably the circuitry remained similar or identical to earlier models. Examples of this model seems to be rare and it may only have been produced for a couple of years.


WEM CLUBMAN SOLID STATE: (1966 to 1972)
Late 1960's WEM CLUBMAN SOLID STATE
The Clubman acquired this rather unprepossessing solid-state incarnation from some time in the mid-late 60s until the early 70s, now in a black cabinet. Output still quoted as 6 watts, but now through a single 8" Speaker.


WEM CLUBMAN Mk IX (1973 to 1978)
c1973 WEM CLUBMAN Mk IX
Around 1973 the Clubman got it's valves back and a smart new livery, which it retained until the late 70s. Now rated at 5 watts output, rather strangely through a 12" speaker. this requiredthe same size cabinet as the contemporary Westminster.


Late 1970's WEM CLUBMAN
Later versions of the Mk IX were fitted with a 10" speaker, which allowed a reduction in cabinet size, together with a cosmetic make-over.


WEM CLUBMAN 15 (1979 TO 1980)
1979 WEM CLUBMAN 15 - CATALOGUE SCAN
A simple 15 watt solid state amplifier fitted with a single 10" speaker. Volume, treble, and bass tone controls for the amp's two inputs and single channel.

THE WATKINS CLUBMAN RE-ISSUE (2014 Onwards)
---