WATKINS / WEM AMPLIFIERS
STARFINDER 2 X 12" SPEAKER CABINET (1964 to 1966)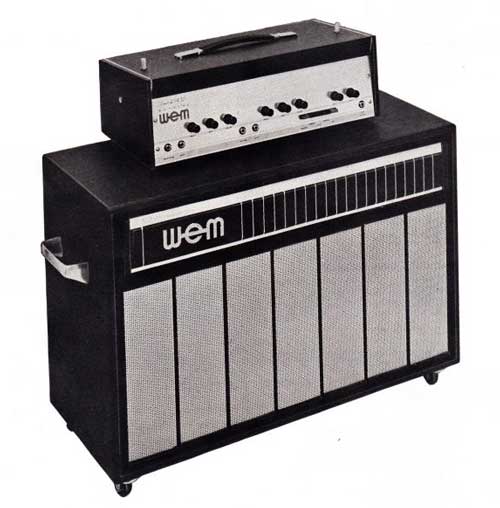 The (1964-66) Starfinder speaker cabinet, with a HR30 amplifier mounted on top of it.
The Starfinder speaker cabinet was introduced in 1964 at the same time as the HR30 amplifier head, with which it seems to have been intended as a top quality amp/speaker outfit. Perhaps this outfit was intended to compete with the Vox AC30 Super and Selmer's Bassmaster outfits. It was a pressured cabinet housing two Goodmans Audiom 61 speakers.
When the HR10 amp was superseded in 1966 by firstly the E.R. 30, and later by the E.R.40 and E.R.60 amplifier heads, the Starfinder cabinet was also replaced in the WEM catalogue by the more austere-looking Dual Twelve 2 x 12" cabinet. The Starfinder name was resurrected in 1968 for use with a more powerful range of speaker cabinets.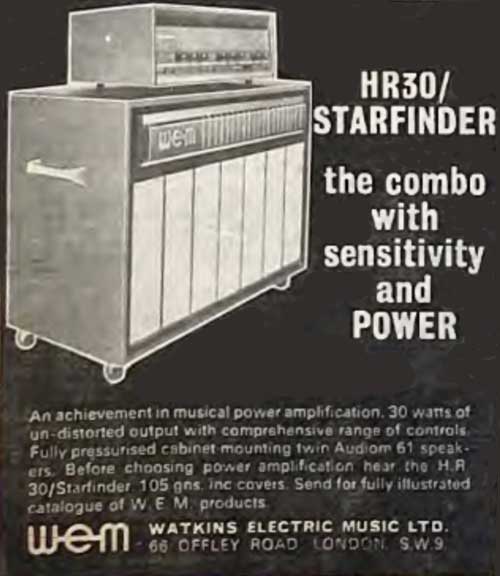 December 1964 advertisement for the HR30 & Starfinder Speaker Cabinet Outfit.
---