WATKINS / WEM AMPLIFIERS
THE WEM PICK-A-BACK & PICK-A-BASS AMPLIFIER HEADS & CABINETS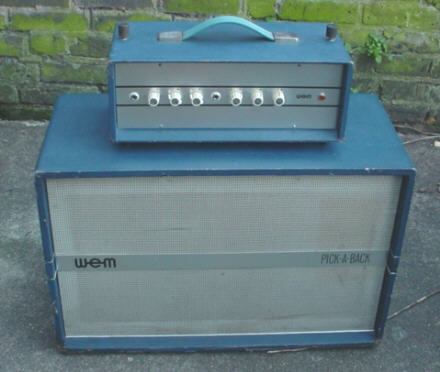 WEM Pick-a-Back, courtesy of James Stevenson, London, England.
The Pick-A-Back and Pick-A-Bass were Wem's first "piggy-back" units, introduced circa 1963 during the transitional Watkins to Wem period. The 14W valve head seems to have been an early version of the ER15, although it is not marked as such. 2-inputs, 2-channels, each with volume, bass and treble controls. The head was common to both models : the cabs bore the model name, and the Pick-A-Back had 2 x 10" speakers as opposed to the single 12" unit in the Pick-A-Bass.
It would seem that, within a year or so, the name of the Pick-a-Back was changed to the "Dual Ten" and the Pick-a-Bass was changed to the "Power Bass" and "Super 15 Bass". Details of the two amplifiers appear to have remained the same, with the Dual Ten still using two 10" speakers, the Power Bass using a single 12". It would appear that at some stage, a higher output pick-a-back bass outfit was offered called the Super 15 Bass and using a single 15" speaker.
We have now discovered an identical speaker cabinet, but called the Super 30 Bass. At present, we are assuming that this name change was purely a marketing ploy to highlight the 30 watt output instead of the 15" size of the speaker.


---