WATKINS / WEM AMPLIFIERS
THE WEM PICK-A-BACK & PICK-A-BASS AMPLIFIER HEADS & CABINETS (1963 to 1964)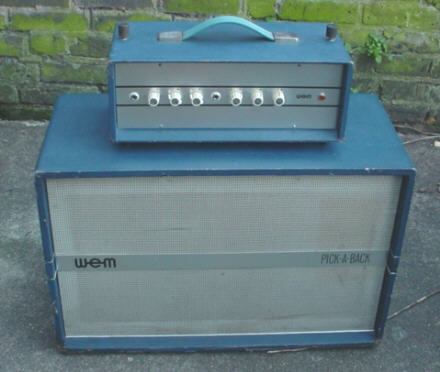 WEM Pick-a-Back, courtesy of James Stevenson, London, England.
The Pick-A-Back and Pick-A-Bass were Wem's first "piggy-back" units, introduced in 1963 during the transitional Watkins to Wem period. The 14watt valve head seems to have been an early version of the ER15 which appeared as a replacement in 1964. This was a 2 x EL84 powered amplifier with two inputs each with there own channel with volume, bass and treble controls. The head was common to both models, so it was the speaker cabinets that bore the model name, with the Pick-A-Back having 2 x 10" speakers as opposed to the single 12" unit in the Pick-A-Bass.
The Pick-a-Back and Pick-a-Bass amplifiers were replaced by the very similar but re-styled ER15 amplifier head with the appropriate cabinets being re-badged as the Dual Ten (2 x 10) and the Power Bass (1 x 12") in 1964.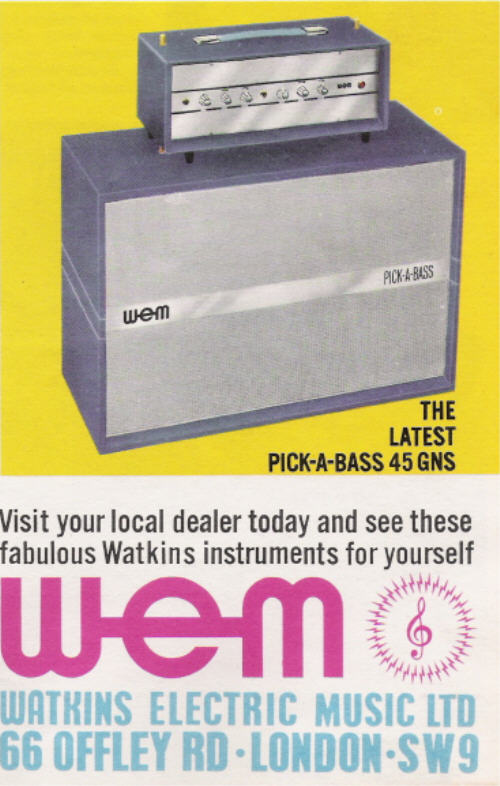 Thanks to Brian Watters for this 1963 advert.