WATKINS / WEM AMPLIFIERS
THE WEM MUSETTE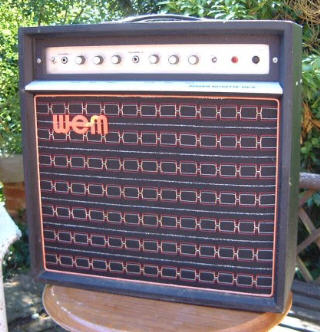 c1973 WEM Power Musette Mk II, courtesy of Jim Hendricks, Kent, England.


The Power Musette is a version of the Dominator, identical except for having a twin-cone 12" speaker which supposedly makes it more suitable for use with organs and accordions. The Power Musette Mk I co-existed with the Dominator Mk II : the Power Musette MkII with the Dominator Mk III - for more details see the Dominator pages.

A Custom 15 Musette Reverb was made in the mid-60s, a version of the Custom 15 with reverb and a "middle range curved cone" speaker.
---