WATKINS / WEM AMPLIFIERS
THE WEM POWER MUSETTE ACCORDION & ORGAN AMPLIFIER (1968 to 1978)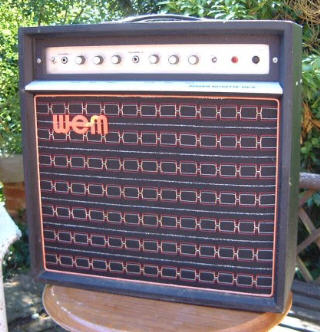 c1975 WEM Power Musette Mk II, courtesy of Jim Hendricks, Kent, England.


The Power Musette is a version of the Dominator, identical except for having a twin-cone 12" speaker which makes it more suitable for use with organs and particulaly accordions. Charlie Watkins was heavily into both selling and playing accordions.
The Power Musette Mk I co-existed with the Dominator Mk II : the Power Musette MkII with the Dominator Mk III - for more details see the Dominator pages.
A Custom 15 Musette Reverb was made in 1967, which was a version of the Custom 15 with reverb and a "middle range curved cone" speaker.
c1971 WEM POWER MUSETTE Mk I

(1968 to 1972)




Identical to the

Dominator Mk II,

but has a 12" twin-cone speaker. Twin channels equipped with tremolo speed and depth controls. Valves: 3 x ECC83; 2 xEL84; EZ81 Rectifier.15watt output.




For a short period in 1969, additional versions of the Power Musette were available equipped with reverb, together with "Super Musette" versions equipped with extra heavy duty speakers, with or without reverb





c1975 WEM POWER MUSETTE Mk II

(1973 to 1978)




Identical to the

Dominator Mk III

, but with a 12" twin-cone speaker. Twin channel without tremolo facility but with treble boost switch on one channel. Solid state rectification.




At the end of the Musette's production period in 1978, a version with top mounted controls appeared for a brief time.



---