WATKINS / WEM AMPLIFIERS
THE WATKINS/WEM MONITOR 30 & 50 WATT GUITAR AMPLIFIERS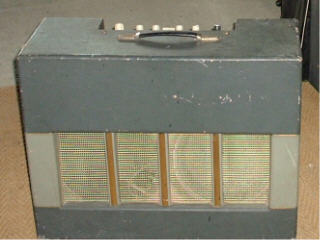 Courtesy of Ampaholics Website.
A very rare amp indeed. Only one fully complete example is known of today (above) and pictorial evidence shows The Shadows in front of one in the early 60s (link). We suspect that this was a limited run of prototypes made in the early 60s, possibly a fore-runner of the HR/HC30.

The name surfaced again in the 1970s : the Monitor Reverb was available as a 50W head or 2 x 12 combo, styled very like the Dominator Mk III. A 2-channel 4-input model with treble boost and Hammond reverb on one channel.




---