WATKINS / WEM AMPLIFIERS
THE WEM MONITOR REVERB 50 WATT GUITAR AMPLIFIER HEAD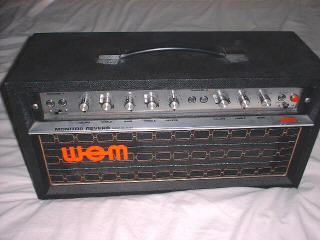 Picture courtesy of Reg Godwin, -"Watkins Guitar World" website.


The "Monitor" name surfaced again in the 1970s in the forms of a 50watt head and a 50watt 2 x 12 combo, both powered by 2 x EL34 valves. Styling was very like the Dominator Mk III.
A 2-channel 4-input model with treble boost and Hammond reverb on one channel.

---