WATKINS / WEM AMPLIFIERS
THE WATKINS JOKER 25 WATT AMPLIFIER (1962 to 1964)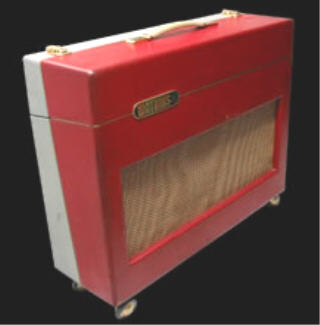 Picture courtesy of Sabella Recording Studios, New York, USA
Possibly the most advanced amplifier available in the early 60s, complete with tremolo, tape echo, and a built-in microphone stand. The Watkins Joker included a valve Copicat tape echo unit built into the chassis, and seems to have been intended as a self-contained guitar amp and PA system for a guitar-playing singer. Four EL84 valves were used to produce a 25 watt output through a heavy duty 12" speaker and a single tweater.

An early 60s amp, the Joker came with two-tone red & grey coverings and a red control panel which distinguished it from other Watkins cosmetics of the era, possibly deliberately. (There are un-confirmed sightings of all-black and black & grey models.) Although produced over three years from 1962 to 1964, it is very rare today to find working models in original condition. Perhaps the 90gns price made it un-competitive when compared to the other 25 watt amps such as the 75gns Selmer Selectortone Automatic fitted with a 15" speaker but without tape-echo or even spring-reverb.

A "magic-eye" valve on the control panel measures the tremolo speed. With no less than 17 valves inside there may have been reliability problems.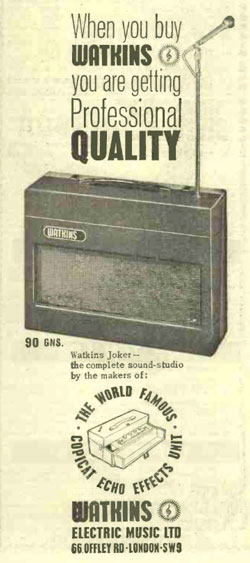 Watkins Advertisement from April 1963.
---