WATKINS / WEM AMPLIFIERS
THE WEM H.R. 30 AMPLIFIER HEAD (1964 to 1966)
STARFINDER 2 X 12" SPEAKER CABINET (1964 to 1966)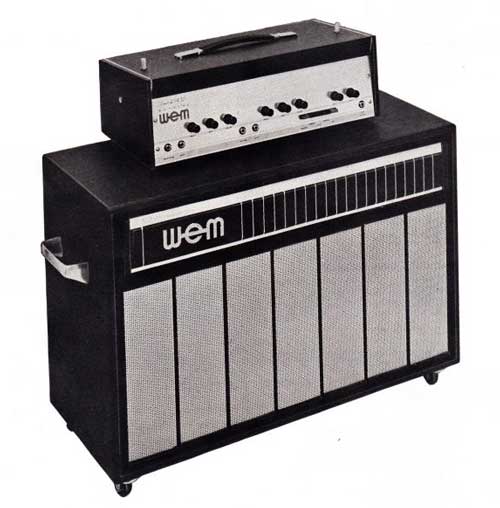 The HR30 amplifier head mounted on its recommended speaker cabinet - the Starfinder 2 x 12".
The HR30 was introduced at the same time as the E.R. 15, its less powerful stablemate. Watkins did not pull any punches with this amp. It and the first Starfinder speaker cabinet were intended as very much top-quality products.
A 2-channel 4-input amp with bass, treble & volume controls on each, it also featured push-buttons for Pre-set Presence, Pre-set Vibrato, Hi-Lo frequency splitting, and Tremolo with extra controls for tremolo speed and depth. Recommended speaker cab was the Starfinder 2 x 12", equipped with Goodmans Audiom 61 units. Power amp stage valves are 4 x EL84 plus an ECC83, and the pre-amp uses 5 x ECC83 plus a 12AX7. Mains input is via a round Bulgin plug.

With its built-in vibrato effect, tremolo, and presence features, this model seems to have been Wem's shot at the Vox AC30. It stayed in the catalogue until 1966, when superseded by firstly the E.R. 30, and very soon after by the E.R.40 and E.R.60 amplifier heads. At the same time, the Starfinder 2 x 12 was replaced by the more austere-looking Dual Twelve 2 x 12" cabinet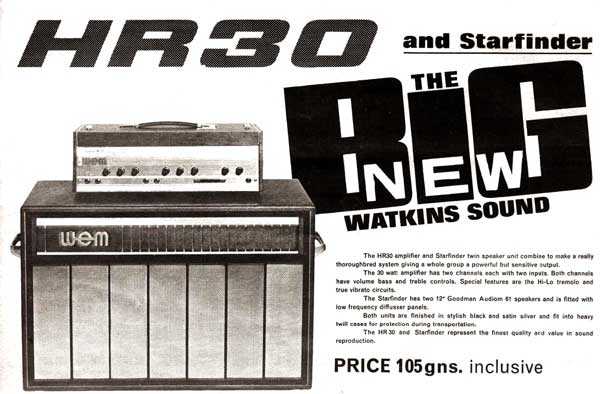 July 1964 advertisement for the HR30 & Starfinder 2x12"Speaker Cabinet.
---