WATKINS / WEM AMPLIFIERS
THE WEM E.R. 30 AMPLIFIER (1966 to 1967)
WEM SUPER 30 BASS 1 x 15" SPEAKER CABINET (1966 to 1967)
WEM DUAL TWEPVE 2 x 12" SPEAKER CABINET (1966 to 1971)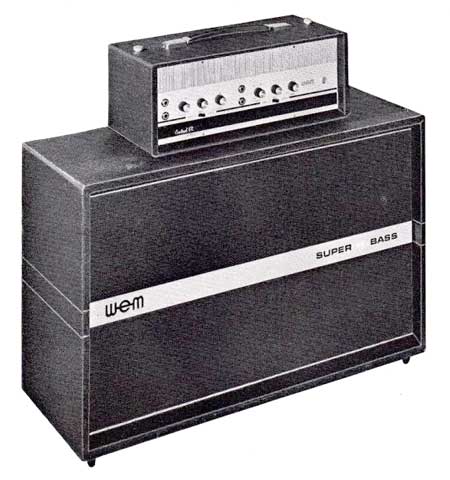 WEM E.R.30 Amplifier Head with Super 30 Bass 1 x 15" Speaker Cabinet.
The ER30 valve head seems to have been introduced in late 1966. A 30W push-pull valve amplifier, it had 2 channels each with 2 inputs, treble-boost slide switches, and bass, treble & volume controls. Valves - 4 x EL84, 3 x ECC83 .
Usually labeled "Control E.R.30 : Controlled Power Amplifier". Recommended speaker cabinets were the Super Bass 30 or Dual 12, and indeed the amp and appropriate speaker were marketed as an outfit under the name of the speaker cabinet rather than the amplifier.
It stayed in the catalogue for only a few months, being replaced by an up-rated version which was designated the E.R. 40 in mid-1967.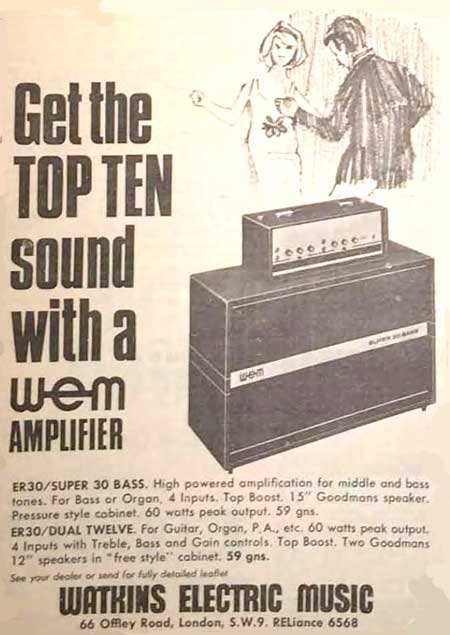 WEM Advertisement in May 1967 Melody Maker.
---