THE WATKINS / WEM COPICAT TAPE ECHO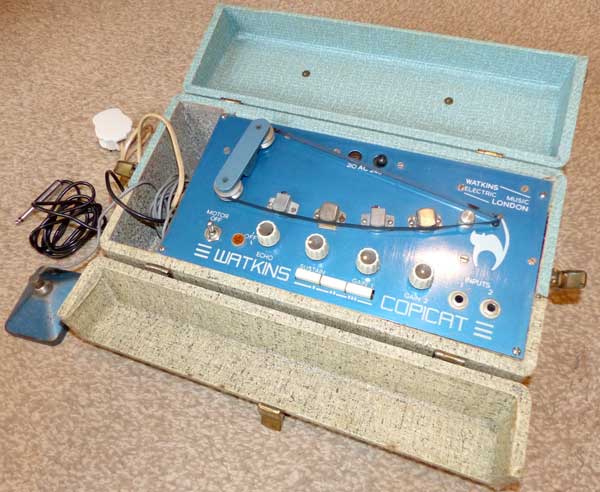 c1961 Watkins Copicat
The most famous Tape-Echo Unit in Britain, and possibly in the World, the Copicat also happens to be the first repeat-echo machine manufactured as one compact unit. It was first introduced into the UK in 1960, apparently after Charlie Watkins had heard a similar sound effect generated by two linked studio quality tape recorders for the Italian singer Marino Marini. Following its introduction, the tape-echo sound revolutionized pop music during the early 1960's, being behind the guitar sound of the top British bands such as The Shadows (although the Copicat was not the model actually used by the Shads). It also served a secondary purpose after being adopted for providing echo on vocals - the two volume controls acted as a rudimentary microphone mixer. These little machines sold by the thousand!!
What is perhaps most incredible about the Copicat is that it is still in production after 50 years! Visit the WEM Copicat Website to see the latest incarnation.
The path that the Copicat and its derivatives have taken since 1960 is illustrated by reference to the model variants listed below:
WATKINS COPICAT Mk I (1960)
c1960 WATKINS COPICAT (Mk I)
The very early Copicats had a rotary selector switch for the playback heads instead of the push buttons. There is a picture of Charlie holding Serial No 0001, on his website. Both this (Serial # 110) and the one that Charlie is holding in the picture have gold control panels.


c1960 WATKINS COPICAT (Mk I)
Perhaps a slightly later one than than the one above, as this one has a blue control panel but still the all-rotary controls.


WATKINS COPICAT Mk II (1961 to 1965)
WEM STEREO-CAT (1964 to 1965)
1964 WEM STEREO-CAT ADVERISEMENTS
Introduced at the 1964 Trade Fair in London and described as "a much improved version of the famous Copicat", .....but never seen since. Are their any examples of this mythical beast still out there?


WEM ("CUSTOM") COPICAT Mk III (1965 to 1969)
c1966 WEM CUSTOM COPICAT MODEL/b>
A new style case, with detachable lid. Still with its three valves inside !


WEM COPICAT "POWERCAT" MODEL (1965-1967)
It would appear that this particular version of the Copicat formed part of a 15 watt (advertised as 30watt peak output) guitar combo/echo unit combination which was marketed by Wem as the "Powercat". An advert for this combination, featuring Bo Diddley as an endorsee, is included on the linked picture page.


WEM SHADOW ECHO (1967-68)
c1967 SHADOW ECHO
A "budget" version of the old Copicat formula. Fitted with two playback heads instead of the Copicat's three.


WEM COPICAT Mk IV (1970 to 1976)
WEM COPICAT Mk IV MODEL
The first major change - the Copicat goes Solid-State. It also now has a proper erase head instead of a permanent magnet mounted on the tension arm on previous versions.


WEM COMBINED COPICAT & POWER AMPLIFIER
A Mk IV Copicat combined with a valve power amplifier unit. The first (and only) one we have ever seen ! Could this have been a prototype for the WEM Halle Cat?


WEM COPICAT Mk IV, WITH GUILD DISTRIBUTION LOGO./b>
As mentioned above, WEM/Watkins supplied Guild in the USA with Copicat units. This example is a standard Mark 4 but with Guild logo.


WEM HALLE CAT (1974 to 1978)/h3>

c1975 WEM HALLE CAT


A combined echo/reverberation/4-way mixer unit, that as well as being a 6-head tape echo unit, also incorporated a Hammond spring-activated reverberation unit. Each of the four inputs was controlled by individual volume, bass, treble, and echo strength controls. The unit was aimed at studios, as well as large bands.


WEM COPICAT I.C. MODEL VARIANTS (1977 into 1980s) WEM COPICAT GOLD VARISPEED MODEL (1990s)

c1990 WEM COPICAT "GOLD VARISPEED" MODEL - TYPE 1
A much more modern appearance, with smart blue covering for the case and a rich gold control panel. Back to a two input mixer, but with an "echo only" facility for use mixer effects.


1991 WEM COPICAT "GOLD VARISPEED MODEL - TYPE 2
Similar to the one above, but with a "PAD" push button for each of the two inputs. This appears to provide the facilitate the reduction of gain for each input by a pre-set amount without having to use the rotary volume controls.



WEM COPICAT SUPER SHADOW MODELS

WEM COPICAT "SUPER SHADOW" MODEL TYPE 1
Same as the Gold Varispeed, but with five playback heads instead of three.


WEM COPICAT "SUPER SHADOW" MODEL TYPE 2
The side storage box disappears again, and provision is now made for the output cable and footswitch by means of panel mounted jack sockets. On this Type 2 version, a facility has been provided for "Tail-Off" and "Mellow" additional effects, utilizing push/pull knobs for the Sustain and Swell rotary controls.

THE PRESENT DAY WATKINS COPICAT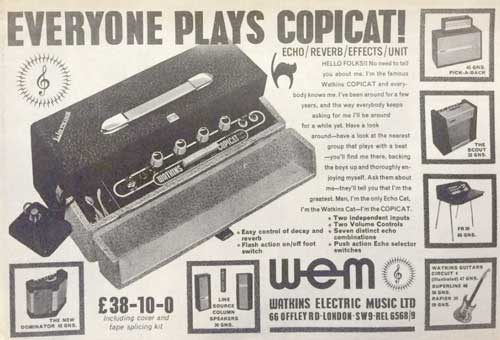 WEM Advertisement from May 1964.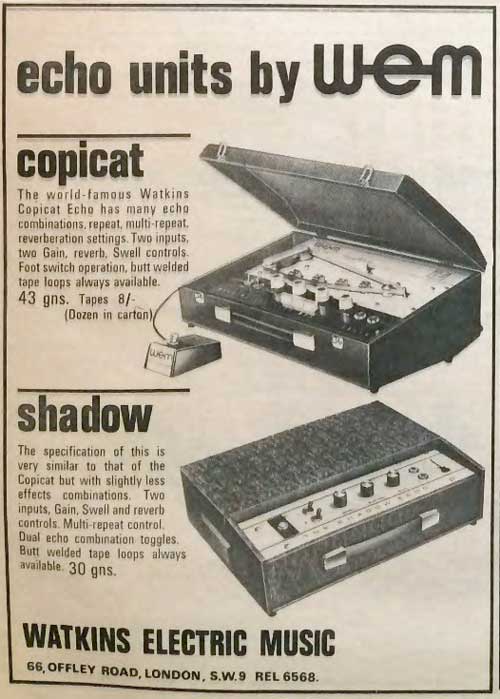 WEM Advertisement from January 1968.
---
Need Spare Parts for your Watkins/WEM Echo Unit? Don't mess about......go to the best!

John Beer of Amp-Fix, Wellington, Somerset has considerable experience with these types of machines, as well as all types of valve amps. Visit John's AMP-FIX WEBSITE where you will also find very detailed descriptions of many of the Copicats listed above.

---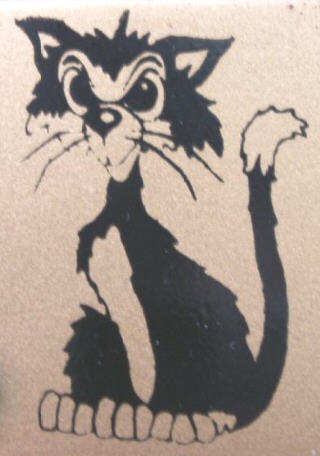 Thanks, Michael Zimmerling !