Amps

END OF THE LINE - SELMER SOLID STATE AMPLIFIERS IN THE LATE 1960's AND 70's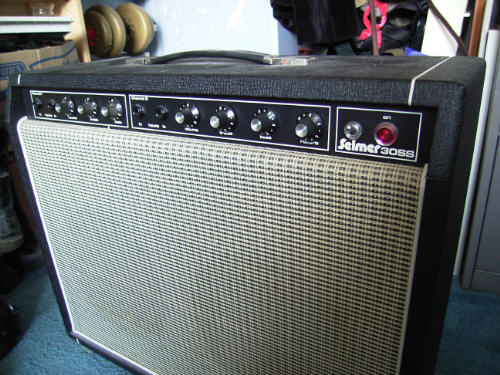 Solid-state technology appears to have been introduced into the Selmer range around the second half of 1965 with the introduction of the Taurus 60watt combo amp (later known as the Saturn 60 Reverb), which looked similar to the Zodiac and Thunderbird of the same era. This was soon joined by the small 5watt Mercury combo for a year or so. Following the disappearance of these first attempts in solid state technology around 1969-70, three simple 15 and 30 combo models were produced for a few years from 1973 onwards.
A short-lived professional-level solid state amplifier heads and cabinets were introduced at the Frankfurt Trade Fair in Spring 1973, but these were superseded a year or so later by a less-sophisticated and hence lower-price range of slimline solid state amps and cabinets which remained in production for several years.
By 1979, it would seem that all production had been finally changed to solid state. An Equipment List found in the back of "Beat" Magazine from August 1979 lists only solid state 100 and 200Watt bass heads and speaker cabinets, together with a 60watt 1 x 12" Combo amp. Details of that final solid state range have still to be identified.

Problems with reliability on the earlier models, together with the inevitable performance comparisons with Selmer's own valve amps, and those of their many competitors during the 1970s, led to the Selmer solid-state gear not being very successful. Perhaps this is why very few Selmer "Trannies" are around to-day.



---
COMBINATION AMPLIFIERS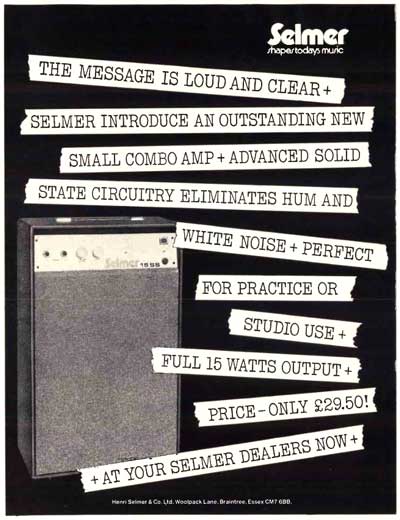 Selmer Advertisement from May 1974 featuring the Compact 15SS Combo
AMPLIFIER HEADS, SPEAKERS, & PA EQUIPMENT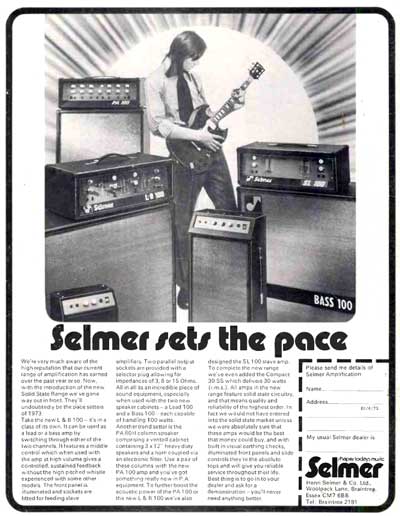 Selmer Solid State Advertisement from April 1973.
SELMER L&B 100 "LEAD AND BASS" (1973-75)
This head unit was presumably intended to eventually take over from the old valve driven Treble and Bass SV model, but in fact the SV range continued to run in parallel with the new transistor amps until the mid 1970s. Probably best to let the 1973 catalogue entry speak for itself - "A new solid state amplifier developed with working groups road managers in mind. May be switched from lead to bass on either channel. With a lead cabinet can be used for the whole range necessary for lead or rhythm guitar, and with a bass cabinet provides all the depth and tone required. Illuminated front panel. Two inputs for each channel, including... independent treble, bass, middle, presence, volume, reverb. Rear socket for external echo".
Two types of speaker cabinet were available for use with this amp. The Lead 100 Cabinet was fitted with 4 x 12" speakers. (Perhaps a touch of the Marshalls here!). The Bass 100 cabinet was equipped with a single 18" unit, and was fibre glass lined internally. The catalogue states that this cabinet had been developed from the Goliath cabinet, which it presumably was intended to replaced.


SELMER PA 100 (1973-75)
A solid-state alternative to the valve driven SV unit also appeared in 1973. Certainly, for a year or so, the two alternatives seem to have been produced in parallel. Interestingly, in 1974, the solid state version was much more expensive at £188 than the valve SV model at a bargain £109.50!
100 watts output, with six channels each equipped with volume, treble and bass controls. A single reverb depth control was fitted, acting on all channels, as was a master volume. Two Selmer PA 60H speaker cabinets were recommended for use with the PA100 amplifier. Each cabinet contained three 12" speakers plus a horn unit.


SELMER SL 100 SLAVE AMPLIFIER (1973-75)
Slave amps were very much in fashion in the 1970's for boosting the outputs from PA amplifiers and even guitar amp heads. This was the first occasion that Selmer produced such a unit. It was equipped with two input channels with two input sockets, a volume slider and rotary bass and treble controls for each channel.


---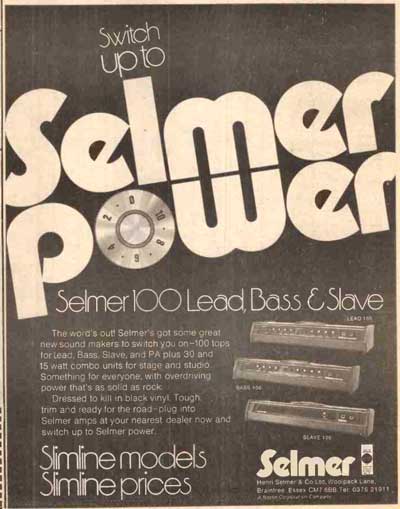 Selmer "Slimline" Solid State advert from September 1975.
SELMER LEAD 100 (Autumn 1974 - Mid/Late 1970s)
Selmer introduced a second range of solid state amps in Autumn 1974, and came up with slim looking amps which presumably were intended to offer a much cheaper alternative to the above 1973 range. This range provided separate amplifier heads for Lead and Bass. Twin channel with individual rotary controls per channel for volume, bass, treble, and reverb.


SELMER BASS 100 (Autumn 1974 - Mid/Late 1970s)
Rather strangely, this bass amp was equipped in exactly the same manner as the Lead amp, with reverb on both of the two channels! Hmm....


SELMER PA100 MIXER (Autumn 1974 - Mid/Late 1970s)
A dramatic change in style and capability from previous Selmer PA amps, this new 100 watt amplifier was combined with a 10 channel mixer, with volume sliders for each channel! Reverb was ialso included i the package.


SELMER POWER 100 SLAVE AMPLIFIER (Autumn 1974 - Mid/Late 1970s)
A simpler unit than the previous fully controllable twin channel slave, with now just one input with a single rotary control for input level.

(Mid/Late 1970's onwards)
A later model to the above unit, this could well be the last PA 100 model produced before Selmer's demise
---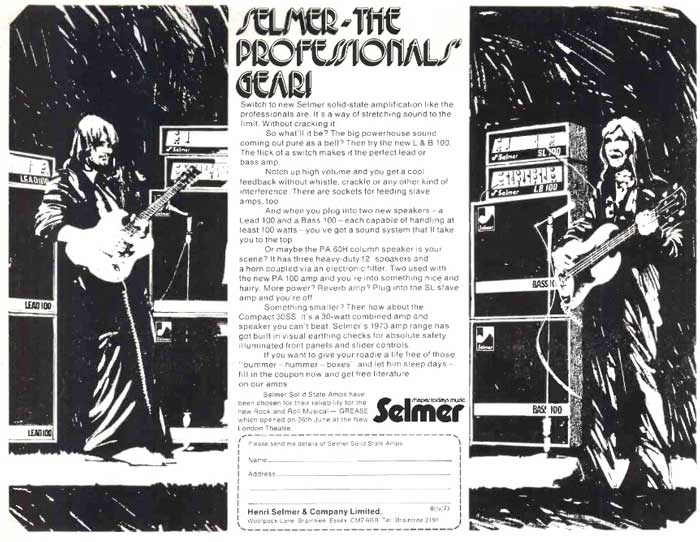 September 1973 Selmer advertisement for their new range of solid state amplification. At the bottom of the script is a paragraph stating that this gear was used in the "new Rock & Roll musical - GREASE", which opened at the New London Theatre on 26th June 1973.
---
Return to SELMER AMPLIFIERS - MAIN INDEX PAGE