MEMORIES OF 114-116, CHARING CROSS ROAD
Patrick Kirby's account of working at the old Selmer Musical Instrument Showrooms, (with a postscript by Simon Croft and memories from Richard Bourne).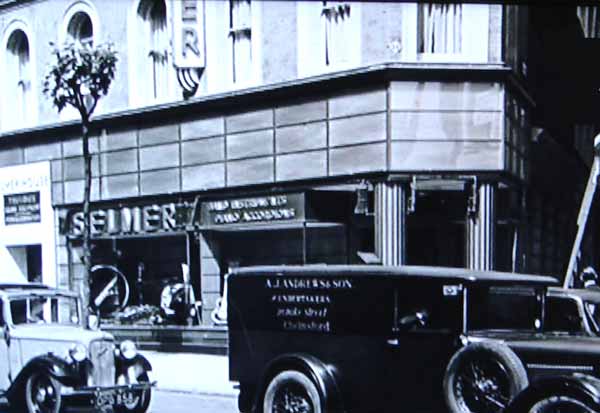 Selmers, 114-116 Charing Cross Road, London in the late-1930s/1940s.



In 1966, at the age of 15 and just out of short trousers, I naively trawled "Tin Pan Alley", that infamous part of London W.C.2, in search of a job as trainee recording engineer. This friendly and trendy artistic community centred around Denmark Street and encompassed scores of quality music stores, recording studios and publishers offices. Its cafes (especially the Gioconda) were frequented by an unlikely mix of pop stars, session musicians, pluggers and pimps. There must have been hundreds more like me looking, as I soon figured out that the chance of getting an engineers job was nigh impossible.

Despite being offered some interesting alternatives, I was lucky enough to find a job as tea-boy at Selmer Musical Instruments Ltd at their showrooms on 114-116 Charing Cross Road, London WC2, earning £7 and 10 shillings a week. I got the job because Paul Kossoff was leaving to form the band Free. The shop-front to Selmer's building was quite grand, with tall bronze columns, framing a dazzling array of Gibson and Fender guitars, Henri Selmer brass and woodwind instruments, and every other sort of musical item you might imagine. On entering, there were plush display cabinets lined with red crushed velvet, as far as you could see, all full of guitars, brass and woodwind instruments.

The salesmen all had a big smile and were accomplished musicians with a wealth of experience of the instruments and equipment they sold. Their opinions were highly regarded by customers. There were four floors of offices above the showroom, crammed with various administrative departments. It was the swinging sixties, and the atmosphere was fast and heady. Selmers was the number one music store with an incredible reputation world-wide.

On Saturdays, a uniformed Commissionaire stood at the double entrance doors, giving Selmer the credibility of a royal palace.

My day began with clocking in, winding up the window -grilles, and taking breakfast orders from the dozen or so bleary-eyed salesmen and managers, all shattered by their previous nights gigs. Those bacon s'arnies, rum ba-ba`s and hot cappuchinos I ferried from the 101 Bar opposite seemed to kick-start their day, and I sometimes got to keep their change! Bands of musicians trundled into the store each day, showcases were unlocked, and instruments were tried and demonstrated. If things went well, the grinning salesman would head for the glass-panelled managers office to negotiate a deal, and the door would slam. The waiting customer would, within seconds, read facial expressions within to know if his bid was successful. A heck of a lot of "wheeling and dealing" went on in those days, with the purchase of complete outfits for new (and green) bands was usually negotiated by their managers. Individual musicians would usually buy on hire-purchase, a draconian system whereby goods could be re-possessed in a flash if the repayments were not kept up.

A strong-minded man called Mr Lock ran the hire-purchase department. He would consider any defaulting customer to be a rogue. As the new boy I had the job of humping (an English expression for lifting!) massive amounts of re-possessed equipment up to the top floor of Selmers, where it was held in limbo pending court proceedings. On the way back down to the showroom, a fleeting moment caught chatting-up a mini-skirted secretary could land me in trouble! Even so, the salesmen themselves spent most of their time jamming together in the store. I felt this was rough justice until I was elevated to the position of assistant demonstrator in the plush Organ Salon on the first floor. This meant that a new "lad" had been taken on.

This most palatial room had red flock wallpaper, elaborate wall and ceiling mouldings, fake marble columns and massive chandeliers, but failed to impress the mainly teenage customers who came looking for groovy keyboards and wah-wah pedals. It did seem to please our aging directors though, its decor resembling a sort of time-warp back to the dance band era that they were so proud of. Selmers was incarnated by Lou Stone, a famous band leader in the 1940`s. His pictures adorned the staircase leading from showroom to organ salon.

My colleague in the Organ Salon was an unlikely chap called Ted Woodman, who was totally sold on Art Tatum. When I first saw Ted playing Jazz on organ I feared he was having an epileptic fit, or was on drugs....his eyes rolling as he writhed his arms over the keyboards, twisting and turning his legs across the massive 32 note pedalboard, swinging his head around dangerously. Soon after, having seen Alan Haven on TV with the Beatles, doing exactly the same thing, I quickly picked up the art and with the encouragement of a guy called John Bell, who ran the drum department (and was rather nifty with the skins himself), we were out playing jazz gigs in dodgy Soho clip-joints most nights, earning on average 10 shillings each a session. (then fondly known as half-a-knicker). John and I used to beg and borrow keyboards from the store for gigs, but eventually saved up and bought a second-hand Lowrey Heritage organ from Selmers. I discovered some of the words to a Sergeant Pepper song written on the polished wooden top, and thought this was sacrilege until I found out from John that this was the organ that Selmers used to hire to EMI, Abbey Road!

In the store, each instrument had a sales tag, with the buying-in price represented as a code "CHEAP RINGS" (1-10). This was invaluable for the salesman negotiating a keen deal. Unfortunately though, many regulars got to know the code!

Regarding the competition at that time, Macari Musical Instruments were just down Charing Cross Road, selling Vox products. It was a small scruffy corner shop. Drum City was later set up on Shaftsbury Avenue (Ginger Baker was often found jamming there) and Sound City was located opposite, being managed by Dave Wilkinson, brother of Tommy who worked for Selmers. Later there were two new music showrooms opened behind Centrepoint, on St Giles Circus, selling Burns Guitars and Hammond organs. There were no instrument shops on Denmark Street then as there are now, just publishers and demo studios like Pan Sound.

I have so many happy recollections of those times, and of the big names that we used to serve at Selmer: The Shadows, The Beatles & Mal Evans, Peter Green, The Who, The Tremolos, Bob Dylan & The Band, Graham Bond, Procul Harum, Cat Stevens, The Kinks, Waren Mitchell, (a fine clarinet player better known as Alf Garnett), Debbie Harry, Mud, Ginger Baker/Cream, Pink Floyd, Gerry & the Pacemakers and many more, as well as many major classical and foreign artistes. For Bob Dylan`s, The Band, appearing at the legendary Isle of Wight Music Festival, Selmer engineers took weeks customising a Lowrey H25 console organ. The result was the most amazing set of sounds you`ve ever heard.

And any serious guitarist around in those days will remember the infamous "Dick", guitar repairer extraordinaire, who was to be found in his cluttered little workshop in the basement. Together with salesman and outstanding guitarist Jerry Donohue, Dick re-designed the Fender Stratocaster and Telecaster many times over, with Fender themselves graciously acknowledging the considerable tonal improvements. Next door to Dick was a happy pair of brass and woodwind repairers, Laurie and Albert. The big classic sixties sound relied heavily on brass instruments, and their considerable skills, kept everyone working.

Further along the basement corridor was a quiet-spoken Italian called Nando. He spent most of his time tinkering with the old accordions. There was always a big pile of squeeze-boxes in pieces behind him, and I'm still unsure as to whether this reflected success or not!

In those days the volume of repairs coming into Selmers workshops was vast, and sales were at an all-time high. The whole operation was run with utmost precision by a happy, dedicated team of people who really loved their jobs.

I started working for Selmers around the Truvoice/Grey crocodile era, and left around the grey/silver speaker-cloth era. The basic designs never changed much, with mainly cosmetic changes to fascias and badges. Selmer always tried to emulate Fender circuitry and cabinet styles. The most popular kit was the Treble `n` Bass 50 amp, usually sold with 2 4x12 column speakers and a Shure 545 switched mike. Thunderbird Amps (with spring reverb and chrome swivel stands) used to sell like hotcakes, as well as the round edge Goliath 2 x 18" Bass cabinets The later amp/speaker combination with in-built Leslie rotary speaker & spring reverb unit was a great success with guitarists, and was often hired by EMI for The Beatles when recording at Abbey Road.

Selmer amps and speakers were very well built and incredibly reliable, especially given the abuse they were often subjected to by 60`s-70`s bands. I myself used a Selmer Stereomaster Amp for many years, which consisted of two separate amps with "Selectortone" push button pre-sets. A friend of mine still gigs with this very amp to this day, and it has never let him down. I guess this is fair testimony to the Selmer brand.

Around the time that Jerry Donaghue was selling gear at Selmers, a guy called Dave Reeves came in with a prototype "Hi-Watt" amp top and 4 x 12 lead cabinet, that he had apparently made in his shed. Jerry and his colleagues tried it out and was amazed with the sound quality. Not long after, we started selling considerable amounts of Hi-Watt products at Selmers, much to the consternation of our bosses. This I guess was the start of the demise of Selmer amps. The truth was that the Hi-Watt range were superbly built, looked good, and sounded really incredible.

The Selmer factory was in Theobalds Road, WC2, a building that was previously a London County Council school supplies depot. It was a vast place, and all Selmer amps and speakers were manufactured there. (ED. - Click HERE for Allan Baldwin's account of working in the Selmer amplifier factory) Lowrey Organs were assembled from American kits there, though the cabinets were mostly made in the UK. I remember a guy called Dave Brandon, who's job it was to test the amps before despatch. He was a stunning guitarist, able to play bass, chords and solo all at the same time. He loved his Meazzi tape Echo Unit. Binson was of course the top echo unit then, using a metal disc instead of a tape loop. Selmer were then sole importers of Gibson & Fender products, Hofner, Henri Selmer Paris, Lowrey Keyboards, Elka-Orla Keyboards, and Selmer first brought Yamaha products into the UK, and later the first Meazzi electronic drum-kits.

The factory later moved to Braintree, Essex, and some of us were given the option to re-locate there. Another division of Selmer was Selcol, also based in Essex, who used to manufacture white plastic garden products.

SELMER STAFF:

Mr J. A. Cochrane: Chairman & Managing Director

Phil Cowan: Director

Mr Edwards: Export Dept.

Dave Seville: Trade Sales Dept. (- now Director of Yamaha UK)

Jack Moore: Director/Store Manager

Brian Lake: Assistant Manager (- still gigging in Southampton)

John Bell: Drum Dept. (- now a Headmaster & successful jazz musician)

Ray Smith: Guitar Dept. (- ex Heads, Hands & Feet, and now living in Wales)

Colin Falconer: Guitar Dept. (- went to Australia)

Tommy Wilkinson: Guitar Dept. (- ex Dark Blues, and still selling guitars in London)

Jerry Donahue: Guitar Dept. (- ex Fotheringay, and now with The Hellecasters)

Mike Chapman: Guitar Dept. (- writer for The Sweet, Mud, Debbie Harry)

Jack Hawkins: General Sales

Ted Woodman: Keyboard Dept.

Dick Clifton: Guitar Repair Dept.

Willie Fahey: Brass & Woodwind Dept. (- still gigging in London)

Dave Mowatt: Brass & Woodwind Dept.

Laurie ?? & Albert ??: Brass & Woodwind Dept.

Nando Fabi: Accordion Repair Dept. (- became MD of Elka-Orla Musical Instruments, UK)

Dave Lock: Keyboard Repairs Dept.

Dick: Caretaker

Doris: Canteen

June: Typing Pool

I understand that Selmer Musical Instruments Ltd was bought by a U.S. company in the late 80`s, and never recovered. Selmers was a well-run, well-respected institution that was the envy of every other music company in those days. It has bred a multitude of seriously good musicians and businessmen who have gone on to be very successful, many of them within the list above.

PATRICK KIRBY




---
ADDITIONS TO THE ABOVE, COURTESY OF COLIN FALCONER (SEE SELMER STAFF ABOVE):

"I'd just like to fill in a few missing details about staff and the Charing Cross Road mob at Selmers.

The guitar repairman's full name is Dick Clifton. Quite a character - he used to dress up in Wild West outfits and go square dancing in the evenings. (He had his own drinking mug - on it was written 'My Tea, Like a Rose' - There used to be an old tune called 'Mighty Like A Rose'.)

I think Laurie's surname was Fisher, but I wouldn't bet the family jewels on it."


---
THE RE-FURBISHMENT OF 114-116 CHARING CROSS ROAD IN 1970
This major event in Selmer's famous retail store history was recorded in contemporary editions of "Beat Instrumental":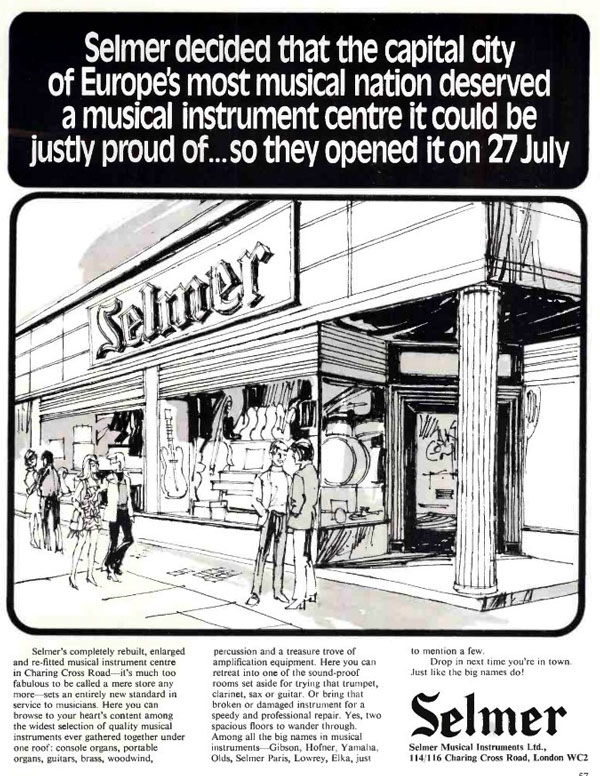 Beat Instrumental October 1970.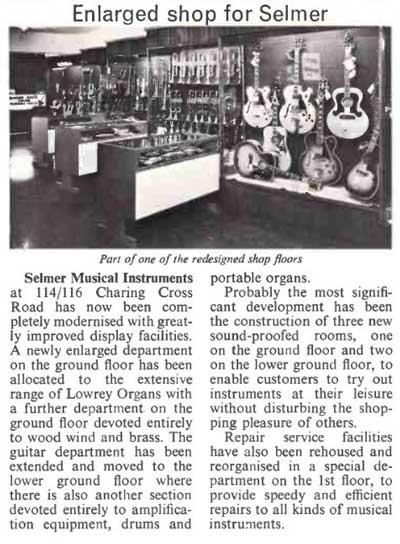 Beat Instrumental September 1970.
---
POSTSCRIPT ON 114-116, CHARING CROSS ROAD by Simon Croft:
In the mid-to-late 1970's, the shop was taken over by a company called REW that sold professional audio gear, but also had a pro-video division and ran a chain of hi-fi shops in the West End. My friend Neil worked for REW and he showed me round the shop just after they'd taken it over. All the glass instrument show cases were still there, as were a few guitars, including a rare Gibson Howard Roberts, which seemed a bit bizarre.
A while later, I left my job as a bored musical instrument maker and became an even more bored office equipment salesman. Fortunately, Neil got me an interview with REW and I was soon a pro-audio salesman. Just like in the Selmer days, early responsibilities included going over to Giaconda's or 101 and getting in the s'arnies and coffee. I must have done a reasonable job because a few years later I was running the entire store! Alas, REW was sold to Thorn EMI, who didn't much care for pro-audio or West End retail, so they closed the shops. That was about 1984.
After a spell as a computer shop, 114 Charing Cross Road became The Turnkey Shop and was again back in audio and musical instruments. In mid 2005, Turnkey was bought by Sound Control, the UK's largest chain of musical instrument shops.
So quite a musical history really.

---
FURTHER MEMORIES from Richard Bourne - A Spoilt Kid and a Famous Cigarette
It was about 1964 when, courtesy of a local dealer I'd bought a couple of guitars from, I managed to score a part-time job at 114 Charing Cross Road. I was 16 at the time and, because I was only there on odd days and half days for a couple of weeks, I really didn't get to know anyone there very well, although a few of the names on this site ring distant bells. There were however a couple of memorable occasions. The first was when I was in the guitar department (replenishing strings on a shelf from memory) when this affluent looking guy and his son (a kid a bit younger than me) asked one of the salesmen what the best guitar in the shop was. Such things are a matter of opinion of course, but to this salesman it was definitely the Gretsch "White Falcon" - which was also probably the most expensive guitar in the shop. Without even bothering to look at it, or try it out, this guy said he'd take it, and paid for it on the spot. The salesman was obviously a bit stunned, but said how sure he was that the guy would enjoy playing it, to which the guy replied: "It's not for me. My lad here wants to learn the guitar, so I thought he should have something decent". I'm not sure, but I don't think the guy even asked about an amplifier. To someone like me, who could at least play the guitar more or less, a Gretsch White Falcon was the impossible dream. The thought of someone getting one to learn on was unbelievable!

The second was on my last day there, when I turned a corner - and bumped into George Harrison, who apologised with a lop-sided grin. I was 16, and I'd just bumped in to a Beatle! I ducked out sight and lit up a cigarette, then heard a scouse voice in my ear: "Would you have a spare one of those?" I was smoking a brand called "Piccadilly" at that time, which had a mainly white pack, which I nervously offered to George, who took a cigarette then whipped a pen from his jacket and scribbled on the pack before thanking me, handing it back, and moving off. I looked at the packet, and he'd written "I owe you one ciggie George Harrison." Over the years, I've probably embellished that story a bit here and there, but that's basically what happened. I've never been able to find out just what George was doing in the shop at that time. Maybe it was for a promotion of some kind - perhaps someone else might remember. All I know is that I kept that cigarette packet for many years, until it eventually went astray sometime during my move to Australia in 1978. I wonder what it might be worth now?
---
FURTHER MUSIC STORES IN LONDON'S WEST END DURING THE EARLY 1960'S - KINDLY PROVIDED BY DON MACKRILL
Pan Music (above the Wiskie a Gogo), Wardour Street


Billy Amstell's Store, Wardour Street


Take Five, Shaftesbury Avenue,


Rose Morris, Shaftesbury Avenue


Bill Lewington's Store, Shaftesbury Avenue


Boosey & Hawkes, Denman Street


Chas Foote, Golden Square


Lew Chester's Store, Rupert Street (later taken over by Ivor Arbiter and run for a while by Bob Adams, a legend in his own right!)
---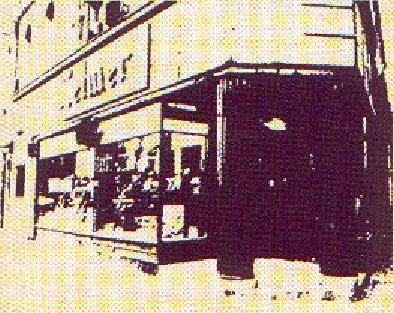 ---
Return to the SELMER COMPANY STORY PAGE

Return to MAIN SELMER AMPLIFIER PAGE

Return to MAIN HOFNER WEBSITE INDEX PAGE