Amps

SELMER-TRUVOICE TAPE ECHO UNITS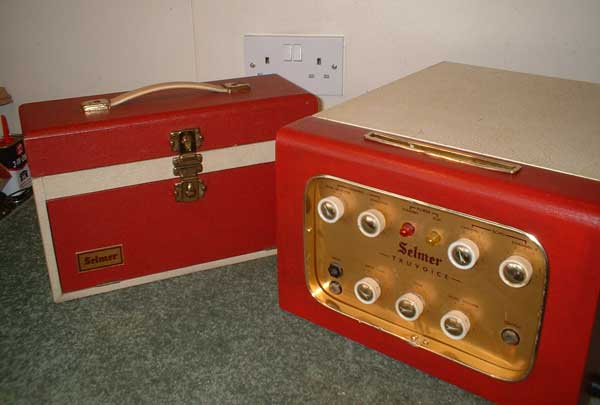 Selmer-Truvoice Echo 200 (left) and Selmer-Truvoice Echo 400 (right).
Photo Courtesy of John Beer, Amp-Fix, Devon, England.
---


Every band in the UK during the first half of the 60's had to have an echo box. The music of the time demanded it. Even the dance hall proprietors demanded it before you were offered an engagement! Never mind whether you could play a note; provided that the answer was "yes" to the question " 'Av you got one of them echo chamber gadgets, son?", then you were in!

Hank Marvin of The Shadows was really responsible for the rapid growth of popularity of this effect from about 1960 onwards in the UK. Most of the Shad's hits contained the repeat echo sound in various combinations, and there is no doubt about it; that sound was tremendous! Then....the Beatles arrived, together with the R 'n B sound produced by such bands as the Animals, Yardbirds, and Rolling Stones. Multiple repeat echo effects didn't fit in with that type of music. The tape echo box suffered a rapid demise.

The top bands in the 60's used the expensive Meazzi, Binson, and Dynachord models, together with such derivatives as the Vox "Shadows" Echo Unit. The 'also-ran's' had to make do with the Watkins Copicat and...... the units produced by Selmer.


---
SELMER ECHO UNITS:
(Click on Model names below for images.)


THE SELMER-TRUVOICE ECHO 200

Selmer seem to have got into the budget market fairly soon, with the introduction of the Echo 200 in c1960. This unit sold for 36 gns in 1961, which put it in direct competition with the similarly priced Watkins Copicat. Like the Copicat, which had been introduced in the previous year, the Echo 200 had three playback heads and used a small tape loop, again of similar size to the Copicat. The location of the tape loop resisted convention by being in a vertical plane behind a front fold-down panel.

The coverings to the unit followed the trend of the main amplifier range - first red/cream, then blue/grey, and finally crocodile. I suspect that the unit would have been discontinued around 1965, i.e. at the time when echo boxes were becoming unfashionable.

Valve compliment in the unit was 2 x ECC83 and 1 x ECF82. Controls for motor on/off, echo volume, and echo sustain were fitted, together with a further four position rotary control for bring different combinations of replay heads into use. (The rival Copicat initially had a similar rotary control switch for the heads, but changed to the more versatile push buttons for each head in 1960.)


THE SELMER-TRUVOICE ECHO 300

This more sophisticated unit was introduced in 1962 during the blue/grey Selmer period, a couple of years or so after the Echo 200 & 400 had been introduced. It was probably designed as an attempt to knock the Copicat off its market leader perch, as it was fitted with four replay heads as opposed to the Watkins machine's three and yet it was only six or so guineas more expensive at 45 gns. Furthermore, the 300 was fitted with a three input mixer feeding three balanced level outputs. The Copicat had only a two input mixer feeding the one output. The 300 was therefore ideal for handling the multiple vocals of a band.

Selmer did however take a leaf out of the Watkins' book with the new model, by utilising a push button for each head, giving a very wide selection of multi-tap echo combinations. Echo volume and an echo sustain controls were fitted, plus of course, a motor on/off switch. Valves fitted were 3 x ECC83 and 1 x ECF82, and an erase head was installed, rather than the simple magnet that the Copicat used at that time for wiping the tape prior to the next cycle or record/replay. The Echo 300 was a very attractive machine, both in specification and appearance.

A Mk II version was introduced during 1963 which had a flywheel fitted to the motor, presumably in an attempt to control tape flutter from which the Echo 300 tended to suffer.

The unit was discontinued sometime during the Croc-skin period around 1964/65.


THE SELMER-TRUVOICE ECHO 400

This unit was produced by Selmer-Truvoice in parallel with the Echo 200 for a short period in 1960. It is the one being used by Bert Weedon on the demonstration record which is shown at the bottom of this page. It was supplied in a red/cream case with a hinged top; rather similar to the record players of the time, and actually was a very technically advanced and well-built piece of equipment. It utilised three replay heads with a closed loop tape which was longer than the average Copicat/Meazzi size. A variable speed tape drive was used, and two channels were utilised for the signal return to the play-back head, which must have provided for some very interesting multi-tap combinations! Very few of these units must have been made - a reasonable guess would be less than fifty. (??) They were probably just too complex and expensive to produce, particularly when Selmer could purchase a similar quality model, the Swissecho, straight off the shelf from Uniton in Switzerland.


THE SWISSECHO MODEL 463

The replacement for the Echo 400, being introduced into Selmer's catalogue from around 1961. This machine was intended to compete with the Binson, Meazzi, and Dynachords, and it was priced accordingly at 96gns. The unit was actually manufactured in Switzerland, by a company called Uniton AG.

The Model 463's main claim to fame was its tape system. This, at least during part of the unit's production run, was based on a cassette containing 160 ft (no kidding!!) of "dry lubricated" recording tape. The advantages in relation to tape wear and long life are obvious, providing there were no tangling problems of course! (Roland seemed to get it right with a smaller length of cassette enclosed tape, some years later.) Details of the Swissecho continuous tape cassette system can be seen HERE.

Uniton also produced a similar-looking echo unit with a conventional size tape loop - the Swissecho Model 566. As far as I can ascertain, this model was not distributed by Selmer.

Four recording heads were fitted, individually controlled by push buttons, and the input into these was controled by a modulation rotary control, and monitored by a "magic eye" similar to those fitted on the good quality domestic tape recorders of the time. Echo volume and sustain controls were fitted of course, together with a tone control for some unknown reason!

The Swissecho 463 echo unit appeared in the Selmer catalogue from about 1962 to 1965 (again from memory!). It was later joined (in 1963?) by a Swissecho combination PA/Tape Echo Unit, similar in concept to the now highly collectable Meazzi Factotum PA Unit.

I have to say that I only ever saw one Swissecho in use on a stage back in those days, and therefore suspect that it was nothing like as successful in the UK as the Binsons etc. Any further information on these very interesting pieces of equipment would be much appreciated!

Copies of the Model 463 Schematic Diagram, and the User Guides for both the 463 and 566 can be found in this website's Schematic Wiring Diagram Section.


THE SELMER SCINTILLATION REVERBERATION UNIT

A "stand-alone" battery powered unit that was available in the early 70's. This was a solid-state unit, fitted with input volume, tone and reverb depth controls. It did not use a magnetic tape, so perhaps it is a little out of place on this page. Presumably, the reverb effect was obtained by the common spring system? An interesting piece of Selmer history though.

Click HERE to see one of a two Scintillation Units recently (2003) discovered still in their original factory packings - and unopened!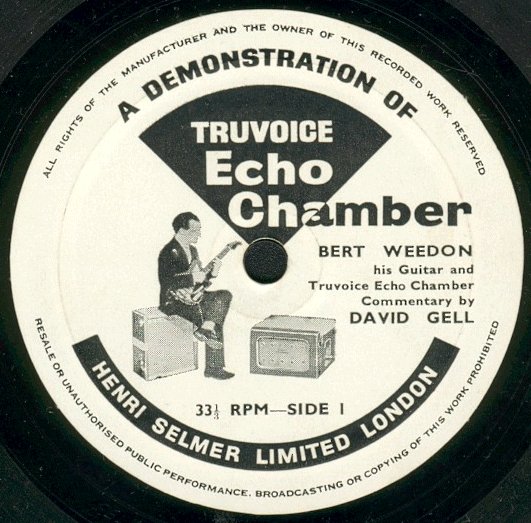 Late 1950's Demonstration EP Record featuring Bert Weedon, with what looks like a Hofner V3 Solid, a Selmer Selectortone Automatic, and a "Truvoice Echo Chamber" - Courtesy of Chris Ellis.
---
Any problems with your Selmer or Watkins/WEM Echo Unit?

John Beer of Amp-Fix, Cullompton, Devon has considerable experience with these types of machines, as well as all types of valve amps.


---
Return to MAIN SELMER-TRUVOICE AMPLIFIER PAGE

Return to MAIN HOFNER GUITAR INDEX PAGE