SCOTTISH PRESIDENT WINS A SECOND TERM!
BY RICHARD BOURNE, ADELAIDE, AUSTRALIA
THE STORY OF A 1960 HOFNER PRESIDENT ARCHTOP GUITAR
SERIAL No: 7247

In 2019, Steve Russell contacted me regarding a lady named Ailsa Doig, who lived in New South Wales. Ailsa owned a 1960 President, which had belonged to her late father Stewart, who had brought it with him when he and his young family emigrated from Scotland to Australia in 1969. Ailsa didn't play herself, but wanted to find someone who would look after it as her father had done. As I also live in Australia, Steve suggested I might be somebody she could talk to. When I contacted Ailsa, she surprised me by not wanting to sell me her Dad's guitar, but simply to take custody of it. How could I refuse?
When the guitar arrived, I was impressed by its overall condition, and it was obvious Stewart had looked after it well over the years. As all my guitars have names, I decided to call this one "George", after President Washington. Closer inspection sadly showed a nasty crack in the neck heel plus some damage to the fingerboard during attempts to repair this, and I entertained the romantic notion of bringing "George" back to his original glory. Fortunately I knew just the man who could do this kind of thing.
Terry O' Riley is the owner of Twang Central Guitars in Adelaide, where I've bought the majority of my vintage guitars. As well as being an encyclopedia of vintage guitars, Terry is also a fine luthier, and he thought that restoring this President would be a worthy idea.
We both agreed the first step was to remove the "add-on" floating pickup, as it was never part of the original guitar. But we recognised it was an important part of the guitar's provenance (and something of a collector's item in its own right) so we wrapped it carefully and stored it in the case. The tortoiseshell pickguard had a chunk cut out of it to accommodate the pickup, but thanks to Steve Russell, I was able to track down a perfectly acceptable replica. Then it was over to Terry, who virtually brought the neck back from the dead; cleaned up the fingerboard damage, and finally put everything perfectly back together again. All that was left for me to do was a good clean and polish and fit a new set of strings. After that, George was ready to go again for the second time in his life, and Terry and I were pretty happy with the end result.

It's not often you enjoy the chance to give a lovely old and much travelled veteran like this a new lease of life. Even so, we were both a bit concerned that Ailsa might not have liked us playing around with her Dad's guitar. Fortunately she was as delighted with the end result as we were. My only worry now is that she might want it back!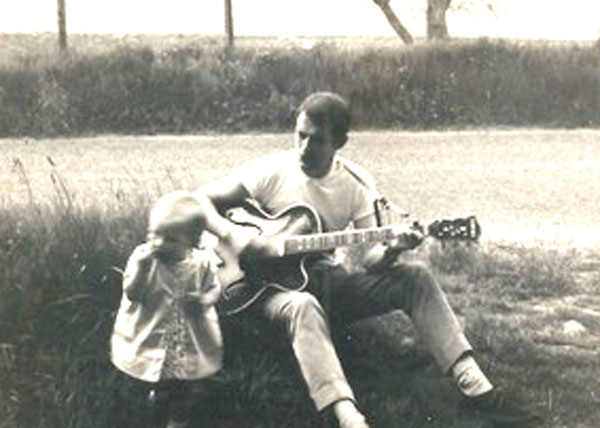 Stewart Doig with 'George' and daughter Ailsa in Scotland, mid sixties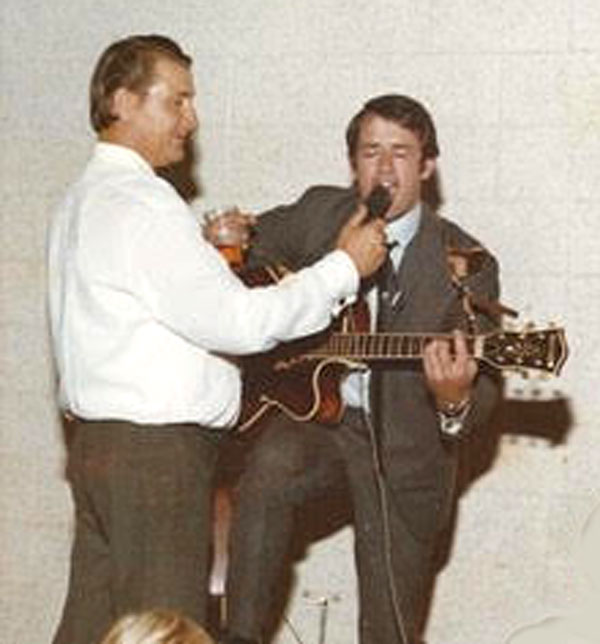 Stewart and 'George' jamming in the seventies.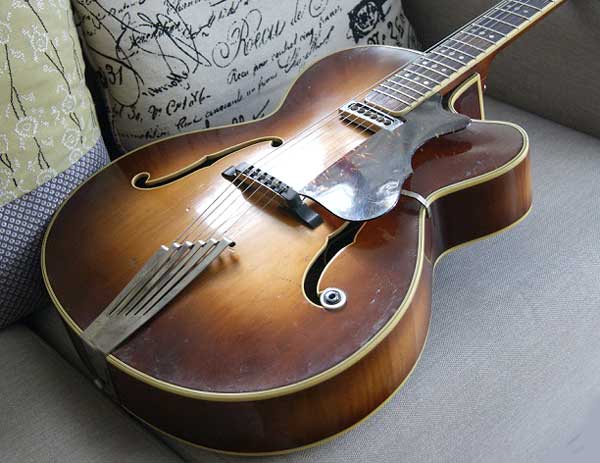 'George' after I received him in 2019, showing the "floating" pickup fitted to the guitar sometime in the past.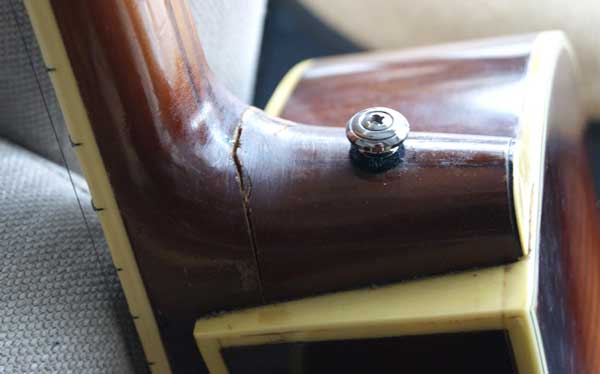 The neck heel damage which badly affected the playing action.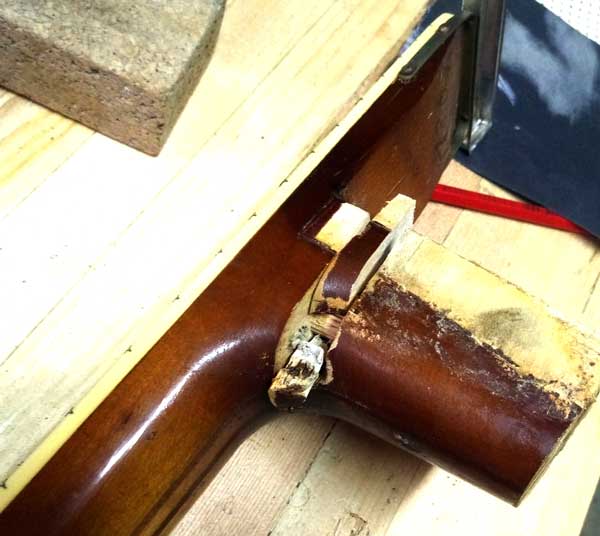 The extent of the damage revealed after the neck was removed.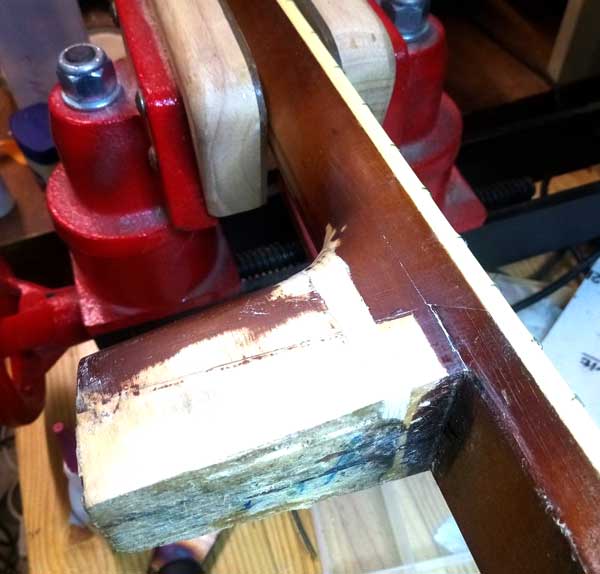 Neck re-build under way.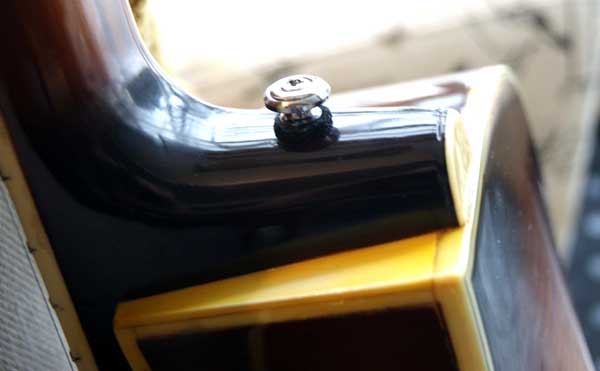 Damage? - What damage? The finished result.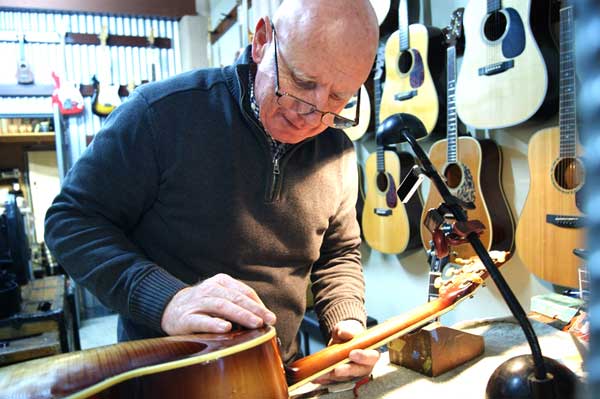 Terry O' Riley checking his work after the re-set.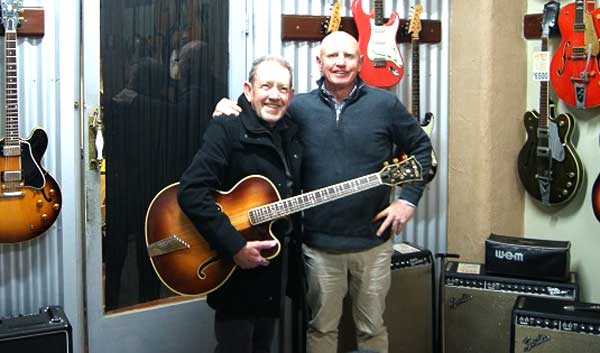 Terry & myself celebrating 'George's' come-back, with quite a few others from his generation.


---
Return to VISITORS' GALLERY - SELMER-DISTRIBUTED ARCHTOP GUITARS