Copyright
©
Christian Hoyer and Karl Hofner GmbH & Co. KG. 2007
All rights reserved.
120 YEARS OF SERVICES TO MUSIC
A HISTORY OF THE KARL HÖFNER COMPANY
1887-2007
by Dr. Christian Hoyer
The Karl Höfner company is today one of the most renowned companies in the musical instrument industry worldwide. In 2007 the family concern, now situated in Hagenau near Bubenreuth, celebrated its 120th anniversary, making it one of the oldest musical instrument manufacturers as well. A good reason to take a closer look at the various stages in the development of the company, originally founded in the musical town of Schönbach, whose instruments are associated with some of the most famous names in music, most notably Paul McCartney.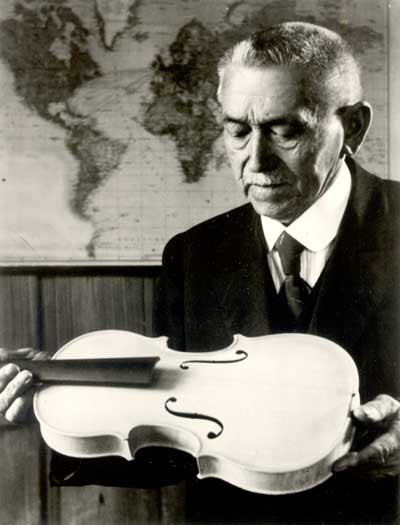 Karl Hӧfner (1864 - 1955)
From Cooper to Luthier: The beginnings of the Karl Höfner company in Schönbach.
When Karl Höfner (1864-1955) started his business in 1887, the whole of Europe was undergoing radical economic change. Industrialization, and the division of labour and rationalization associated with it, had already penetrated many areas of production. Starting in England, it had long since laid hold of continental Europe. Krupp already had a work-force of 21,000. However, in the making of musical instruments, which had been indigenous to the town of Schönbach and the surrounding musical area of Bohemia/Vogtland since the end of the 17th century, it was little in evidence. Here, during the final decades of the 19th century, production was still dominated by handcrafting. Thus, the Höfner company was established as an atelier in which bodies for violins, violas and cellos were manufactured according to age-old traditions.
At the early age of twelve, Karl Höfner learned to work with wood, helping his father who worked as a cooper, an occupation which had long been a tradition in the Höfner family. Even later, the Höfners were still known in Schönbach by the epithet "Holzbinder" (coopers). After attending the local school for eight years, Karl Höfner began his apprenticeship, first of all under his father and then, from 1879 until 1882, under Anton Schaller, where he learned to craft the finest bodies for stringed instruments from a rough piece of wood without the aid of machinery. Karl Höfner was able to perfect the art of violin body crafting after making the acquaintance of Heinrich Theodor Heberlein, at that time probably the best luthier in Markneukirchen, who was heavily influenced by the works of Italian master luthiers such as Stradivari, Amati or Guarneri. These contacts with Markneukirchen enabled Karl Höfner to become independent shortly before his 23rd. birthday: "On 8th September I sold the first bodies to Markneukirchen for 4 Marks" is entered on the first page of his business diary, which has survived the ravages of time and today belongs to the Höfner-Benker family in Bubenreuth.

[1]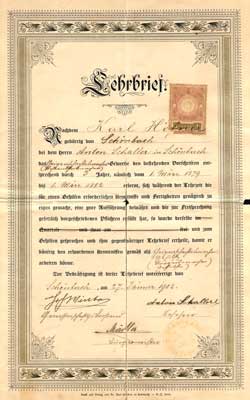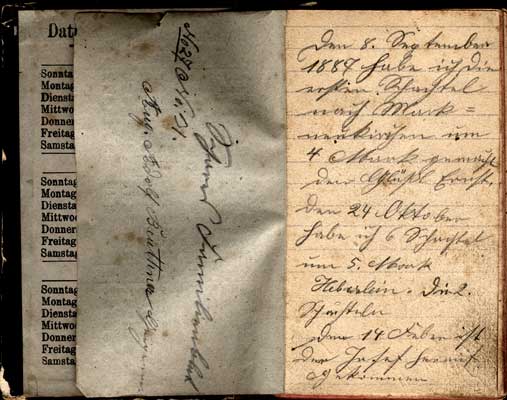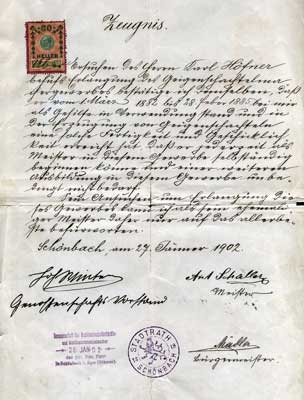 Left to Right: Certificate of Apprenticeship with Anton Schaller; First Page of Karl Hӧfner's Business Diary dated 1887; Commercial Testimony dated 1902.
During the decades preceding the First World War Höfner acquired a fine reputation as a supplier to the violin-making trade. Many well-known master luthiers of the day were on the customer list of the company in Schönbach. Numerous luthiers from Germany (such as master luthier Otto Schürmann in Schwerin), France (Mirecourt), Austria-Hungary, Russia and other European countries obtained the bodies for their master instruments from Karl Höfner in the musical town of Schönbach.[2] Karl Höfner quickly achieved such a good reputation that, shortly after the turn of the century, he was commissioned by a firm in Markneukirchen to repair a violin belonging to the King of Saxony. Apparently the king was so pleased with the end result that the Markneukirchen company who Karl Hofner had carried out the work for was allegedly granted the right to describe themselves as "By appointment to the Royal Court".[3] Karl Höfner built a quartet of instruments in the style of Amati for another firm in Markneukirchen and these were awarded a prize at an important exhibition in New York in 1906.[4]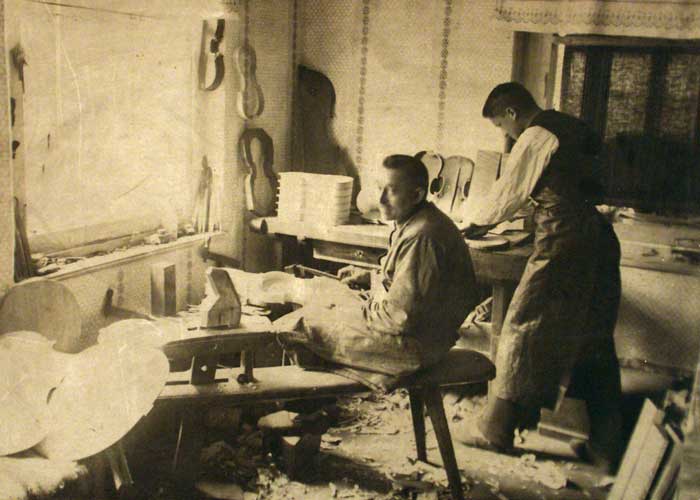 The workshop in Schönbach.
In his home town of Schönbach Karl Höfner, who had in the meantime married the daughter of the Schönbach master luthier Anton Pötzl, was now well-respected, not least for his services to the community as a whole. Before the turn of the century he erected an impressive building for his expanding business at 386, Bahnhofstraße, housing both offices and manufacturing facilities. In addition he was for many years a leading member of the highly-active Schönbach tradesmen's union and from 1900 served on the town council. It was in this capacity that he worked towards the construction of an adequate building in Schönbach to house the State School for Violin-making which had been founded in 1873. To this end he entered into negotiations with various government departments, including the Ministry of Education in Vienna, and these eventually led to success. He was entrusted with the supervision of the building work and in 1908 the State Technical College in the Bahnhofstraße was opened. He would have been welcomed as a teacher at this school, where three departments were established – violin-making, varnishing and bow-making – but the expansion of his own, as yet still young, company, which demanded so much of his time, prevented his appointment. Karl Höfner played a central role in the arrangements for the festivities on the occasion of the town's 600th anniversary in 1921, the motto of which was the tradition of musical instrument manufacture which had so indelibly left its mark on Schönbach, serving on the committee responsible for organizing concerts, a procession and a large exhibition of musical instruments.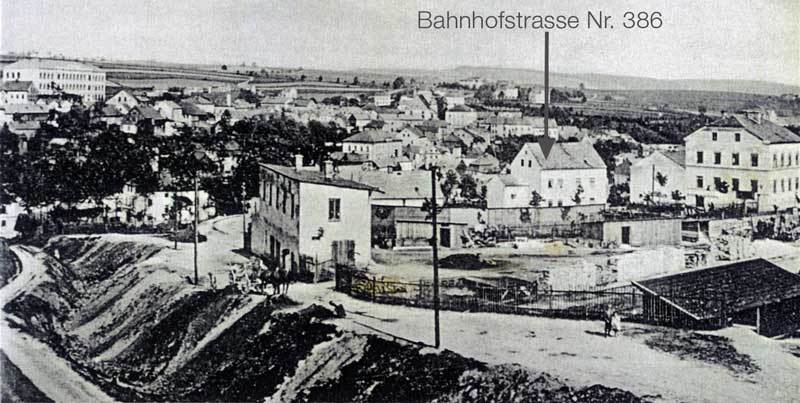 The first home of the Karl Höfner Company - No. 386 Bahnhofstrasse, Schönbach.
Musical Instruments for the Whole World: The Karl Höfner company rose in the 1920's and 1930's to become the leading manufacturer and exporter of stringed instruments.
After the First World War his two sons Josef and Walter, who had just joined the company, strove for further expansion and the development of their father's firm into an exporting concern. The elder son Josef Höfner (1892-1994), who took control of the company in 1919, was an obvious choice for the post, having studied at the Royal Imperial Export Academy in Vienna. He proceeded to transform his father's company, increasing manufacturing and export activities. He was soon assisted in the expansion of production and sales by his brother Walter Höfner (1904-1985), who joined the management after qualifying in Business Studies at the Pilsen Academy of Commerce in 1921.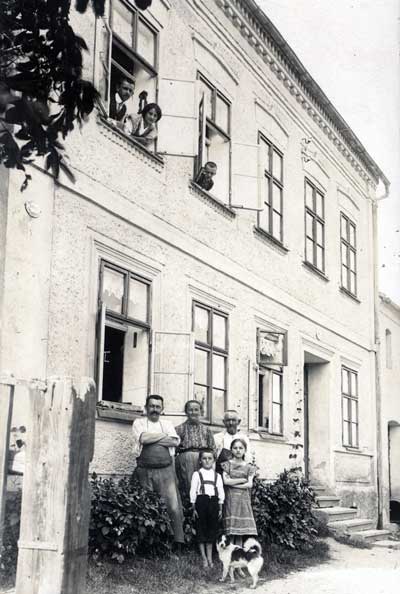 The Hӧfner Family posing for the camera at No. 386 Bahnhofstrasse - c1900.
The first problems they had to deal with were the break-up of the old Austrian Empire and the integration of German Bohemia into the newly established Czechoslovakian federation. The old markets in Russia and the Balkans, traditionally supplied during the time of the monarchy, were no longer available to the musical instrument manufacturers of Schönbach. They turned their attention more and more towards the west, where overseas in particular demand for good but moderately priced bowed instruments and guitars was increasing. Export sales developed really well. As early as 1920 they had established excellent connections in England, followed shortly afterwards by contact with leading importers in the USA. Finally they succeeded in setting up business in Singapore, the great trading centre for musical instruments in the Far East, and as a result Höfner instruments soon dominated the Asian and Australian markets. At the Leipzig Trade Fair Höfner exhibited in the exclusive "Petershof" with its age-old tradition and in the mid-1930s the company employed three full-time field sales representatives. Thus the Karl Höfner musical instrument factory soon became the number one exporter among the Schönbach manufacturers. Höfner instruments were to be found in good music stores all over the world.

The product range comprised all types of violins, from student models to the finest master instruments, violas, cellos, double basses and all components thereof. Guitars were then added, and from the 1930s "Schlaggitarren" were offered, these being acoustic steel-string guitars with arched top and back, the forerunners of modern-day jazz guitars.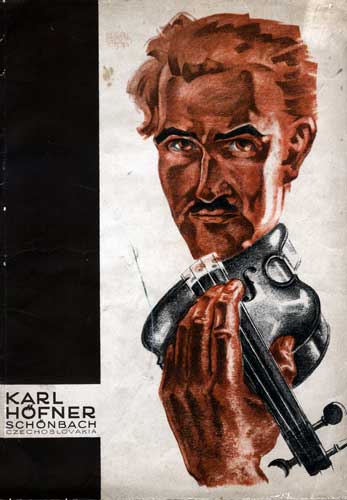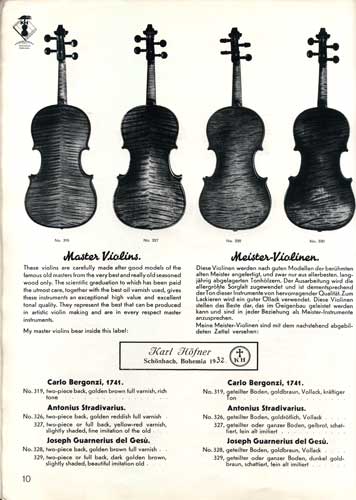 The Hӧfner Catalogue, 1932
The predominant instrument in terms of production and sales at that time was, however, still the violin. What was special about the goods exported from Schönbach was the high quality of the instruments, which could be offered at competitive prices all around the world. At the beginning of the 20th century industrialization had reached the violin-makers of Schönbach, many of whom were concentrating on certain stages of manufacture. This enabled the violin-makers of Schönbach to get the better of their competitors in Mittenwald, Bavaria, who were still using traditional manufacturing methods. Schönbach became world-famous and was regarded as the "Cremona" of Austria. After completing their apprenticeship, individual luthiers would specialize in the production of certain components. Thus there were makers of bodies, necks, tuning pegs, bridges and fingerboards, each supplying his wares to a master luthier, who then assembled and varnished the instrument and passed it on to an "Exporteur". This specialization meant that constant quality could be guaranteed even for inexpensive instruments.

The work-force at Höfner had steadily increased since the 1920s, and by the mid-1930s it numbered more than 300 outworkers and around 30 factory-workers.[5] The "Exporteur" or "Verleger", as he was known in Schönbach, was responsible for purchasing tone wood and other necessary raw materials. The individual outworkers would fetch these from the factory and return the components they had produced at home to 386, Bahnhofstraße, where they would be handed out to the worker responsible for the next stage in the manufacturing process before finally being assembled and varnished by one of the luthiers. Among their number were several first-class Schönbach master luthiers such as Pötzl or Schuster, who produced outstanding concert violins. The "Verleger" paid their wages and took care of the business of selling them all over the world.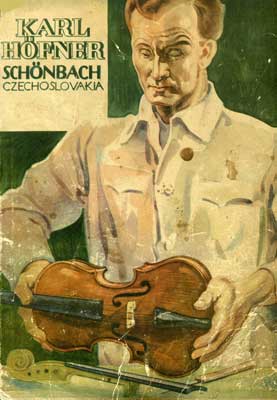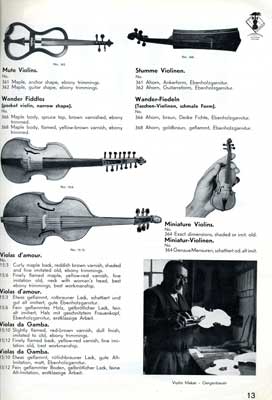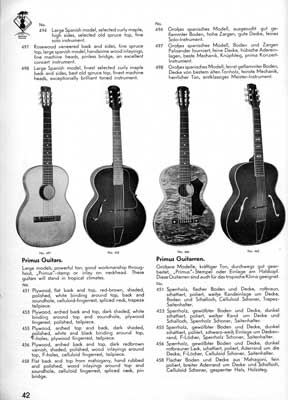 The Hӧfner Catalogue 1937.
Höfner was so successful at this that, by the beginning of the Second World War, having overcome the effects of the world economic crisis, it had become the most important producer and exporter of stringed instruments, not only in Schönbach, but in the whole of Central Europe. The production figures illustrate this clearly. Höfner produced more than 20,000 instruments in 1935, rising to 28,000 by 1938, accounting for approximately 15% of the total production in Schönbach. Turnover at the end of the 1930s amounted to almost five million Czech crowns and after the annexation of the Sudetenland by the Third Reich in 1938 almost a million Reichsmarks – at a net profit of approximately 75,000 Reichsmarks.[6]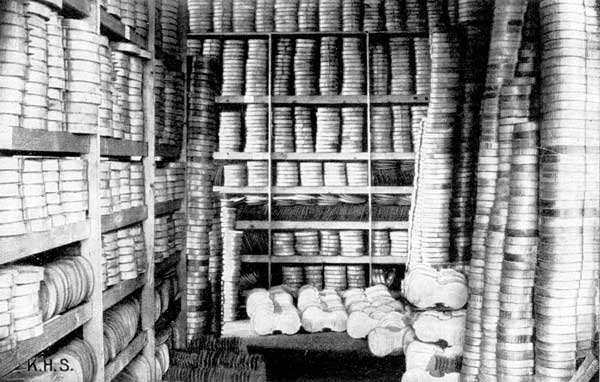 Violin Bodies in the Stockroom, 1937.
Continued economic success naturally improved the standing of the Höfner family. Josef Höfner became an acknowledged export specialist and at the end of the 1920s rose to the post of Counselor of the Exchequer in Eger, before being appointed a member of the Board of Trade with responsibility for stringed instruments by the Czech government in 1933.[7] In 1936 he built a spacious house at 705, Bahnhofstraße next to the family business. Walter Höfner also purchased his own house at 485, Ölberg in the south of Schönbach.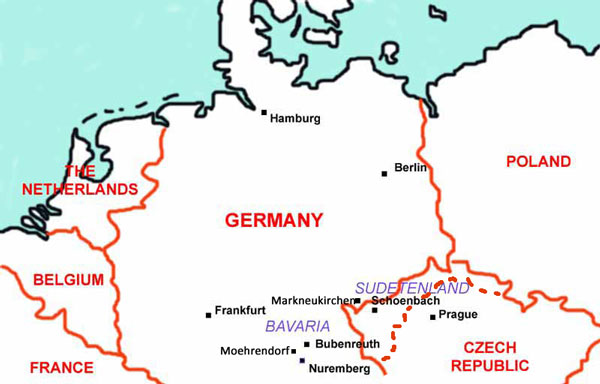 Sketch map showing the main locations associated with the Hofner family in the Sudetenland and following WWII in Bavaria.
The Turning Point in the Company's History: The Second World War, expulsion and a new start in Bubenreuth.
The Second World War brought an abrupt end to communications with export markets around the world, as exports were now limited to neutral states, countries allied to the German Reich or territories occupied by Nazi Germany. The main importers of Höfner instruments in the United States, England and the British Dominions were excluded as a result of the war. Furthermore, on orders from Berlin, production had to be adapted to meet the needs of the war economy. Thus, alongside violins and guitars, Höfner found itself producing wooden crates and wooden soles for boots. In addition, Josef and Walter Höfner were conscripted, leaving the management of the company from the beginning of the war onwards in the hands of Wanda Höfner, Walter's wife. The turnover and production figures were halved and the number of employees was reduced in 1944 to 66.[8]

Following the war, the German-speaking population was expropriated and companies in Czechoslovakia nationalized, resulting in the summer of 1945 in the takeover of the company by a state administrator. On his return to Schönbach after the war, Josef Höfner was enlisted to manage the business and restore normal operations and shortly after that the company "Karel Höfner" – along with the other Schönbach manufacturers – was incorporated into the newly-created state-owned enterprise "Cremona". With prospects for the future looking bleak, Josef Höfner, together with his wife and elderly father, the 84-year-old company founder Karl Höfner, succeeded in obtaining permission to leave the country for West Germany in the spring of 1948.

Walter Höfner had been released from captivity the year before that. During his time as a prisoner of war he had built a guitar by hand from a tea-chest. The top was made of cedar and, since machine-heads were not available, he made the tuning-pegs himself and constructed the frets from a tin-can. He had been living in Bavaria since 1947.

Soon after that he became production manager in the guitar department at Framus in Möhrendorf near Erlangen, a company which had been established in 1946 and – according to their daughter Gerhilde – 50% of which belonged to his wife Wanda Höfner. The founder of Framus was the skilled businessman Fred Wilfer, a fellow countryman of Walter Höfner's and one of the first from Schönbach to come to Bavaria after the war, before the organized expulsion of the German-speaking population from Czechoslovakia began in the spring of 1946. The re-establishment of the Schönbach musical instrument industry with its division of labour demanded a more or less complete resettlement to Möhrendorf, and so he organized immigration permits for many Schönbach craftsmen. At Framus, Fred Wilfer took care of purchasing and sales, while Walter Höfner set up the production of Framus guitars in a makeshift hut in Möhrendorf and was a driving force in the development of new guitar models.
When, in 1948, Josef Höfner also arrived at Möhrendorf in Franconia, there was nothing to hinder the reinstatement of the renowned "Karl Höfner" company. This led to the parting of the ways for Framus and Höfner at the end of 1948. Production of Höfner instruments officially began in an old hut belonging to a former labour camp at 148, Möhrendorf on 1st January, 1949. [9]

And so it was that the Höfner family returned after more than 150 years to the area from which their ancestor, Johann Höfner, had emigrated to Bohemia. His birthplace, Weingarts, is less than 20 kilometers from Möhrendorf.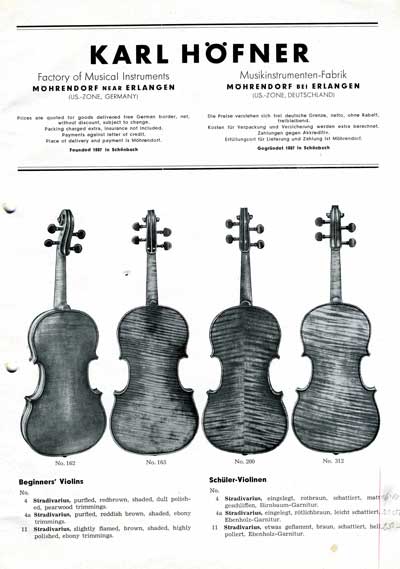 The front cover of Hӧfner's 1950 Catalogue. Note the Möhrendorf address.
The two brothers divided their areas of responsibility to suit their respective talents, Walter Höfner managing and further increasing production, while Josef Höfner, an accomplished specialist in export, took care of business matters and dealt with the authorities. Their initial difficulties were associated with the procurement of raw materials, financial restraints, attempts to alleviate restricted working space by acquiring additional huts, and bringing back more of the former specialist workers scattered all over Germany to the immediate catchment area of the company.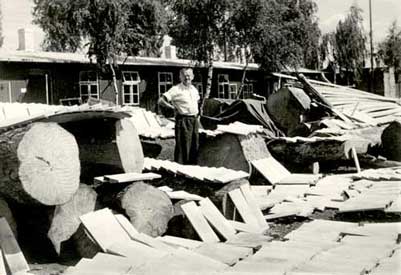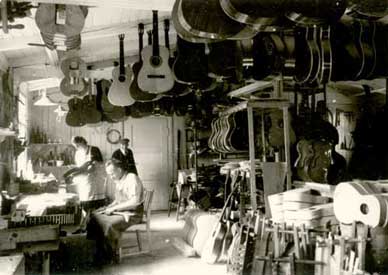 Left: Walter Hӧfner surveys his timber stocks at Möhrendorf. Right: Inside the Möhrendorf workshop.
The latter was to prove a major problem, since the Bavarian State Government had in 1947 adopted a policy of redirecting the flow of Schönbach craftsmen in the direction of the "Werdenfelser Land", so that the violin-making town of Mittenwald would become the main centre for the resettlement of the Schönbach musical instrument industry, despite the fact that since 1946, 500 craftsmen and their families had already taken up residence in the Erlangen area. The concept of a settlement in the rural district of Erlangen found a political champion in the form of newly-elected Erlangen council chairman Hönekopp, who declared this project to be his life's work. The CSU politician relied heavily on the experience and specialist knowledge of Josef Höfner, who, from the autumn of 1948, often travelled with him to the state capital of Munich to assist in negotiations with the relevant government departments. Josef Höfner vividly remembered these car journeys decades later, Councillor Hönekopp's driving skills prompting him to take out life insurance! Their political request, however, did not fall on deaf ears. Josef Höfner was able to take advantage of old connections such as Dr. Joseph Schierreich, former secretary of the Chamber of Industry and Commerce in Eger, now working for the Bavarian Ministry of Trade and Commerce. Schierreich eventually succeeded in introducing Josef Höfner to Minister Hanns Seidel, who – in consideration of the resistance of the population of Mittenwald to an industrial area, which would have an adverse effect on tourism – soon approved the settlement of the Schönbach residents in the rural district of Erlangen. [10]

Following this positive decision in Munich, specific development projects for Möhrendorf could be prepared and these were completed by the summer. Plots were allotted, detailed plans for a settlement drawn up, state financing approved and a builder was found in the form of the St. Joseph foundation. However, the community in Möhrendorf was against the project. Councillor Hönekopp did not give up. He embarked on a tour of the villages in his rural district and eventually found favour with the inhabitants of Bubenreuth. Josef Höfner: "On a fine Sunday in July, 1949, Councillor Hönekopp took me to Bubenreuth. The local council was in session. I was called upon to explain to the people of Bubenreuth who we were, what we did and what we wanted, and after a lengthy debate the council unanimously declared: `We want to help these people.´ We had broken the ice in Bubenreuth." [11]

On 20th. October, 1949, the laying of the foundation-stone for an estate to house the luthiers took place in Bubenreuth, attended by State Secretary Fischer and Josef Höfner, who, in his capacity as Chairman of the Bavarian Association of Musical Instrument Manufacturers, made a speech. Two days prior to Christmas Eve the first residents moved into their 25 rapidly-erected prefabricated houses. The next stages in the building project followed quickly, and ten years after the laying of the foundation-stone a total of 1,600 former residents of Schönbach had found a new home in Bubenreuth, which in 1945 had numbered only about 500 inhabitants. Its rise from a farming village to the centre of European stringed instrument manufacture had been sealed. Josef Höfner had played a major role in the resettlement process and the foundation of the luthiers' community and was also instrumental in the establishment of a technical college for violin and guitar building in Bubenreuth, and in recognition of his achievements he was awarded the "Bundesverdienstkreuz" (the highest decoration possible for services to the community in Germany) in 1963. After his well-earned retirement in 1970 at the age of 78, the Federal Association of German Musical Instrument Manufacturers, of which he was a founder member, elected him Honorary Chairman. [12]
Rebuilding the Hofner Company in Möhrendorf and Bubenreuth:
Guaranteed constant high quality and sound business policy had been the maxim of the Karl Höfner company ever since it was first established in 1887. It was according to these basic principles that Walter and Josef Höfner set about rebuilding their company in Bavaria from the end of 1948. The good relationships from the old days in Schönbach with customers all over the world had survived the turmoil of war unscathed. For example, after arriving in Bavaria during the difficult post-war years, the Höfner family received care-parcels from former business partners, particularly from America, from people such as the Kornblums (St. Louis Music) or the Sternbergs. These long-standing relationships, which were immediately rekindled after the start of production in Möhrendorf in January, 1949, were instrumental in the revival of the company. Also of immense importance was the granting of state loans for refugees, which enabled the building of a new factory in Bubenreuth in 1951. Moving into the new building Christmas 1951 was the icing on the cake. Further extensions to the Bubenreuth factory followed in 1953, 1956 and 1959.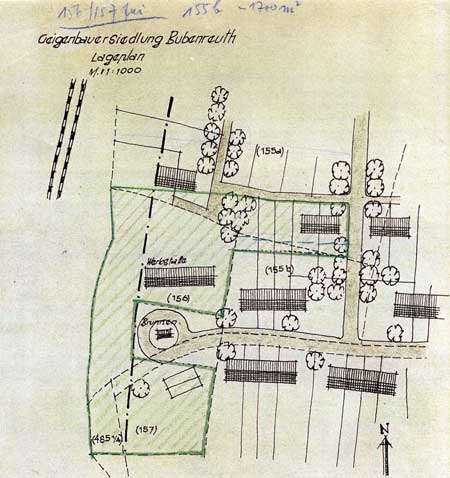 The 1950 land plans showing the area allocated to Hӧfner in Bubenreuth.
Further state loans enabled rationalization in production. Special machines for the building of various stringed instruments, some of which were designed by Walter Höfner himself, were purchased in this way. In addition to machines for cutting and milling tone woods, which had been standard equipment for some time, a machine for laminating double basses, which Walter Höfner had developed in the 1930s, could now be built. Due to the increased demand for basses in jazz music, which could no longer be met, Walter Höfner had in the 1930s already considered a method of laminating five layers of wood, forming the curved shape in concrete moulds and gluing cold. Höfner later developed this idea further by pressing the layers of wood in several stages in heated steel moulds, and subsequently also employed this production method in the manufacturing of guitars.
Höfner in the Rock ´n´ Roll Boom of the 1950s.
The advent of rock ´n´ roll in the early 1950s marked the start of an incredible rise in the popularity of the guitar, thus creating an enormous opportunity for the instrument makers of Bubenreuth. It was scarcely possible to keep up with the demand for the instrument and the violin – which had for so long reigned supreme among the stringed instruments – was quickly relegated to second place in terms of production and sales. It was in this very area of guitar production that Walter Höfner especially excelled with his inventiveness, continually developing new guitar models. Besides the 455, 456, 460, 462, 463 and 465 models, familiar since the Schönbach years and now improved, there was the 461, one of the first post-war "Schlaggitarren", featuring an "indentation on the right-hand side of the neck-joint" meant to "facilitate playing in the upper registers": the first Höfner cutaway model was born, costing DM 276.- in 1951. [13] The most inexpensive arch-top model, the 455, was made from laminated maple and featured f-holes. It cost DM 150.- in the same year. The most expensive model in the series, the 465, which featured a choice of rosewood or bird's-eye maple back and spruce top, cost more than twice as much, namely DM 350. [14]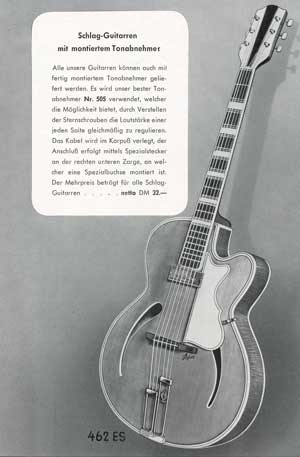 Hӧfner's first electric archtop guitar appeared in the catalogues in 1953 - the Model 462 ES.
The first solid-body electric guitars were also the result of original Walter Höfner ideas. It was he who constructed the first Höfner pick-up in 1951, hand-winding the coils and making the wooden casing himself. In 1952 pick-ups went into full production in Bubenreuth. The first electric instrument was probably an Hawaiian guitar, followed a little later by the arch-tops. The brochure issued to coincide with the Autumn Trade Fair of 1953 lists a total of six different pick-ups and a foot-operated volume control.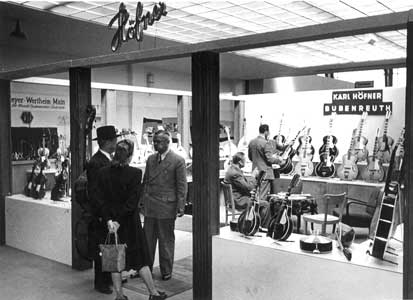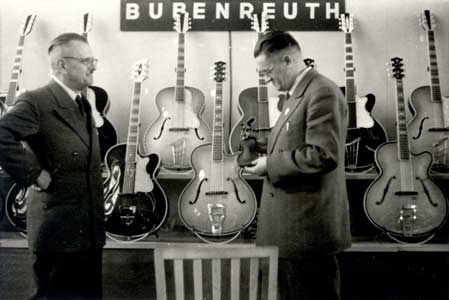 Hӧfner at the Trade Shows -
Left: Joseph Hӧfner welcoming clients at the 1952 Dusseldorf Show. Right:: Joseph and Walter Hӧfner at the 1954 Frankfurt trade show.
All arch-tops could at that time "be delivered with a factory-fitted pick-up". The brochure goes on to say: "We fit our best pick-up, No. 505, featuring adjustable screws to facilitate optimum volume level for each individual string." [15] The pick-ups were fitted directly to the end of the fingerboard and the wiring ran through the body to a socket on the lower right-hand side. Walter Höfner continued to experiment with pick-ups throughout the 1950s. Perhaps his most notable achievement in this field was in 1957, when for the first time a pick-up was fitted invisibly into the fingerboard of a guitar, below the last fret. Between 1953 and 1959, in response to increased demand for electric guitars, Höfner worked closely with the Fuma company in Berlin, and later with Franz Pix from Erlangen on a freelance basis, and from 1975 onwards customers could order their instruments with a choice of Schaller, Shadow, Di Marzio, Seymour Duncan or Bartolini pick-ups, factory-fitted in Bubenreuth. In the case of the Violin Bass, however, only Höfner's own pick-ups, developed by Walter Höfner, were fitted. [16]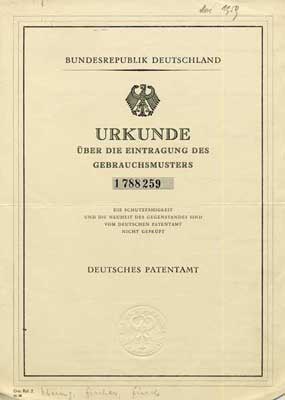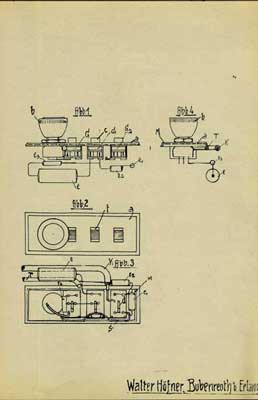 Walter Hӧfner's Patent documents for his famous rectangular control console.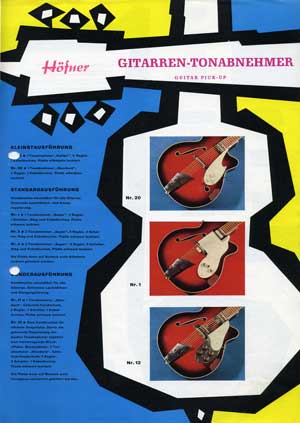 Fuma-made pickup/pickguard combinations from 1956.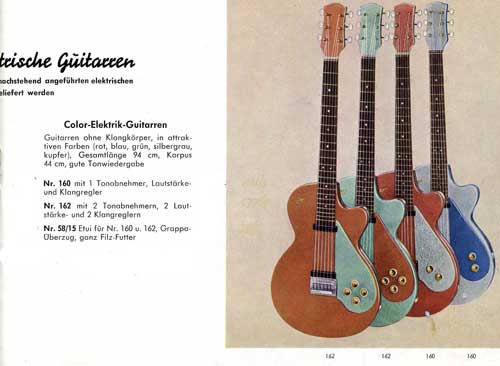 Hӧfner's first solid guitars were introduced in 1956.
Höfner arch-top and electric guitars enjoyed enormous success from the mid-1950s onwards, above all abroad. The German musical instrument industry in general was from the ´50s onwards very successful again at exporting, as had been the case in the 1920s and 1930s. Höfner exported an incredible 95% of its bowed instruments and between 65% and 70% of its guitars. While the proportion of the annual turnover attributed to export in 1949 was a modest 37%, this figure had almost doubled by the following year and averaged around 75% in the years following that. In the same period the turnover increased from DM 188,000 to DM 651,000. In 1953 the one million mark was exceeded for the first time, and by 1959 this had increased to over DM 4 million, although profits remained more or less constant at around 7.5%. No wonder then, that the company's assets were regarded in 1960, a good decade after its re-establishment, as healthy. [17] This upward trend could also be followed in the constant increase in production and frequent extension of factory facilities, not to mention the steady rise in the number of employees. On 11th December, 1949 Höfner employed 18 factory-workers and around 60 or 70 outworkers. Four years later there were 38 factory-workers and 100 outworkers. In 1959 Höfner employed 127 in the factory and had 144 outworkers, bringing the total number of employees to 271. [18]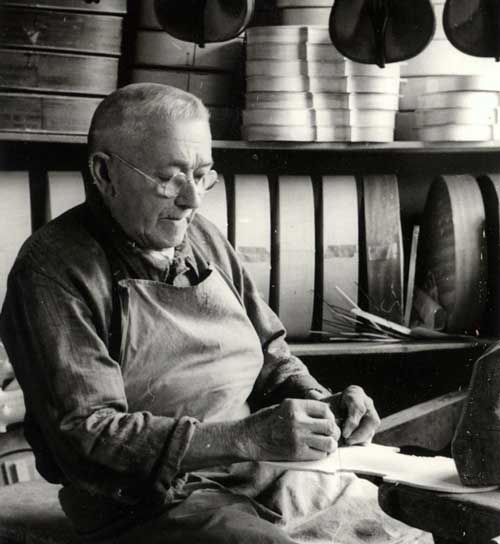 Karl Hӧfner back at work at his bench in Bubenreuth.
Company founder Karl Höfner was fortunate enough to witness the recovery of his business following war and expulsion. He passed away shortly before his 91st. birthday in 1955, having not missed a single day at his work-bench. The entire community of Schönbach luthiers stood at the grave of the renowned Schönbach entrepreneur. They had all played their part during recent years in restoring a modest degree of prosperity and making the name of Bubenreuth famous far beyond the borders of Bavaria. Thus there was no shortage of prominent politicians who came to wonder at the miracle of Bubenreuth. Numerous politicians of all persuasions visited the community of luthiers during the 1950s. Bavarian Prime Minister Dr. Erhard came in 1953 on the occasion of the inauguration of the settlement "Neu-Schönbach" by the archbishop of Bamberg, Joseph Otto Kolb. SPD national committee member Wenzel Jaksch, a fellow countryman from the Sudetenland, visited Bubenreuth and in particular the Höfner company some years later, as did the Bavarian Prime Minister Dr. Wilhelm Hoegner. Most notable of all was the visit to the musical village by Konrad Adenauer in 1957. On this unique occasion, Josef Höfner presented the Chancellor with the gift of a violin, with the express wish, as the "Erlanger Nachrichten" reported at the time, that Adenauer would continue to play first fiddle after the imminent elections! Amid the laughter of the audience, the Chancellor replied that, while he was not able to play the violin, he was quite fond of blowing his own trumpet now and again! [19]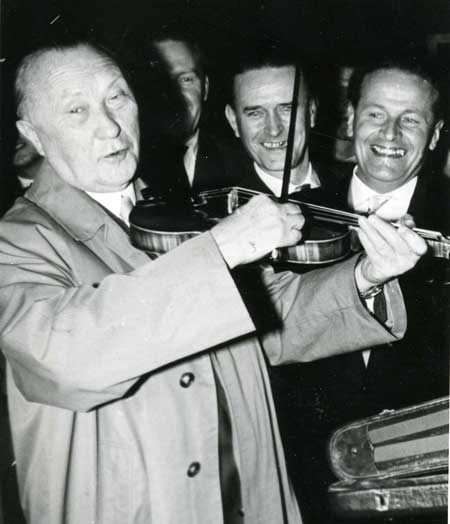 Chancellor Adenauer plays a Hӧfner violin.
Höfner Instruments are Again Played all over the World:
Since re-establishment on 1st. January, 1949 export business had quickly recovered on account of the good name still enjoyed by Höfner on the world market, in spite of the interruption due to war and expulsion.

The manufacture of musical instruments in Schönbach had always been an export-oriented business. The USA, England, Russia and the Austro-Hungarian Empire were traditionally the main export markets for the instrument makers of Schönbach, especially after the First World War, when many Schönbach luthiers began to liberate themselves from the restraints of their "Verleger" in Markneukirchen. The rise of the "Metropolitan Music Company", with its dual locations of Schönbach and New York City, is a perfect example of this. In 1937, Schönbach alone exported approx. 115,000 stringed instruments and 90,000 guitars, principally overseas, where the high-quality and yet reasonably-priced work of the Schönbach instrument makers was much sought-after. [20]

Immediately after the war, the old connections with the United States were the first to be revived, and these had in the main to do with stringed instruments. Traditional wholesalers in the music trade, some of whom were of Jewish origin and had their roots, like Höfner, in the old Austria, to which, until 1918, the musical town of Schönbach had also belonged politically, inquired in the American occupation zone about their former business partners from the 1930s. For example Bernard Kornblum, founder of St. Louis Music, born in 1900 in Krakau, at that time Austrian, who in 1925 had come personally to Schönbach and placed his first order with Höfner. [21] Among the many wholesalers to renew their contacts with Höfner after the war, the following are worthy of mention: Grossman in Cleveland, Targ & Dinner in Chicago, Chris Kratt in Union (New Jersey), Coast Wholesale (San Francisco), Coast Wholesale (Los Angeles) and the New York firms of Schroetter, Buegeleisen & Jacobson and Ideal Music Merchandise. The instruments manufactured by Höfner were not always sold under the brand name "Höfner". They were often labelled with the brand name of the customer. What we know today as "OEM" was common practice at Höfner as early as the 1930s. [22]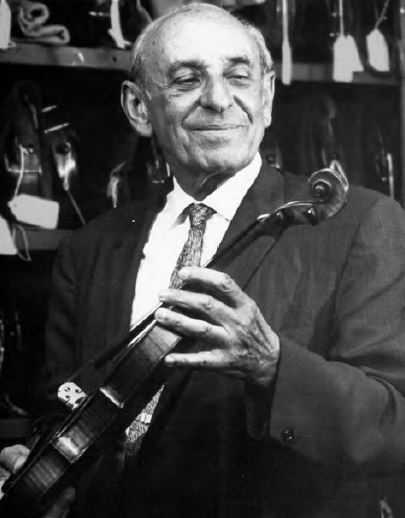 Bernard Kornblum, founder of St Louis Music, at Bubenreuth.
A particularly intensive business association developed from 1949 onwards with the Wm. R. Gratz Co., "Manufacturers, Importers and Distributors of Musical Merchandise". The representative and later proprietor of this New York company, Peterson, travelled throughout Europe in the 1930s and stimulated business between his company and Höfner. [23] After the war Peterson also sought direct contact with Höfner and travelled to Möhrendorf in order to re-establish business relations. In 1957 a contract was drawn up between Höfner and Gratz, granting the New York company the exclusive right to sell and market musical instruments made by Höfner under the brand name "Hofner" (from 1967, also under the brand name "Höfner"). When the Gratz company went into liquidation in 1970, these exclusive marketing rights were acquired by Joseph Saltzman's Sorkin Music Company, which was later renamed first of all Multivox, and then Entertainment Music Marketing Corporation (EMMC). [24] This company retained sole distribution rights for Höfner instruments in the USA until the end of the 1990s.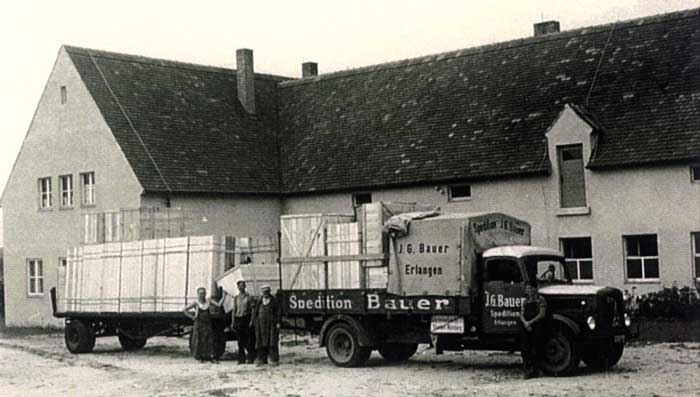 A large load of Hӧfner instruments for export from Bubenreuth.
Like the USA, the British Isles also traditionally played a major role in the sales of musical instruments manufactured in Central Europe. While the United States was of major importance for the sales of stringed instruments, the English market played a decisive role for Höfner and other West German manufacturers in the 1950s in the field of "Schlaggitarren" (the forerunners of modern jazz guitars). Exports to England were strengthened in comparison to the 1930s by virtue of the fact that the United Kingdom had imposed an import embargo on American goods. This had to do with the repayment of war debt to the United States. The long-term aim was to reduce the trade deficit and stabilize the British economy. This self-imposed trade restriction led to a situation in which, until the beginning of the 1960s, no American guitars had reached the British market. [25] Thus European, and in particular West German, guitar makers like Höfner, Hoyer or Framus, were handed the unique opportunity of dividing the British market amongst themselves. [26]

The old-established music shop Henri Selmer & Company Limited in London's Charing Cross Road was quick to make contact with Höfner, because demand for these "Schlaggitarren" was rapidly increasing due to the popularity first of jazz and, a little later, skiffle. In Selmer's first catalogue for Höfner instruments in 1952, the guitars were referred to for the first time not by numbers but by names, some of which have survived to this day, names like "President" or "Congress". [27] Shortly after that came the "Committee", "Senator", "Square Dance", "Club 40", "Club 50" (from 1955) and the "Vienna" classical guitar. Selmer was able at that time to secure the rights to the name "Hofner", which Höfner bought back in 1978 for the sum of £1,000. [28]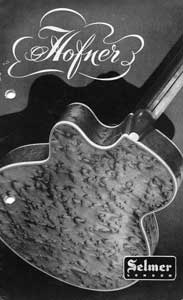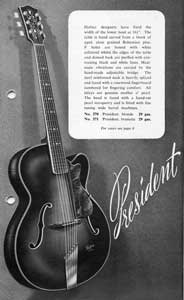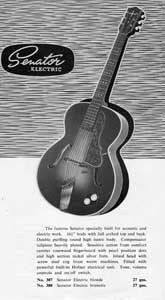 Pages from the 1956 Selmer London catalogue.
The leading English jazz guitarist Ivor Mairants wrote about the guitar boom of the 1950s: "As the 1950s rolled on so did the demand for guitars increase. The sales in 1954 were twice as many as in 1953. In 1955 they were 150 per cent up on 1954, and by the end of 1956 sales had risen to five times the volume of 1955." By 1957 they had reached their peak: "The Guitar Craze Hits Fortissimo" was the musical metaphor adopted by the British press. According to Ben Davis, Managing Director of Selmer, more than 250,000 instruments were imported into the UK that year, compared to 6,000 instruments in 1950. [29] In order to cope with the Christmas rush, Selmer would regularly organize their own charter flights to ship the German instruments to London. "Das Musikinstrument" wrote in 1959: "1,000 guitars fly to London". Shortly before Christmas, they were loaded onto two planes at Frankfurt's Rhein-Main Airport and then flown to London. The large cartons were labelled "Höfner Guitars Flying To Selmer". The previous year the same thing had happened at the brand-new Nuremberg Airport, where Walter and Josef Höfner had attended in person and smiled for the cameras. [30]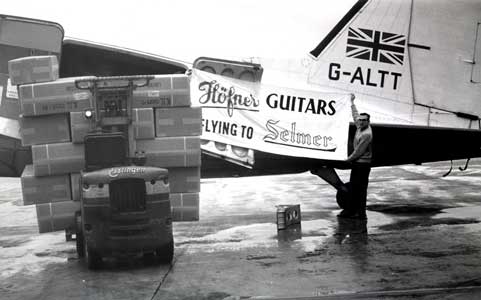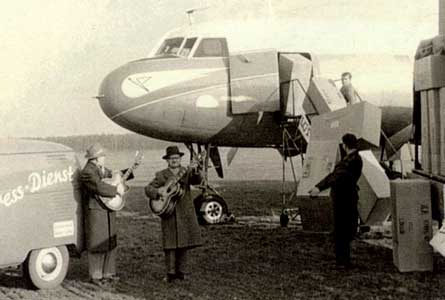 Walter and Josef serenading an urgent consignment of Hӧfner guitars flying off to Selmer London, Christmas 1958.
Selmer also did a first-class marketing job at that time. Celebrities such as Dickie Bishop, Frank Deniz, Don Fraser, Dennis Newey, Roy Plummer, Judd Proctor, Jeff Rowena, Bill Shearer, Tommy Steele and, last but not least, Bert Weedon all became Hofner endorsers.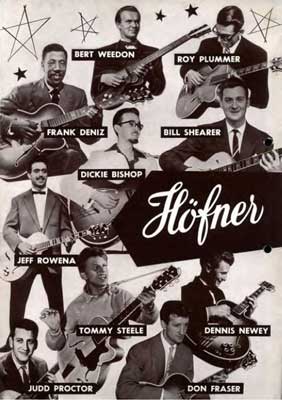 Selmer London produced a collage of Hӧfner guitars in the UK.
The Land of the Rising Sun also played an important role in Höfner's international business. Contacts with the Far East had been established as early as the 1920s, enabling Höfner to obtain a foothold in the lucrative Eastern Asian and Australian markets. From 1956 until the present day, the partnership with the Banda family and their Goshikaisha Maruichi-Shoten company, founded in Osaka in 1937, has taken care of business in Japan. In 1990 the one-thousandth order from Japan was celebrated both in Osaka and Bubenreuth and then by both parties together at the subsequent fair in Frankfurt. [31] A list drawn up in 1973 by the Managing Director at that time, Christian Benker, shows a total of 108 countries to which Höfner exported, including Egypt, Bahrain, Ghana, Mauritius, Sierra Leone, Yemen and Cyprus; virtually all the countries of the Western world and several Eastern bloc states, too. [32]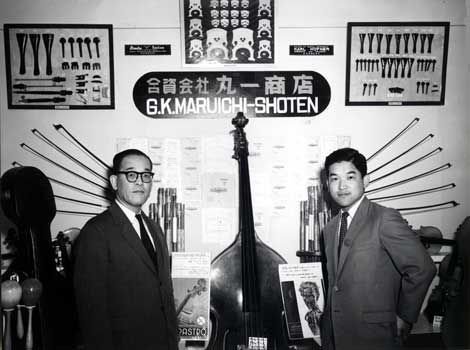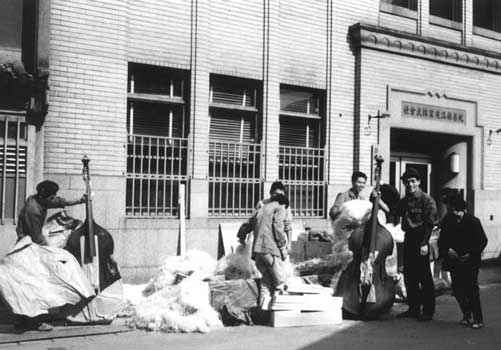 Hӧfner products on the Maruichi-Shoten trade stand in Japan, and being un-packed after delivery from Germany.
The 1960s: A New High Point is Reached:
When Karl Höfner died in 1955, his sons had acquired an equally good reputation to that which he had earned both in his home town of Schönbach and around the world. Since the 1950s the name "Höfner" again stood for top quality in the field of musical instrument making all over the world. Josef and Walter Höfner also took a keen interest in the needs of the new community, as did Walter's daughter Gerhilde and her husband Christian Benker, who was later to be awarded the "Bundesverdienstkreuz", 1st. and 2nd. class, for his efforts. In 1967, the year in which Höfner celebrated its 80th anniversary, the company had 350 employees and annual turnover had in the previous year reached its peak at almost DM 11 million, with almost one million DM in profits. [33]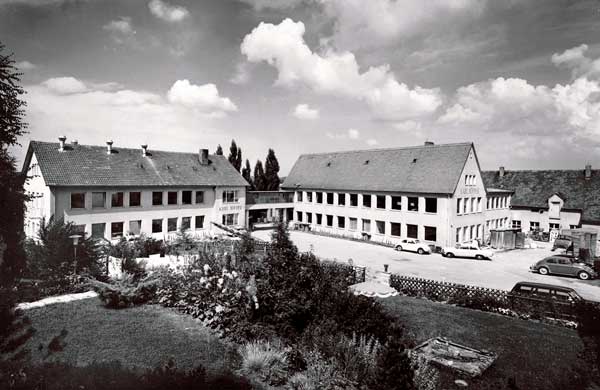 The Bubenreuth Workshops in the 1960's.
Due to the continuously increasing demand for guitars, a rationalization of production became necessary, and this was effected in 1964 with the construction of a second factory in neighbouring Hagenau, the home of the company today. The first factory, built with a full cellar and later repeatedly extended, initially measured 50 meters long and 20 meters wide. In 1964, 50 workers involved in production, warehousing and administration had 1,500 m² at their disposal. The basement comprised a large stockroom and a room for cutting the veneers. With the building of the second factory, the object was to double the production of guitars and violins in the coming years, since the demand at the beginning of the 1960s, especially for guitars, was continuing to increase. Monthly production that same year reached 4,000 guitars and 1,200 violins, with the new Hagenau plant providing the raw, unfinished products for completion at the main factory at Bubenreuth.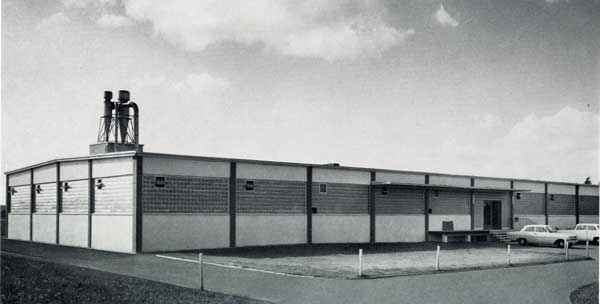 The new Factory at Hagenau, 1965.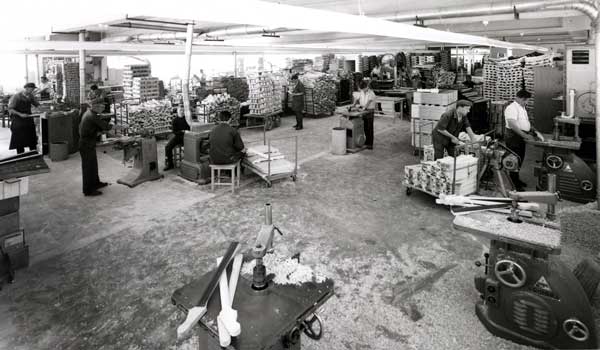 Inside the wood preparation room at Hagenau, 1965.
In view of these figures and the production techniques mentioned above it is worth noting that the word "industrial", often used to describe the way in which stringed instruments are produced in Bubenreuth, is somewhat misleading, for it is meant to denote in this context that "not only a master luthier is responsible by name for an instrument, but that the instrument during the course of its manufacture passes through the capable hands of several expert luthiers", as a journalist on the Frankfurter Allgemeine Zeitung correctly pointed out. His impressions of the factory in Bubenreuth in 1994 continued thus: "Inside the buildings it looks just like an old carpenter's shop. There are hardly any machines to be seen, just ancient hand tools. It smells of wood and lacquer. Long rows of freshly varnished, half-finished instruments are hung up on lines under the roof to dry". [34] Besides stringed instruments and guitars other instruments were also produced at Höfner, for which there were individual workshops, each with its own specialists and master builders, for example Horst Wunderlich for the manufacture of mandolins and lutes, Victor Lichodew for balalaikas and Hans Hoyer for zithers.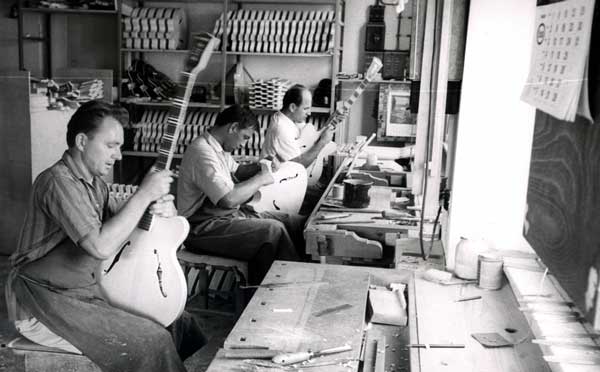 Verithins being produced at Bubenreuth in the mid-1960's.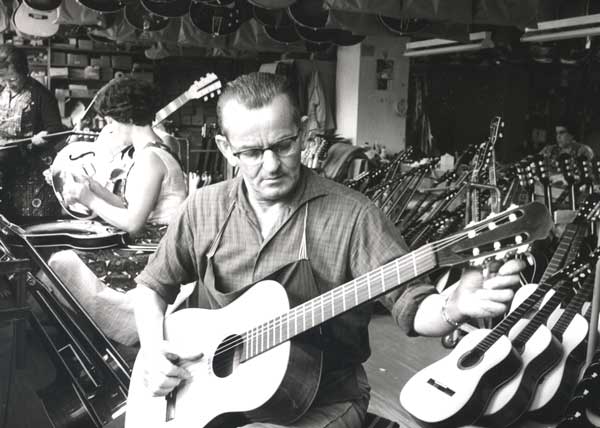 Master luthier Anton Klier carrying out a final inspection at Bubenreuth in the 1960's.
In addition to the factory at Hagenau, Höfner also had its own saw-mill in the 1960s, which made it possible to cut, select and prepare tone wood according to its quality and characteristics. From 1963, Höfner was also a limited partner with a 50% share in the Bubenreuth bow manufacturer Daniel Dörfler. [35]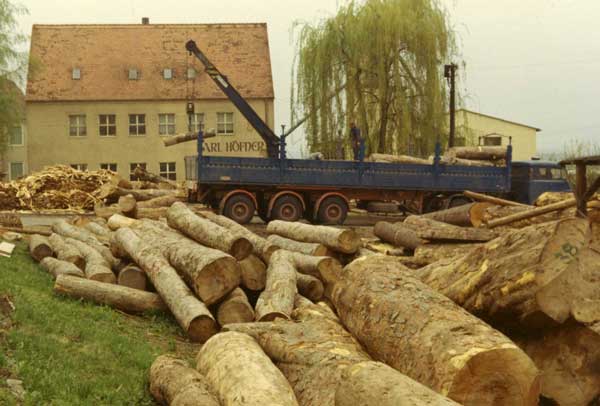 Another load of timber arriving at Bubenreuth.
The 1960s saw the advent of solid-body guitars. The "Bretter" (planks), as they were disapprovingly called by the Bubenreuth violin and guitar makers, also became part of Höfner's product range. New developments, especially in the area of electronics, became necessary: "The ball-bearing tremolo and rolling bridge, with and without mute, the patented guitar machine-head… what else did we build? Organ effect, built-in wah-wah and equalizer, treble and bass booster", remembers Christian Benker. [36] When the leading CSU politician Guttenberg visited Hagenau in 1965, he asked Walter Höfner to make an electric guitar "whine" for him. [37] Another visitor was the Bavarian SPD chairman Gabert, who paid his fellow countrymen from the Sudetenland a flying visit in Bubenreuth in 1965, while Federal Minister of Trade and Commerce Ludwig Erhard and Prof. Dr. Karl Schiller were impressed by the instruments from Franconia on the Höfner stand in Frankfurt.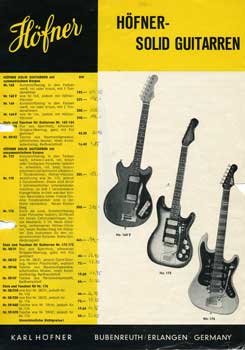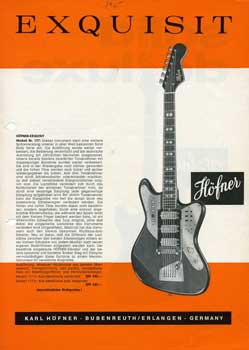 Hӧfner Solid Guitar advertisements from 1965.
The annual Frankfurt Fair was the most important opportunity for Höfner to present its new products to an eagerly awaiting music world. It was here that the Höfner "Fledermaus" (bat) was introduced in 1960. Apart from the unusual shape which gave the instrument its name, this guitar featured an integrated, battery-operated germanium-transistor amplifier and had a loudspeaker mounted in the top of the body. The following year Höfner presented its twin-neck guitar, which combined a normal 6-string guitar with an electric bass.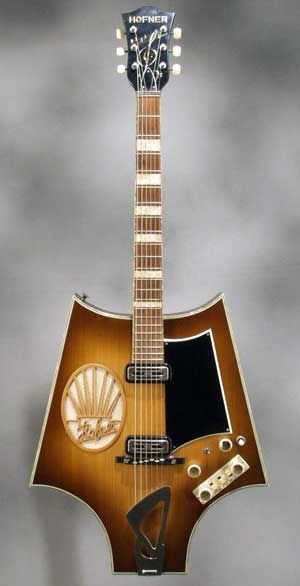 The Hӧfner Fledermaus from 1960.
Further innovations followed in 1968 with the Effect Pedal, the Sound Mix and the bridge pick-up for violin. In 1969, a special truss-rod for guitars, the All-Sound pick-up for Soul and Folklore, the deluxe electric guitar No. 471, the double-cutaway guitar No. 5472 and the solid-body guitar No. 176 were added. A year later, the hi-fi pick-up, a new Les Paul model (the semi-acoustic electric guitar No. 4579), solid-body guitars Nos. 174 and 175, electric bass No. 186 and the Höfner Light-Rhythm system, featuring 100 watts and three lamps in yellow, blue and red, were introduced. These are just a few of the many new developments which appeared during this period.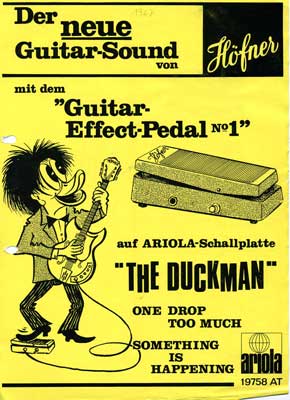 Hӧfner's first Effect Pedal, 1968.
Höfner managed to remain innovative and was successful in convincing many musicians that their products were of the highest quality. Thus leading artistes could be persuaded to play Höfner instruments. A close co-operation often evolved during the development of instruments, for example with the German solo guitarist Werner Pöhlert, who officially endorsed Höfner from 1969. He had been voted top jazz guitarist at the 1957/58 German Jazz Festival, and in 1969 three signature models were built: the Pöhlert model No. 497 classical guitar, the electric guitar No. 4578 and the electric bass No. 500/8.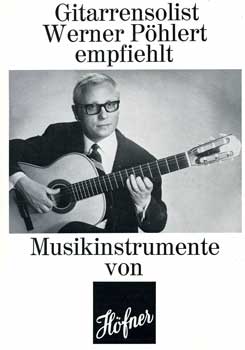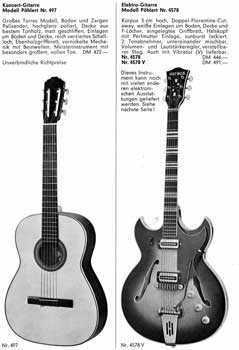 The Werner Pöhlert Catalogue from 1969.
Among the musicians who played Höfner instruments in the 1960s were Adriano Célentano, Freddy Quinn, "The Blue Diamonds" and the "Teddy Haag Quartet". However, one of the most significant chapters in the history of the Höfner company is of course the Beatles connection.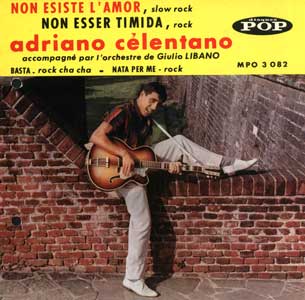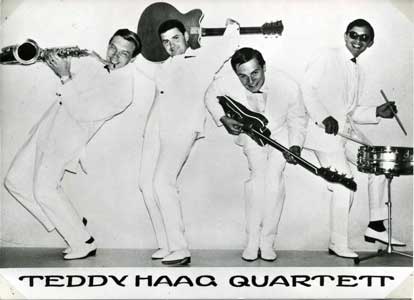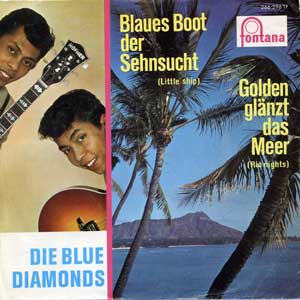 "Beatles Like Basses from Franconia":
This was the headline of an article in the Erlanger Nachrichten in 1965, describing how the "Schönbach luthiers supplied mop-top McCartney with an electric guitar". [38] Indeed, Paul McCartney had acquired this specially-made left-hand instrument during his time in Hamburg in 1961, before the Beatles became famous. The violin-shaped electric bass had been designed by Walter Höfner as early as 1955 and introduced to the public at the Frankfurt Spring Fair of 1956 as model No. 500/1. The instrument was initially to a large extent overlooked in the maker's catalogue, and did not feature at all in the Selmer edition for the UK market. However, Beatle Paul McCartney fell in love with the Franconian belle in a Hamburg music shop in 1961 and in the years which followed played several basses of this model.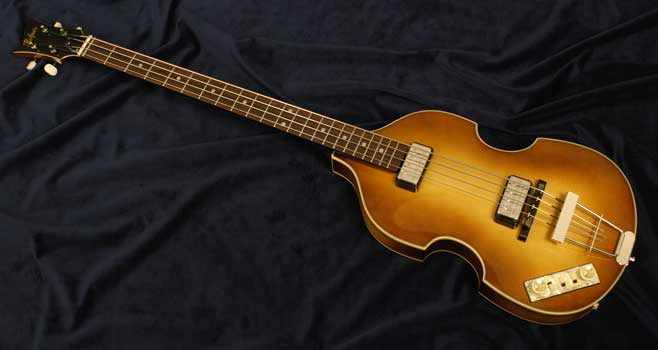 The rapid rise to fame of the band brought with it an incredible demand for the bass, first of all in Britain, the like of which no-one at Höfner had dreamt of. The Erlanger Nachrichten reported in 1965: "… the British distributor… ordered 30 electric basses in the autumn of 1963 … The basses on order had not even been delivered when an order for a further 100 instruments was received from England. This order was almost immediately increased to a total of 1,000 500/1 basses". In Bubenreuth, no-one could quite explain this development, in fact they suspected a practical joke on the part of the distributor in England. Walter Höfner picked up the telephone and called London. It was only then that he learnt that the Liverpool mop-tops had made it big in show business and that one of the four played a Höfner bass. After this phone call the company prepared itself for the coming rush and enjoyed great success. Selmer, the British distributor for Höfner instruments, had seen what was coming and drawn up a contract with the Beatles, allowing them to market the instruments with a label picturing Paul McCartney and including a text in which he recommended the bass. Höfner strings, also distributed by Selmer, now featured a picture of the Beatles. According to the contract, Paul would receive ? 5 for every Höfner bass sold. [39]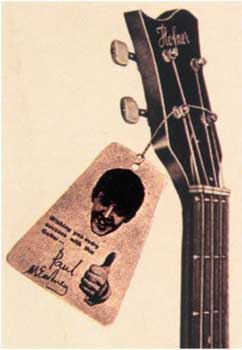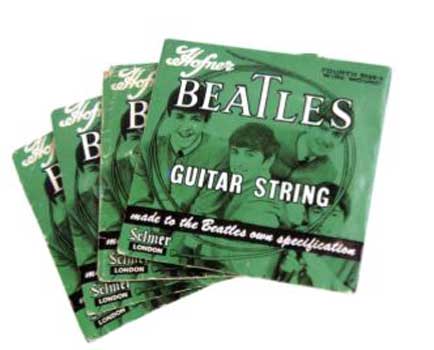 Left: The Paul McCartney tag attached to Violin Basses sold by Selmer. Right: Selmer's "Beatles" guitar strings from the 1960's.
In the interests of publicity a special bass with gold-plated hardware was built for Paul in Bubenreuth. It is uncertain whether he ever took possession of it or ever even held it in his hand, but Selmer certainly showed it at exhibitions and displayed it in their Charing Cross Road window. Nevertheless, at an auction in the "Tokyo Auction House" in 1967, this 500/1 bass made in 1964 fetched the astronomical sum of DM 350,000.-, the highest price ever paid for a stringed instrument made in Bubenreuth. [40]

To this day Paul McCartney still plays a Höfner violin bass: "I found this Hofner violin bass. And to me it seemed, because I was left-handed, it looked less daft because it was symmetrical. … So I got into that. That became my main bass". [41] Beatlemania made the instrument a best-seller for several decades. Even after more than 50 years of uninterrupted production it still enjoys an excellent reputation: production reached its "peak at the time of the Beatles, of course, but we still sell several hundred a year", as Christian Benker stated in 1989. When Paul McCartney went on tour again in 1995, the order level rose from 600 to 1,000 per year. [42] Thanks to the introduction of vintage models, production figures currently run to around 1,500 basses annually, 600 of which are vintage models.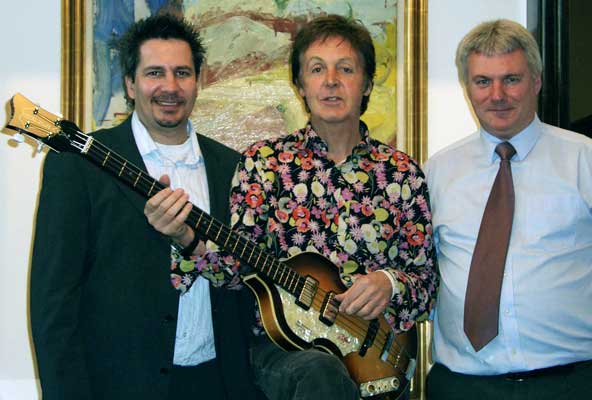 Paul McCartney after being presented with the 50th Anniversary Hofner Violin Bass by Graham Stockley and Clive Guthrie on behalf of Hӧfner in 2006.
When the Violin Bass celebrated its 50th birthday in 2006, Sir Paul McCartney was presented with a limited edition anniversary model (with the serial number 1). But Paul McCartney was not the only Beatle to play a Höfner guitar. Stu Sutcliffe, who had been persuaded by John Lennon in 1960 to play bass in his previous band "The Quarry Men", played a Hofner 500/4 (333 in the Selmer catalogue) and when the band re-named itself the Beatles shortly afterwards, this instrument became the Beatles' first bass guitar. Paul later used it, before he acquired his 500/1 in 1961.
George Harrison owned a Hofner: "I got what they called a cello-style, f-hole, single-cutaway called a Hofner, which is like the German version of a Gibson." He later exchanged his President for a Club 40: "My first electric job (was) a big Hofner President. But I soon get fed up with it and did a straight swap for a Club 40. I thought it was the most fantastic guitar ever." [43] John Lennon was also very fond of this instrument. In August 1959, his Aunt Mimi bought him one in Hessy´s Music Shop in Liverpool, and Paul occasionally borrowed it during their time in Hamburg. However, it was the Violin Bass which helped Höfner through the difficult times which descended upon Bubenreuth in the late 1960s and early 1970s.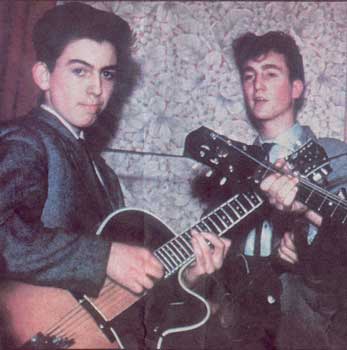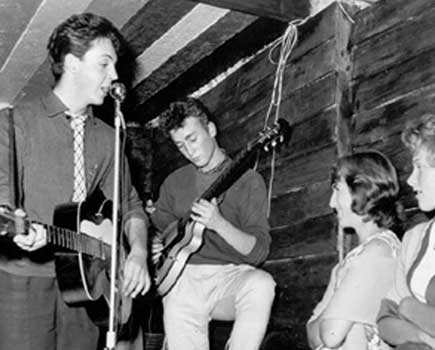 George Harrison with his Hӧfner President. John Lennon with his Hӧfner Club 40.
"The Japanese Are Coming…" or the crisis in the Bubenreuth musical instrument industry:
Since the late 1950s, the next generation of Höfners had been waiting in the wings to take control of the traditional family concern. Karl Höfner's granddaughter, Gerhilde, joined the management team after completing her course in Business Studies in 1957 and systematically built up the business inland, with the result that the company, which had hitherto been largely export-oriented, also became successful on the home market, particularly in terms of classical guitars. In 1970, Josef Höfner retired at the age of 78, and Walter Höfner too transferred more and more responsibility to his daughter and her husband Christian Benker, who had joined the company in 1963 and gradually gained control of export business. This new generation at Höfner was, however, to experience a difficult period in the history of the company.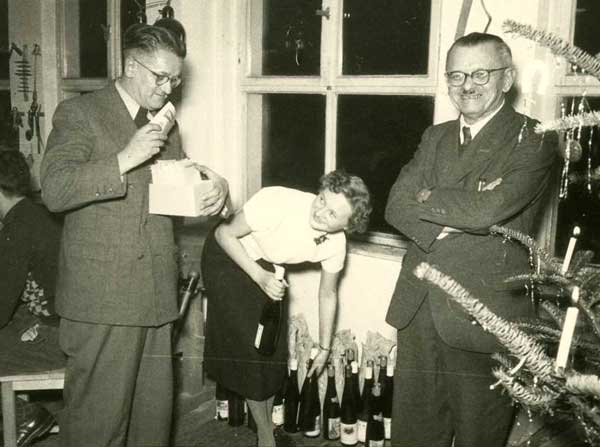 Gerhilda Hӧfner helping her father and uncle out with the workers' Christmas bottles at Bubenreuth, December 1957.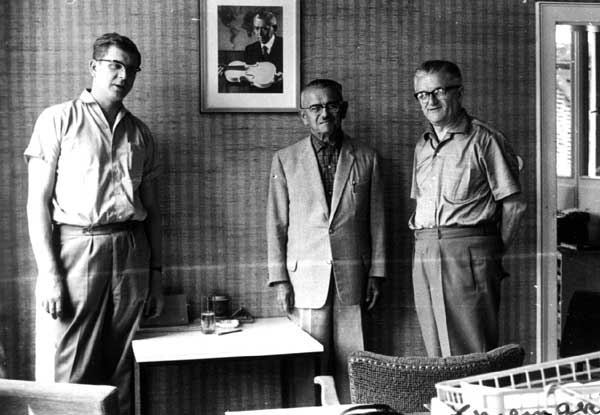 Gerhilda's husband, Christian Benker, with Josef and Walter Hӧfner in 1965.
Turnover had fallen from almost DM 11 million in 1966 to DM 6.75 million in 1969, and this downward trend continued during the early 1970s. This was due not only to the declining guitar boom but also to increasing competition from the Far East. Japanese companies had succeeded within a short space of time in setting up guitar production and were quickly capable of producing low to mid-price instruments of a quality comparable to that offered by the Bubenreuth manufacturers, but at a considerably lower price. Japanese guitar-makers were thus able to achieve an amazing penetration of the markets which had for so long been dominated by German manufacturers in particular. [44] The Bubenreuth instrument manufacturers referred to this as the "low". The first general recession in the German economy, which since the 1950s had been accustomed to a continuous upward trend, intensified the crisis in the German music industry from the beginning of the 1970s. [45] This was compounded by the introduction of value-added tax and the ever-increasing cost of wages on the German economic landscape, and Japanese guitars thus gained a firm footing not only abroad but also soon afterwards began to impair the domestic sales of the German manufacturers. The revaluation of the DM constituted a further blow for the export of German musical instruments, and even more "dark clouds"46 appeared in the sky over Bubenreuth.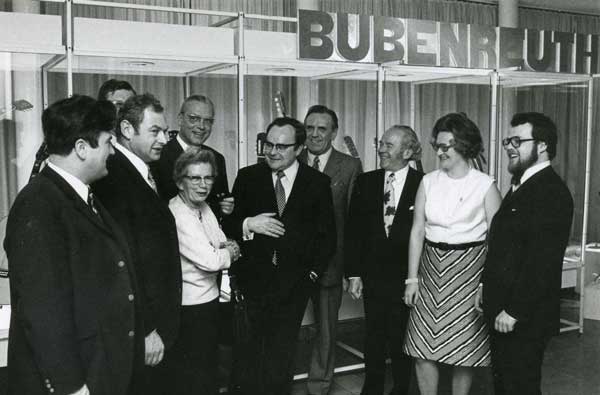 Gerhilda and Christian Benker attend an exhibition in Bonn during 1973 in order to promote Bubenreuth musical instrument companies.
At Höfner, the reaction to this development was to concentrate more on the production of classical guitars and violins, areas in which the competition from the Far East had in the 1970s not yet made its presence so acutely felt. In addition, the emphasis was very much on quality, in order to secure those sectors of the market associated with the upper price segments. The strategy was: "Quality rather than low prices". Thus, at the Frankfurt Music Fair, Höfner's slogans were "The best" and "The best instruments we have ever made". Among those exhibited were two electric guitar models, No.175 H featuring wireless transmission and the improved thinline model No. 171 H, the exclusive banjo model Nr. 738 and a range of classical guitars consisting of 23 different models, from student instruments to master guitars, which had been greatly improved in terms of quality and sound. In the years which followed, Höfner continued to work tirelessly in this direction. In 1974, not only the top models Nos. 4984 and 4985 but also model No. 4983 with solid rosewood body and solid spruce top were introduced. In the same year model No. 600, named after jazz guitarist Django Reinhardt, was presented to the public.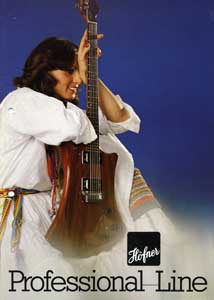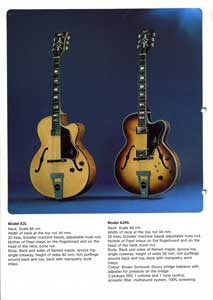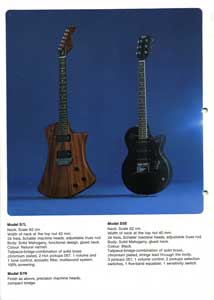 The new Professional Line Catalogue of 1978.
Also new were dulcimers. Worthy of mention among the many new products shown each year at Frankfurt are the Jazz Bass of 1979 and the seven "Professional Line" models introduced in 1978, developed in co-operation with Stuttgart studio musician Gela Hildebrand and the internationally renowned guitarist Ricky King: the S7L solid-body guitar (available as 6-string or 12-string model), the S7B electric bass, the A2L jazz guitar, the A2HL semi-acoustic guitar and the T2S and T2N thinline models.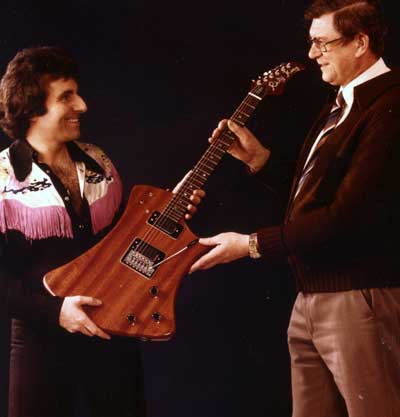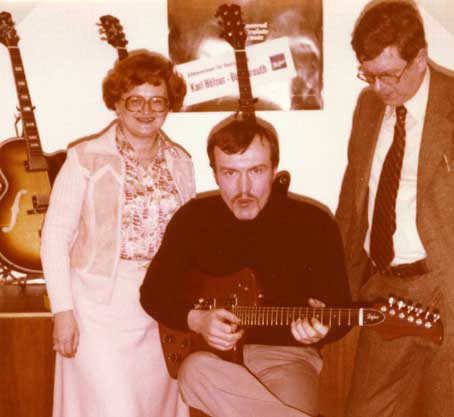 Left: Ricky King receives a Hofner S7L from Christian Benker. Right: Gela Hildebrand with a Hӧfner S7L at the 1978 Frankfurt Trade Show.
"Höfner Guitars Set the Tone for the 80's":
Höfner used this advertising slogan from the beginning of the 1980s. By employing fresh strategies which placed emphasis on quality "Made in Germany" in the upper and medium price categories and attracting new endorsers, the company in Bubenreuth had indeed been successful in combating the crisis. Big-name acts using Höfner at that time included the Steve Gibbons Band, Ricky King and Attila Zoller, who signed an endorsement contract in 1981.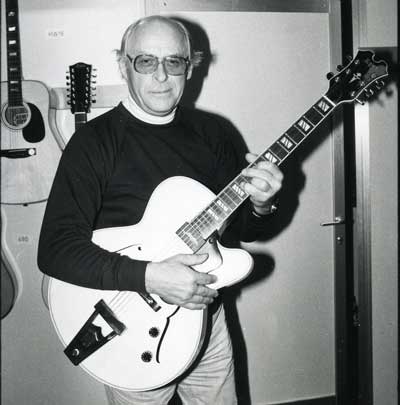 Attila Zoller with his Hӧfner AZ Award model at the 1987 Frankfurt Trade Show.
In 1953 Zoller, an Hungarian by birth who had been living in Austria since 1948, came with American French hornist David Amram to Frankfurt am Main, one of the most important centres of the German jazz scene, where they appeared together with brothers Emil and Albert Mangelsdorff in the city's jazz clubs. He later became a permanent member of Hans Koller's "New Jazz Stars" and was soon regarded as one of the "greats" of European jazz. Before leaving for the USA, where he was to play with some of the greatest American jazz musicians and establish his own jazz school in Vermont, Attila Zoller, together with the Framus company of Bubenreuth, was able in 1958 to introduce the first jazz guitar to be constructed according to his own specifications.
After Framus went bankrupt between 1975 and 1977, Attila Zoller worked from 1981 onwards with Höfner on the development of a new "signature" guitar. To this end he spent several weeks in Bubenreuth. The various archtop models of the Zoller Series – first of all the AZ Standard and the AZ Award, followed later by the AZ Special and the AZ Fusion – went into production at Höfner during the early 1980s. [47] Höfner's "Ultimate Jazz Guitar" was first introduced to a wider public at the 1981 Music Fair in Chicago and soon met with enthusiastic approval among great jazz musicians in the USA, notably Jimmy Raney and Chuck Wayne. During his German tour in the autumn of that same year, Attila Zoller was able to demonstrate his instruments to raptured audiences.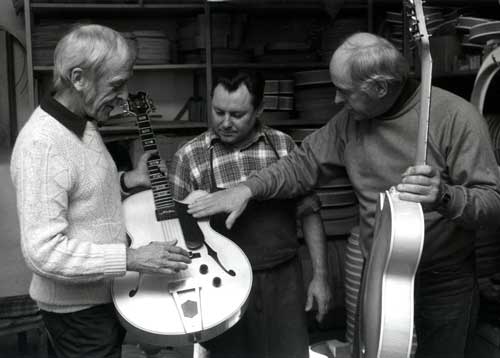 Attila and Jimmy Raney inspect production of the AZ models in the Bubenreuth workshops.
Another top jazz guitar, the Jazzica, was added in 1989 and was quickly accepted as being one of the most handsome and elegant guitars of all. It is still produced by Höfner today.
As early as 1981, Höfner was producing replicas of well-known guitars of the 1950s under the name of Venture. These included a model V, based on the Flying V, and a Strat copy. The S 11 Heavy Duty, another new model which had been developed for Country Rock, had a particularly unusual body shape.
Höfner did not wait until the Frankfurt Music Fair in 1982 to introduce its new mini-guitar. The "Shorty" was premiered at the Sound-und-Musik-Festival in Essen at the end of 1981 and its compact dimensions were accentuated by the long female legs on the promotional poster! The "Just call me Shorty" guitars were 79 cm in length but had a normal scale for an electric guitar of 63 cm; they were fitted with Shadow pick-ups and Schaller machine-heads and tailpieces and were advertised by US distributor Multivox as follows: "We made it smaller after we made it right… A Shorty is a pleasure to play – it's a Hofner experience!" The Shorty, which by the way is again being produced by Höfner, was the first travel guitar which could be taken seriously, and was a hit in 1983 in Tokyo, where the German Music Fair was held for the third time. The Shorty family comprised not only the standard Shorty and a Shorty Super with loudspeaker and 1 watt amplifier but also a Shorty Bass and, from December 1982, Shorty Nos. 180 and 181 in kit form.


"Shorty" Advertisements from 1982.
Three years after the Shorty, Höfner introduced three new instruments under the slogan "We're turned on…electric power ´84", namely the two electric guitar models S 2 and S 2A and the electric bass model S 2B, all of which featured a solid mahogany body.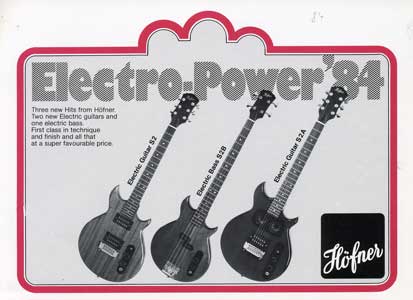 The Electro-Power Advert from 1984.
In the context of a management restructuring programme at Höfner in 1986, the current owner, Klaus Schöller, who had worked at Kollitz during the course of his studies and developed the "Brüko ´62 Advanced" kit, joined the Höfner team. "They've got themselves a real expert there", was the verdict of the periodical "Musiker-Magazin" [48] At Höfner he set about developing a new marketing strategy and designing new models. Of these the Alpha is worthy of mention, a solid-body guitar marketed under the slogans "Functional perfection" and "Tradition has a future". In addition, efforts were intensified to win back market shares lost since the late 1960s by introducing the custom concept "Individuality ex-works": the guitarist was able to order a custom-made instrument built according to his own individual requirements. The musician had a choice of various pick-ups, tremolo systems, woods and colours. The Alpha was not just another standard model, as each customer could specify his individual options and thus acquire his very own Alpha Custom. The same applies to the Reference, also designed by Klaus Schöller to meet professional needs, first introduced in 1987 and from 1990 produced as the Classic, Special and Pro models. These were followed two years later by the Ghia, Special S and Pro S models. The third new model born of the "Individuality ex-works" philosophy was the semi-acoustic Nightingale, which was also introduced in 1987.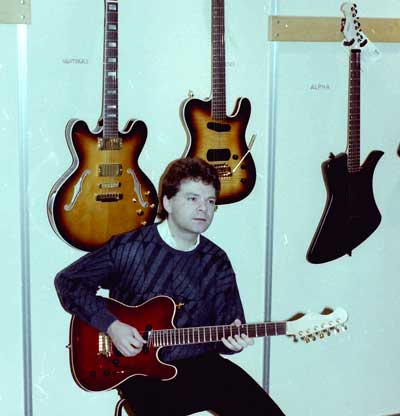 Klaus Schöller playing a Hӧfner Reference at the 1987 Frankfurt Show.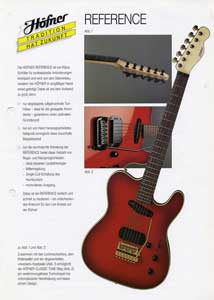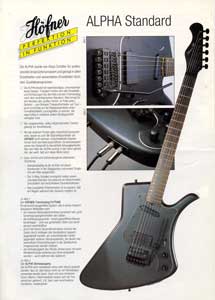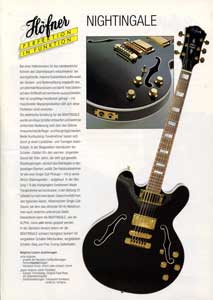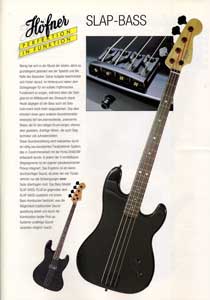 1987 Advertising Flyers for (left to right) the Reference, Alpha, Nightingale, and Slap Bass models.
The new models of the 1980s were conceived not only for the professional musician but also in particular with youngsters in mind, after all, "Music is the first language a child understands", to quote Höfner's 1987 advertising for its inexpensive guitars developed together with music teachers for the very young. A series of high-quality student instruments which had been introduced the previous year in collaboration with the Düsseldorf "Institute of Stringed Instruments Guitar & Lute" (ISIGL) had been received with praise and approval by numerous music professors all over the country. [49] The "Musikstudent MSI" model even received in 1991 the coveted "Deutscher Musikinstrumentenpreis" (German Musical Instrument Prize) from the Minister of Trade and Commerce. Student guitars became colourful when Höfner introduced the "Trendstyle" in 1989. The tone woods for these classical guitars were dyed using a special process and their colourful appearance and names such as Zebra, Confetti, Harlequin or Blue Stripes were chosen to appeal to children and teenagers.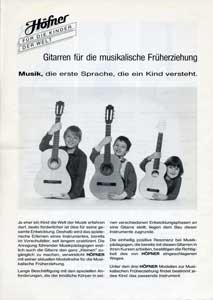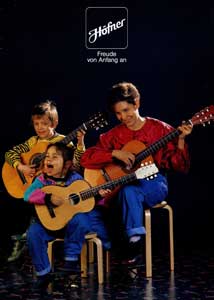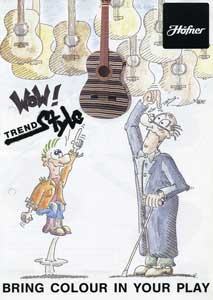 Childrens' Guitar Advertising: Left to Right, 1987; 1988; 1989.
These activities in the area of musical education for the young were certainly instrumental in Höfner receiving an invitation in 1990 from the Chancellor to take part in the children's festival in Bonn, where they were represented by a stand and a mock workshop. Helmut Kohl expressed his thanks for their participation in a personal letter to Christian Benker. Other top politicians of the time such as CDU Secretary General and Federal Minister Heiner Geißler or Federal Finance Minister Theo Waigel made clear their recognition for the achievements of the company by visiting their stand at the Music Fair in 1982 and 1990 respectively, and the chairman of the European People's Party, Otto von Habsburg, paid a personal visit to Höfner in 1987.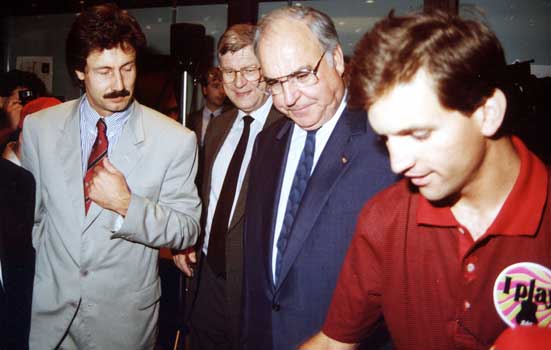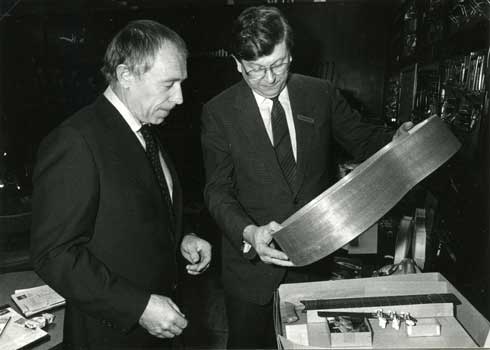 Political Interest in Hӧfner: Chancellor Helmut Kohl at the 1990 Bonn Children's Festival, and Heiner Geissler at Frankfurt Show in 1984.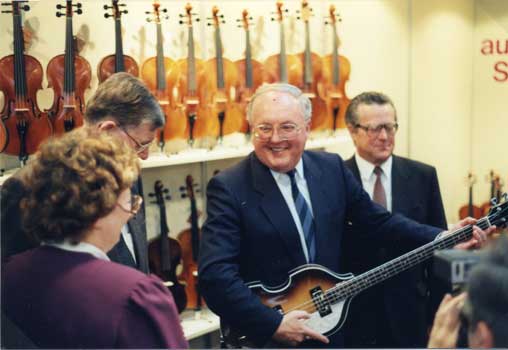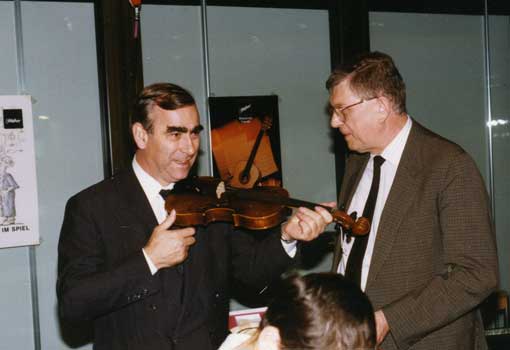 M
usically inclined politicians..........Erich Riedl at Frankfurt in 1990 and Theo Waigel at the 1990 Bonn Childrens' Fair.
Thus it was with optimism that Höfner was able to celebrate its 100th anniversary in 1987 under the motto "Achievement has a future". Since 1957, 1.5 million instruments had been produced and up to 30,000 instruments were still leaving the factory annually, according to Christian Benker. The turnover of the previous years remained stable and exports, which accounted for 65%, had strengthened. Alongside the USA, Japan now represented the most important export market for Höfner products, since up to 1,500 violins were now being shipped there annually. Christian Benker, Managing Director at that time: "We are particularly proud that our products satisfy the exacting demands of the Japanese market in terms of quality and we are happy that this sophisticated market remains one of our most important abroad." [50] Höfner had overcome the crisis. However, "business has generally become much harder", as Christian Benker summed up, you have to invest more, advertise more and attend every fair, whether in Australia, Japan or USA. In addition, new problems were beginning to appear on the horizon, in particular from the direction of China, and Christian Benker had warned of potential competition in the production of violins from that country as early as 1979. [51]
Boosey & Hawkes......then The Music Group: a decade without family involvement:
The granddaughter of the company founder Gerhilde (née Höfner) and her husband Christian Benker sold the company on 1st January, 1994 to the British Boosey & Hawkes Group (B & H), which already included several internationally renowned musical instrument manufacturers such as Roderich Paesold of Bubenreuth, one of the leading manufacturers of bows. The logical fusion of the two Bubenreuth companies within the B & H group involved in the manufacture of stringed instruments followed later that same year. Three years later both firms moved to Höfner's branch factory in Hagenau near Bubenreuth, which had originally been built in 1964 and was now extended to become the headquarters of the amalgamated company. Christian Benker remained in management alongside Joachim Winter, joint Managing Director from 1995 onwards, thus ensuring continuity in business and marketing policy until his ultimate retirement some years later.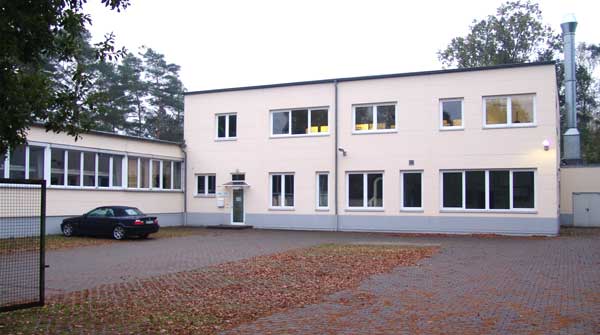 Hӧfner's Offices at Hagenau.
The new ownership and the fusion of Höfner and Paesold were expected to bring considerable synergy on the one hand and a strengthened market position on the other. [52] Several million Marks were invested in new manufacturing technology and the extension of the company building in Hagenau in order to consolidate the position of Germany as the business location and reassure the long-serving and highly-skilled employees, whose expertise and craftsmanship had contributed in no small way to the worldwide success of the company. The decision to leave the musical village of Bubenreuth and move to the neighbouring village was not an easy one. In the end, Hagenau was chosen on account of its more modern premises and its potential for further expansion. In 1997, 100 employees moved to Hagenau and guaranteed a sustained annual turnover of DM 15 million. [53]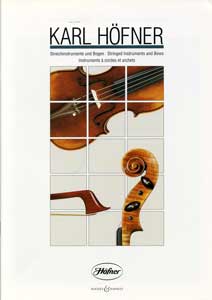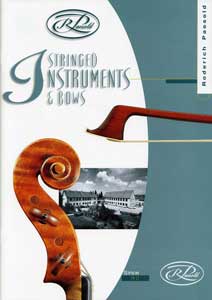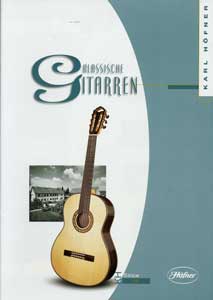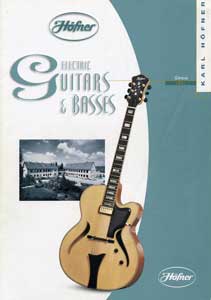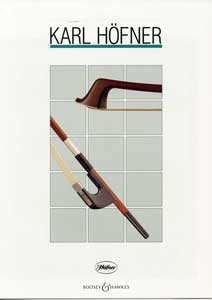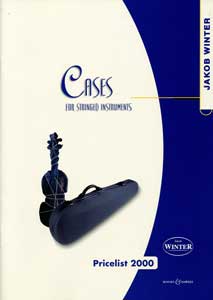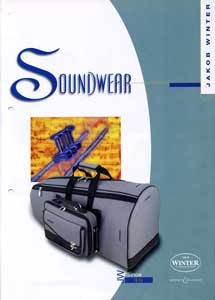 Some of the large number of catalogues featuring Hӧfner, Paesold, and Jakob Winter products handled at Hagenau during the Boosey & Hawkes period.
Specific marketing measures were subsequently introduced under the aegis of Product Manager for Guitars and Marketing Director Klaus Schöller, for example the introduction of the Höfner Green Line in 1998. These new "ecological" guitars were Master instruments made exclusively of indigenous tone woods and featuring an environmentally friendly finish: a special water-based lacquer applied in seven extremely thin coats. The success of this range was well illustrated when the HGL 50, which retailed for DM 1,100 in 1998, was selected by Federal President Roman Herzog as a gift for foreign Heads of State.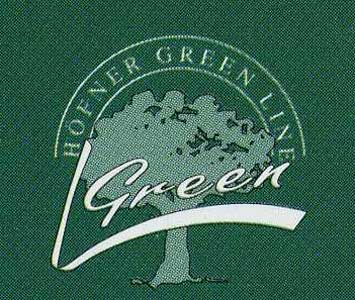 New catalogues were printed and several extraordinary advertising campaigns started, for example the "Coffee + more" campaign or the joint advertising for the cinema film "The Red Violin", which tells the story of a violin-maker, his Master violin and their journey through the centuries. Höfner launched a replica of this violin, costing DM 10,000 including silver-mounted bow and leather case. Also inspired by this film was a video about the manufacture of violins and bows, showing Höfner Master luthiers at work. This promotional video was sent to dealers as a sales aid. The same year saw the introduction of a replica of a violin made by the famous French luthier Jean-Baptiste Vuillaume, and a guitar calendar also appeared. These measures were intended to set Höfner apart from other manufacturers and establish a clear profile for the company. [54]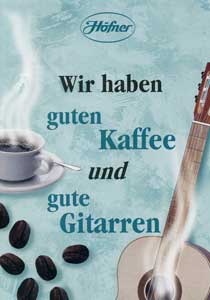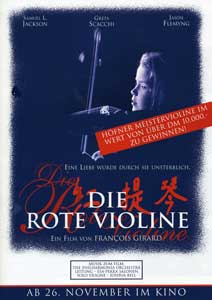 The Coffee & Guitar Marketing Campaign and the Red Violin Film Poster with Hӧfner banner.
A further change of ownership took place at the beginning of 2003, when Boosey & Hawkes decided to sell its "Instrument Division" – consisting of Buffet Crampon, Rico, Besson, Schreiber, Keilwerth, Winter and Höfner – to the British investment consortium "The Music Group" (TMG). Soon after, however, it was decided that the most lucrative course of action would be the break-up of the group and piecemeal sale of the constituent companies. Initially, Rico was sold to the string manufacturer D'Addario, followed by Höfner and, in the months following, Winter and Buffet Crampon.
Höfner in Family Ownership Once Again: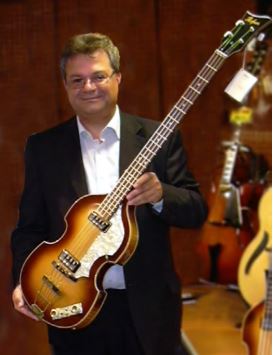 Klaus Schöller
Since the end of 2004 Höfner (together with Paesold) has once again been in family ownership. Former General Manager Klaus Schöller and his wife Ulrike Schrimpff (Finance Director at Höfner since 1995) succeeded in acquiring the company from TMG in a management buy-out. Thus the long tradition of the musical instrument manufacturer, founded in 1887 in Schönbach as a family concern, was reinstated, with just one decade having not been spent in family ownership. Naturally, there were enormous difficulties at the outset: "The matter of financing was not easy. It was not until I met a banker who was a music fan that I received the money I needed", remembers company boss Klaus Schöller. [55] He was fortunate in having the convincing argument that both brands, Höfner and Paesold, have enjoyed an excellent reputation in trade circles for decades. After all Germany – alongside Italy and Spain – is acknowledged as the cradle of European violin and guitar manufacture, and the German company Karl Höfner can look back on a 120-year history of instrument-making, and in the case of Paesold it amounts to more than 150 years! Both brands can count themselves among the oldest in the industry worldwide. But that's not all, because Höfner/Paesold is today by far the largest manufacturer of high-quality stringed instruments and bows in the medium and upper price ranges. In Germany Höfner, with its 78 employees, is the largest company of its kind.
When the changing world market made the conditions for competition more difficult, offensive strategies became necessary. When new competitors from the former Eastern bloc countries began to emerge after the demise of the Soviet Union, Höfner wasted no time in transferring certain stages of manufacture involving handcrafting to low-wage areas such as former East Germany and the Czech Republic.
China had in the meantime become the largest exporter of stringed instruments in the world and soon represented a serious challenge in this area. In addition, a new and lucrative home market was developing there, one in which Höfner had to be present, as Christian Benker had already correctly perceived. Since the late 1980s he had attended the trade fair in China, beginning with the first Music Fair "Music China ´88" in Guangzhou, where he as chairman of the BDMH led a German delegation and organized a communal German stand. His motto was that the Far Eastern market should not be simply left to the Japanese without putting up a struggle. As early as 1979, Benker had warned of Chinese competition in violin-making. As a result, Höfner seriously considered production in China for the first time in 1985, when a delegation of Chinese ministerial officials visited, among other places, Höfner in Bubenreuth. However, it was not until the Boosey & Hawkes regime with the many and varied resources associated with a large organisation that a Representative Office could be opened in 2000, followed in 2003 by a 100% subsidiary company (WFOE) north-east of Peking with a production and export licence and a work-force of 40.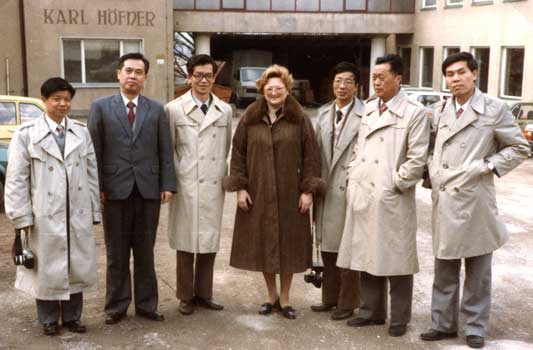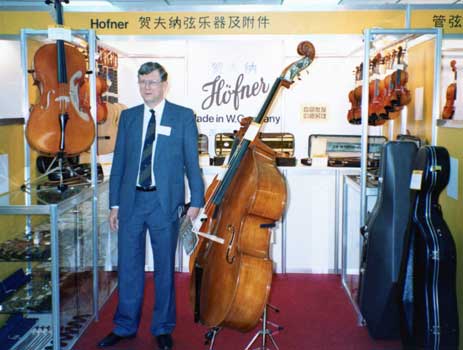 Left: Gerhilda Benker welcomes the Chinese delegation to Bubenreuth. Right: Christian Benker on the Hӧfner stand at the 1988 Trade Show at Guangcho, China.
At present, Höfner's Chinese production includes student violins and guitars, high-quality steel-string acoustics and a version of the Violin Bass. Cheaper instruments have never been produced in Germany, they have always been imported. A good example for this practice are the inexpensive Spanish guitars built to Höfner's exact specifications by Enrique Keller at his "Fabrica de Instrumentos Musicales" in Zarauz (Spain) which have been marketed by Höfner for several decades under the trade name of Carmencita. [56]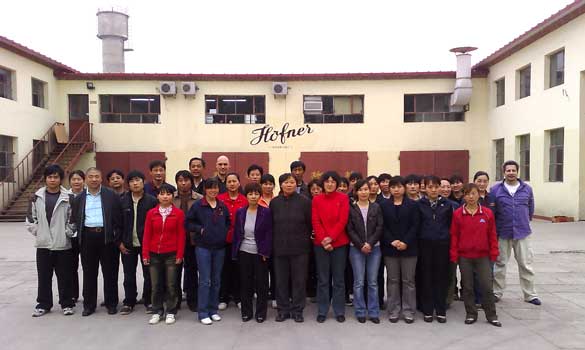 The workers at Hӧfner's factory in Beijing, China.
It has always been company policy to concentrate in Germany on the production of high-quality proprietary goods. Worries about cheap instruments from Japan or China are largely a thing of the past, since those children and teenagers who purchase such an instrument and persevere with making music will ultimately want to buy a branded instrument. In addition, a shift towards Höfner instruments has for some time been discernible. Whereas in the 1960s to 1990s American guitars were still favoured by the older generation, Höfner instruments now present a deliberate counterpoint, states company boss Klaus Schöller.
Höfner has in recent years also been concentrating on "reissues", vintage instruments of the 1950s and 1960s in particular, as Höfner's excellent reputation on the guitar scene is based on the jazz guitars of that period and of course the Violin Bass. At the Music Fair in 1994 Höfner introduced the 500/ 1 Vintage '62, which is produced exactly as it was back then, when Paul played "I wanna hold your hand" on it. Other reissued models of late include the Club 40, the Verythin of the 1960s and the Shorty from 1981.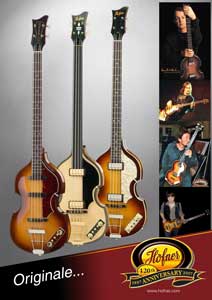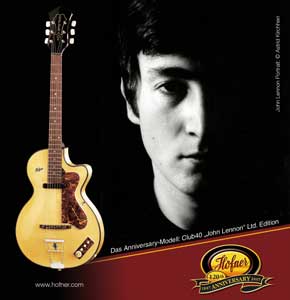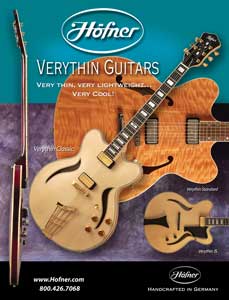 Some of Hӧfner's recent Re-Issues.
The fact that Höfner was market leader for classical guitars in 2006 illustrates that the strategies described above have proved successful. Company turnover is "in the upper echelons of the single-figure € million range", according to Klaus Schöller at the Frankfurt Music Fair 2006. [57] International stars appreciate the quality from Franconia. Besides Paul McCartney, who still uses his Höfner bass today, the bass-player of world-famous band Bon Jovi – Hugh McDonald – is an important endorser for Höfner. When he paid Höfner a flying visit in Hagenau in 1998, McDonald remarked: "Nothing comes close to the sound of a Höfner bass. When you play it, you can kid yourself you're Paul McCartney." [58] The list of Höfner endorsers is a long one which includes Bryan Adams, Lenny Kravitz, Ritchie Sambora, Chris Rea and American jazz great John Stowell, for whom a signature model was developed.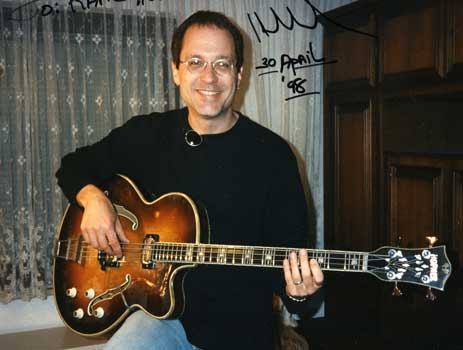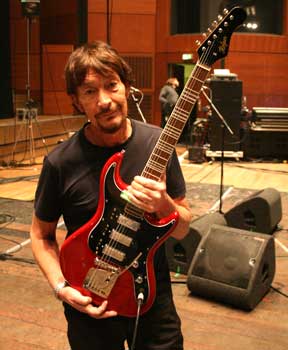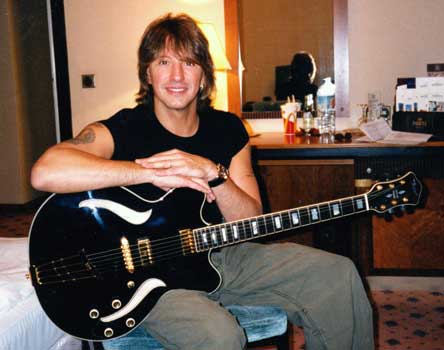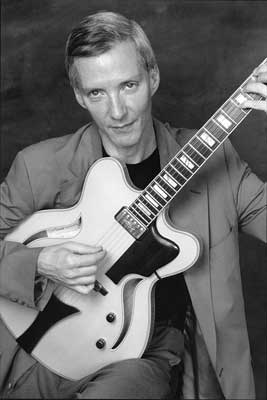 Top: Hugh McDonald (Bon Jovi) and Chris Rea.
Bottom: Ritchie Sambora and John Stowell.
The Höfner philosophy goes back all the way to 1887 and Karl Höfner but is by no means out of date. On the contrary, constant innovation has enabled it to keep pace with the passage of time. The basic principle for the last 120 years has been to achieve success by means of solid performance and product quality and to maintain international presence in order to take advantage of worldwide sales channels. This point of view would appear to be a sound one, if the history of the company over the last twelve decades is anything to go by!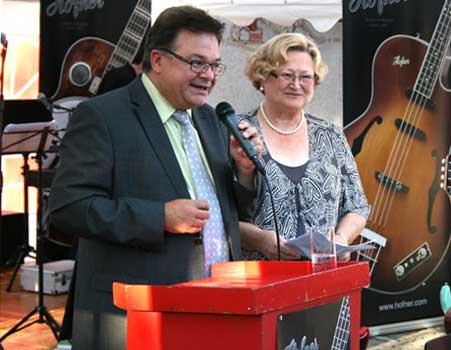 Klaus Schöller & Gerhilde Benker at the Hӧfner Company's 125 year Anniversary Celebrations in 2012.
---
REFERENCE DOCUMENTS:
Abbreviations:
BArch: Bundesarchiv / Federal archives
BDMH: Bund Deutscher Musikinstrumentenhersteller / Association of German Musical Instrument Manufacturers
FAH: Firmenarchiv Höfner / Höfner company archives
FAZ: Frankfurter Allgemeine Zeitung (German national newspaper printed in Frankfurt/Main)
PFO: Presse- und Fotoordner / Press and photo file(s)
StA: Staatsarchiv / State archives



[1] Zit. nach dem Geschäftstagebuch von Karl Höfner/From Karl Höfner's business diary; Familienarchiv/family archives Höfner-Benker. Vgl. hierzu auch den Festvortrag von/see also speech by Professor Dr. Robert Werner, Zur Geschichte der Musikinstrumentenfirma Karl Höfner, in: FAH, Ordner/file "100 Jahre Höfner".
[2] Vgl. den Artikel von/See also article by H.K.Herzog, Höfner – Hofner: In 8 Jahrzehnten ein universeller Markenbegriff für Saiteninstrumente (o.J. [1967]), in: FAH, PFO 1.
[3] So der gleichlautende Titel eines Zeitungsartikels vom 20. September 1952, der sich im Familienarchiv der Familie Höfner-Benker erhalten hat/See newspaper article of 20th. September, 1952 bearing same title, contained in family archives Höfner-Benker (Ordner/file "Josef Höfner").
[4] Vgl./See FAH, PFO 7.
[5] Vgl./See Antrag auf Errichtung, Umsiedlung oder Erweiterung eines Industriebetriebes (19. November 1958); Familienarchiv/family archives Höfner-Benker, Ordner/file "Josef Höfner".
[6] Vgl./See Regierung von Mittelfranken an die Eheleute Josef und Elisabeth Höfner (15. September 1960); ebd./ibid., sowie/also BArch, Lastenausgleichsarchiv, Höfner Walter – ZLA1/1244424a-b, M1.3/200.
[7] Vgl./See Horst Link, Die Verbände der deutschen Musikinstrumentenhersteller im 19. und 20. Jahrhundert einschließlich der geschichtlichen Parallelen in Österreich, Tutzing 2000, S./p. 180.
[8] Vgl./See Regierung von Mittelfranken an die Eheleute Josef und Elisabeth Höfner (15. September 1960); Familienarchiv/family archives Höfner-Benker, Ordner/file "Josef Höfner", sowie/also Antrag auf Errichtung, Umsiedlung oder Erweiterung eines Industriebetriebes (19. November 1958); ebd./ibid.
[9] Vgl. das Interview mit Gerhilde und Christian Benker (5. Juni 2002)/See interview with Gerhilde and Christian Benker (5th June, 2002).
[10] Vgl./See Erinnerungen Josef Höfners (5. Dezember 1985); Familienarchiv/family archives Höfner-Benker, Ordner/file "Josef Höfner".
[11] Zit. ebd./from ibid.
[12] Vgl./See Link, S./p. 180.
[13] Zit. nach dem ersten Bubenreuther Höfner-Katalog/From the first Bubenreuth Höfner catalogue [ca./c. 1951], S./p. 35, und vgl. die Preislisten Nr. 70 und Nr. 74/see also price lists nos. 70 and 74 [Möhrendorf] bzw. Nr. 79/and no. 79 [Bubenreuth]; FAH, Ordner/file "Prospekte 1A".
[14] Vgl. Preisliste Nr. 77/See price list no. 77 [Möhrendorf]; ebd./ibid.
[15] Zit. nach der Faltbroschüre/See brochure "Höfner Meisterinstrumente Messeneuheiten Herbst 1953"; ebd./ibid.
[16] Vgl./See Schnepel, S./p. 59f., sowie/also Christian Benker an/to Bert Gerecht (17. Januar 1989); FAH; Ordner/file "Beatle-Bass", oder Aufzeichnungen Christian Benkers/or Christian Benkers drawings (4. August 1986), in: FAH, Ordner/file "Gitarren-Elektronik etc."
[17] Vgl. die gutachterliche Stellungnahme/See authoritative statement (7. August 1953); StA Nürnberg, Reg. Mfr., Abg. 1978, Nr. 19774, Bd. 15: "Karl Höfner", sowie Firma Höfner an die Vertretung der Heimatvertriebenen Wirtschaft/and Höfner to the refugees' delegation (11. Mai 1955); Familienarchiv/family archives Höfner-Benker, Ordner/file "Josef Höfner", und Regierung von Mittelfranken an die Eheleute Josef und Elisabeth Höfner/and government of Central Franconia to Josef and Elisabeth Höfner (15. September 1960); ebd./ibid.
[18] Aktennotiz über eine Besprechung im Landratsamt Erlangen/Note in file referring to conversation in office of Erlangen rural district council (19. Dezember 1949); BayHStA, MWi 14155, dann/subsequently StA Nürnberg, Reg. Mfr., Abg. 1978, Nr. 19774, Bd. 15: "Karl Höfner", sowie das Schaubild über die Beschäftigtenzahl von 1950-1965/and diagram of work-force for the years 1960-1965; Familienarchiv/family archives Höfner-Benker, Ordner/file "Josef Höfner".
[19] Zeitungsartikel mit Bild von 1957/Newspaper article with picture from 1957; ebd./ibid.
[20] Vgl./See Karl Junger, Von Schönbach nach Bubenreuth. Der Wiederaufbau der Schönbacher Musikindustrie, in: Festschrift der Egerer Zeitung/commemorative edition of the newspaper "Egerer Zeitung" (Mai/May 1974).
[21] Vgl./See St. Louis Music 75 Years. 1922-1997, St. Louis 1997, S./p. 23-27.
[22] Vgl./See Josef Höfner an/to [seinen Schwiegersohn/his son-in-law] Lenny [Harrington] (23. Januar 1971); FAH, Ordner/file "Höfner-Name in USA".
[23] Vgl./See Erinnerungen Josef Höfners/Josef Höfner remembers (5. Dezember 1985); Familienarchiv/family archives Höfner-Benker, Ordner/file "Josef Höfner".
[24] Vgl./See FAH, Ordner/file "Höfner-Name in USA".
[25] Mo Foster, 17 Watts? The Birth of British Rock Guitar, 2. Aufl./second edition London 2000, S./p. 161.
[26] Vgl./See "First Music Trade Exhibition in London", in: Das Musikinstrument (Oktober 1956).
[27] Vgl./See FAH, Ordner/file "Prospekte 1A".
[28] Vgl./See FAH, Ordner/file "Warenzeichen".
[29] Ivor Mairants, My Fifty Fretting Years. A Personal History of the Twentieth Century Guitar Explosion, Newcastle upon Tyne 1980, S./p. 77. Vgl. auch/see also Chas McDevitt, Skiffle. The Definitive Inside Story, London 1997, S./p. 8.
[30] Zit. nach/From: "1000 Gitarren flogen nach London", in: Das Musikinstrument (1. Januar 1959), Zeitungsartikelsammlung der Gemeinde Bubenreuth/collection of newspaper articles belonging to the parish of Bubenreuth, und vgl./and see also Heinz Reiß, Den Flughafen ab der ersten Stunde genutzt, in: Erlanger Nachrichten (Lokalteil/local section Erlangen), S./p. 4.
[31] Vgl./See G.K. Maruichi-Shoten, The Importer of Quality Musical Instruments (Artikel von Januar 1983), in: FAH, PFO 6.
[32] Vgl./See FAH, PFO 2.
[33] Vgl./See Berichte über die Betriebsprüfungen/auditors' report vom 29. Juli 1966, 28. Juni 1971 und 31. Dezember 1974; FAH, Ordner/file "Korrespondenz Finanzamt".
[34] Carl Graf Hohenthal, Wir sind Handwerker, die schöne Instrumente bauen, in: FAZ (24. Dezember 1994), S./p. 13.
[35] Vgl./See den Artikel von/article by H.K.Herzog, Höfner – Hofner: In 8 Jahrzehnten ein universeller Markenbegriff für Saiteninstrumente (1967), in: FAH, PFO 1.
[36] Christian Benker an/to Michael Naglav (26. April 1984); FAH, PFO 9. Vgl. außerdem/see also Michael Naglav, Höfner-Guitars. Made in Germany, o.O. o.J., S./p. 4.
[37] Zit. nach dem Zeitungsartikel/From the newspaper article "Die sauren Gurken schmeckten. MdB Guttenberg besuchte Poxdorf-Hagenau" (September 1965); FAH, PFO 1.
[38] Ebd./ibid.
[39] Zitate nach/From: "Beatles lieben Bässe aus Franken", in: Erlanger Nachrichten (3. September 1965); FAH, PFO 1. Vgl. auch/see also Andy Babiuk, Beatles Gear, San Francisco 2001, S./p. 49f. sowie zu Selmers Arrangement mit den Beatles ebd./and on Selmer's arrangement with the Beatles, S./p. 122f., 126f. und/and 134; vgl. außerdem/see also George Healey, The Hofner "Beatle Bass", in: Guitar Trader´s Vintage Guitar Bulletin (Juli 1983), S./p. 2-5, und schließlich/and finally Christian Hoyer, Rock´n´Roll mit fränkischen Gitarren, in: Nürnberger Zeitung, Lokalteil/local section Nürnberg Plus (11. November 2005), S./p. 1.
[40] Vgl./See Heinz Reiß, Rekorderlös für der "Beatles-Baß", in: Erlanger Nachrichten (9. April 1997), S./p. 5.
[41] Zit. nach/From Babiuk, S./p. 49, und vgl. ebd./see also ibid., S./p. 98f.
[42] Christian Benker an/to Bert Gerecht (17. Januar 1989); FAH, Ordner/file "Beatle-Bass", sowie/and Paul Hertrich, Weltstars reißen sich um die Gitarren aus Franken, in: Bild (Nürnberger Ausgabe/Nuremberg edition vom 31. Januar 1996), S./p. 3.
[43] Zit. nach/From Babiuk, S./p. 20 bzw./and S./p. 22.
[44] Vgl./See Friedhelm Gröteke, "Gitarren vom Fließband in Bubenreuth", in: Handelsblatt (7. August 1967); FAH, PFO 1.
[45] Vgl. den gleichnamigen Artikel/See article of the same name, in: Erlanger Nachrichten (1./2. Juli 1967); FAH, PFO 1.
[46] So der Titel des Artikels von/Title of an article by Siegfried Hännl, in: Süddeutsche Zeitung (2./3. Januar 1971); FAH, PFO 1.
[47] Vgl./See Géza Gábor Simon, Immens gut. Attila Zoller. Sein Leben und seine Kunst, Budapest 2003, S./p. 154 und/and 170.
[48] Vgl./See Harold MacWonderlea, Höfner Alpha E-Gitarre, in: Musiker-Magazin, Sonderdruck aus Heft 3/reprint of test report from no. 3 (1986); FAH, PFO 7.
[49] Vgl./See Christian Benker an/to Sparkasse Erlangen (21. Januar 1987); FAH, PFO 7.
[50] Christian Benker an/to Koichi Banda (26. Juli 1991); FAH, PFO 9, und vgl./see also Bettina Schulz, In Bubenreuth spielt die Musik die erste Geige, in: FAZ (16. Januar 1990); ebd./ibid. Vgl. schließlich den Festvortrag von/see speech by Professor Dr. Robert Werner, Zur Geschichte der Musikinstrumentenfirma Karl Höfner, in: FAH, Ordner/file "100 Jahre Höfner".
[51] Zit. nach einem Zeitungsartikel von/From newspaper article by Roland Spiegel, Maßgeschneiderte Glitzer-Geigen und Gitarren von Paul McCartney; in: FAH, PFO 5, und vgl./see also [Christian Benker] an den Bürgermeister der Gemeinde Bubenreuth (2. August 1979); FAH, PFO 4.
[52] Vgl. den Brief Christian Benkers an die Geschäftsfreunde/See Christian Benker's letter to customers (13. Dezember 1993); FAH, Ordner/file "Prospekte 5".
[53] Zit. nach einer Pressemeldung Klaus Schöllers/From Klaus Schöller's press release (März 1997); FAH, Ordner/file "Prospekte 7", und die Gesprächsnotiz Christian Benkers/and Christian Benker's notes (2. September 1996); FAH, PFO 10, sowie/also Heinz Reiß, Schmerzhafter Wechsel, in: Erlanger Nachrichten, Lokalteil/local section Erlangen (10./11. Januar 1998).
[54] Vgl./See FAH, Ordner/file "Prospekte 7".
[55] Zit. nach/From "Höfner profitiert vom Beatles-Kult", in: FAZ (31. März 2006), S./p. 18.
[56] Vgl./See FAH, Ordner/file "Keller, Schneider, Vogel".
[57] Zit. nach/From "Höfner profitiert vom Beatles-Kult", in: FAZ (31. März 2006), S./p. 18.
[58] Zit. nach/From "Bubenreuther Saiten für Bon Jovi", in: Erlanger Nachrichten (1. Mai 1998), in: FAH, PFO 10.
---
Copyright © Christian Hoyer & Karl Hofner GmbH & Co. KG 2007.
All rights reserved.